Ah that first time on the mountain. It's like the beginning of a love affair… Honestly, if you're planning your first ski holiday as a beginner skier or snowboard, well… You're gonna have an awesome time.
Sometimes the idea of planning a ski trip for beginners might seem overwhelming at first glance. But it doesn't have to be as tricky.
This comprehensive guide aims to lead you through this exciting process step-by-step. Whether you're a new skier or snowboarder, this user-friendly guide will help you learn the ropes of how to plan a ski trip effectively and efficiently.
Quick note: Yes there are some affiliate links in this article. We earn a small commission if you buy via these links at no extra cost to you.
Step 1: Finding the Best Ski Deal to the Perfect Destination
Firstly, your journey into how to plan a ski trip should start with finding the ideal ski deal and a well-suited destination. As a beginner, it's crucial that you choose a resort with an ample choice of blue and beginner slopes.
These well laid-out terrains will provide a comfortable environment for you to learn and enjoy at your pace, promoting a positive first-time ski or snowboard experience.
Popular resorts for beginners include:
Morzine/Avoriaz, France
Les Arcs, France
Soll, Austria
Saas-Fee, Switzerland
Arinsal, Andorra
Cortina, Italy
Borovets, Bulgaria
Jasna, Slovakia
This is not an exhaustive list of beginner friendly ski resorts, but these all offer excellent terrain variety including ample beginner slopes.
There are also plenty of options for cheap ski resorts in Europe, so you don't need to break the bank to learn how to ski or snowboard.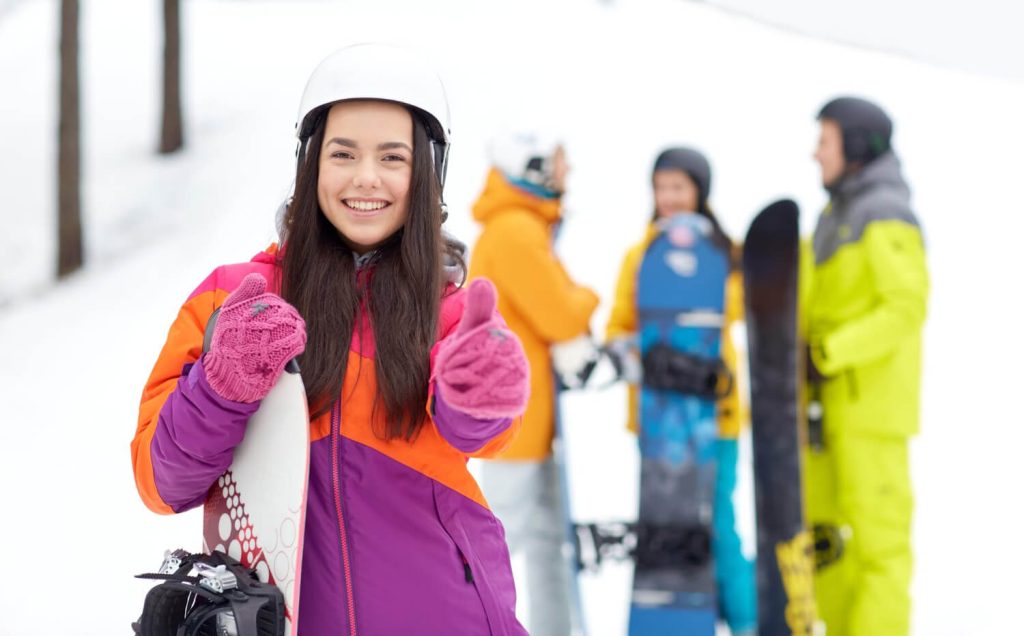 Ski Holiday Packages: What's Included?
When looking for a ski holiday, check what is included as standard. Many will include the hotel plus a catering option, such as bed and breakfast or half board. Many will also offer access to a ski bus to take you to and from the ski station.
However some deals might also include:
Lift pass
Flights
Transfers from the airport
Tuition or lessons
Equipment rental
When shopping for a first ski holiday, it can be worth paying a bit extra to get as much included as possible. This reduces any chances of headaches later, and will make the whole ski holiday much more enjoyable overall.
One of the best ski package providers with lift passes included is Snowtrex.
Check out ski holidays with lift passes included on Snowtrex from under £100.
We also love Spanish ski operator, Esiber, who have some excellent packages to Andorra and the Pyrenees.
Transfers
A key point to bear in mind for any ski holiday is that you should try to ensure your chosen resort is within a reasonable distance of a major airport.
Popular airports for ski holidays include Geneva, Innsbruck, Salzberg, Turin or Lyon for the Alps.
In the Pyrenees, you might fly into Toulouse or Barcelona for access to Andorra and other mountain resorts.
An average transfer time is around two hours from the airport to the ski resort. Under that and you're doing very well. Three hours is considered reasonable for most of the high Alpine ski resorts such as Tignes, Val Thorens and Les Deux Alpes.
Assessing how long a transfer will take from the airport to the resort is essential as logistical hiccups can quickly turn your dream ski trip for beginners into a travel nightmare.
Check out our guide: How to transfer to ski resorts.
Step 2: Dressing Right for the Slopes
The next item on your guide on how to plan a ski trip is wardrobe preparation. When picking clothing, keep in mind the three-layer principle:
Base
Insulating
Outer layer
Your base layer should be moisture-wicking to keep you dry, the insulating layer retains your body heat, and the outer shell should be waterproof and windproof to protect from the elements.
Your packing list will look like this:
Base: A moisture wicking t-shirt or base layer.
Insulating: This might be a cotton shirt, jumpers or t-shirt.
Outer layer: This will be your ski jacket, which should be insulrated and waterproof.
Additional items that should be considered essentials are:
Ski gloves or mittens
Thick socks or ski socks
Ski goggles. Ideally polarised or glare resistant. (read our guide to cheap ski goggles)
Ski trousers or salopettes. These are waterproof and insulated as standard.
While functionality is key, many people like to focus on style too. You don't have to, of course, but if you're looking to look the coolest, check out our best snowboarding brands guide.
Rent these items
You don't need to buy everything. For your first ski holiday, you should rent a snpwboard/ski helmet, ski boots and, of course, your skis or snowboard.
All ski rental shops will allow you to rent these items. And they'll be cheaper to hire for a week than to buy outright and pay to fly out…
Step 3: Budgeting Your Ski Trip for Beginners
A quintessential part of planning a ski trip for beginners is to establish a realistic daily budget. This budget should account for accommodation, meals, ski passes, and equipment rental fees, plus a contingency for unforeseen expenses.
Notably, acquiring a ski-pass and renting equipment can be costly.
Therefore, seek out deals and discounts that resorts sometimes offer, especially during the off-peak season.
Of course, the budget will depend where you're headed.
A week in Bulgaria will be significantly cheaper than a week in France or Switzerland.
If you're trying to keep costs down, either find a half board ski holiday, or go for a self catered chalet and budget your meals.
Check out our suggested ski and snowboard trips for beginners.
Step 4: Experiencing Life Off-the-Slopes
Your well-planned ski trip for beginners isn't all about the skiing or snowboarding. Resorts come to life after the slopes close, with the vibrant après ski culture offering an array of dining options, bars, shopping, and entertainment.
Understanding the resort's off-slope offerings will broaden your experience, appeal to non-skiing companions, and provide a fantastic place to relax and socialize after a rigorous day on the slopes.
Some people prefer a quiet apres ski, but others will seek out party hotspots.
If you're after a party vibe, head to:
St Anton, Austria
Mayrhofen, Austria
Ischgl, Austria
Morzine/Avoriaz, France
Val Thorens, France
Les Deux Alpes, France
Val d'Isere, France
Bansko, Bulgaria
Pas de la Casa, Andorra
It's worth noting that just because the resort is known for apres ski, doesn't mean you'll HAVE to get involved. But there will be options to get into party mode.
Oh, and if you think apres ski is just for the young, think again.
You'll see plenty of older Europeans showing the youngsters how to dance or drink. Come with an open mind… There must be something in the mountain air!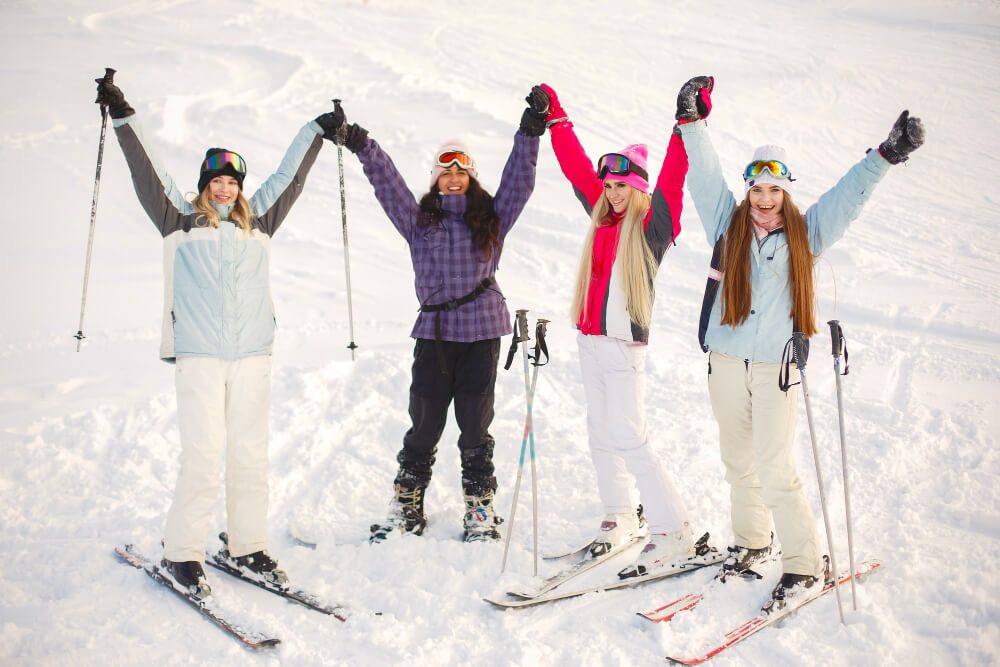 Step 5: Sorting out the Essentials
When it comes to your first skiing trip, there are a few extra things to take into consideration.
First up…
Insurance
Adequate insurance coverage is vital for your first ski trip. Scratch that, for ANY ski trip. Standard travel insurance usually will not cover winter sports, generating the need for a specific ski/snowboarding insurance policy.
Make sure to sign up for winter sports cover for everyone in your party.
Booking Lessons
Beginners may also wish to consider booking a few ski or snowboard lessons to kick-start their adventure on the slopes. Group lessons can be a fun way to quickly learn the basics and meet fellow beginners.
But you can also hire a private ski instructor or snowboard coach to get you up to speed nice and fast.
Theres no harm checking out some YouTube videos first though.
Creche or Nursery
Travelling with kids? You might want to check out prices for kids lessons or nursery packages. There are also often non-ski related activities for kids in most resorts on hotels. So check out the facilities when you book your ski package.
Cheap Ski Package Operators
Ready to book your ski trip? Actually, it doesn't have to be expensive.
Some of our favourite ski package providers, with great options for beginners include:
Estiber – Spanish company with some great deals across Europe. Lift passes usually included as standard.
Snowtrex – Lift pass included as standard, many deals under £100.
Europe-Mountains – Really good deals across Europe, including more obscure resorts. Some offers include lift passes too.
Final Points
While daunting at first, planning your first ski holiday doesn't have to be a gargantuan task.
Here's your TL;DR:
Choose a good ski package with as much included as possible
Factor in transfer times and costs
Choose a good ski jacket
Layer up. Thin base layers are better than big bulky jumpers.
Specialist equipment hire is available in all resorts, so get ski helmets and boots there.
Don't leave home without winter sports cover insurance
Book lessons, nursery/creche and any other extras you need before you go.
Apres ski is fun. You don't have to be young to do it, and you don't have to do it if you don't wanna.
OK. You're all set…. Make sure to stay safe, wrap up warm and have fun!
Oh and sign up for our newsletter cos we share some of the best deals out there whenever we find them!