When it comes to picture postcard mountain views, Slovenia has a few. And just a short drive from the very picturesque Lake Bled, you'll find Vogel ski resort.
Actually, Vogel is next to the equally pretty but less famous Lake Bohinj, which doesn't have a picturesque island in the middle of it. But, that doesn't detract from the fact that here in Slovenia, you're never that far away from a really great ski or snowboarding experience.
And another major appeal for Slovenia is that it offers some of the cheapest ski resorts in Europe…
So, as part of my ski trip to Slovenia, I took myself off for a day at Vogel ski centre. How did it stand up to my expectations?
Where is Vogel ski resort?
Vogel ski resort is around 85 kms from the Slovenian capital, Ljubljana, which is about an hour and a half driving. However, it's only 40 minutes from Bled, which is also a popular place to stay, or around 1 hour 15 from Krjanska Gora, another popular ski resort in Slovenia.
And while the drive isn't that far, there is also an option for a ski bus from Ljubljana and Bled, for those who would rather take the public transport option. Obviously this is a bit of a longer ride, but you do get to take in the gorgeous Slovenian countryside while you're on your way.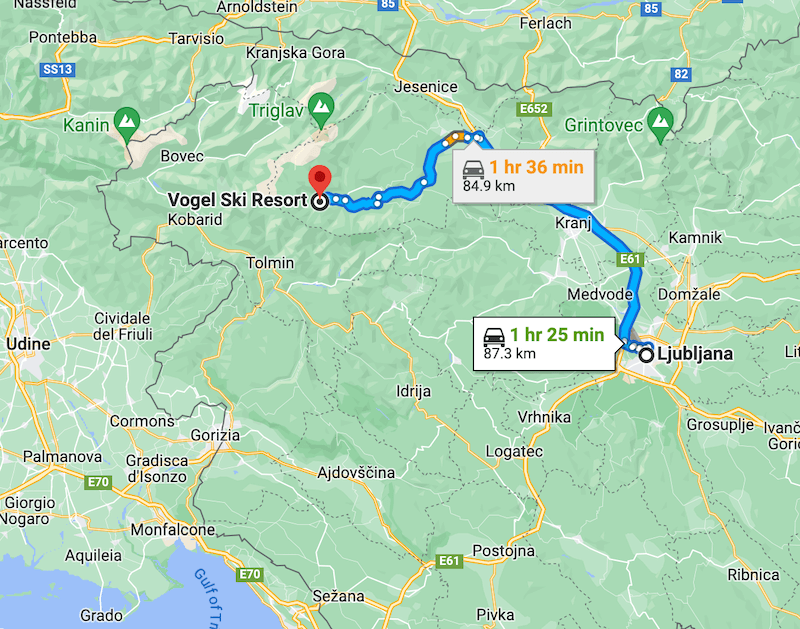 Exploring Vogel ski resort
The gondola for the ski resort is well signposted from Lake Bohinj, and you can't miss it when you arrive. It's kinda a massive ski station with a a huge gondola waiting to whisk people up the mountain. It leaves every 30 minutes, and takes you on a quite dizzying ride up the mountainside to the resort, which sits at around 1500 metres.
The view is pretty amazing as you go though, with the whole of Lake Bohinj opening up the higher you go.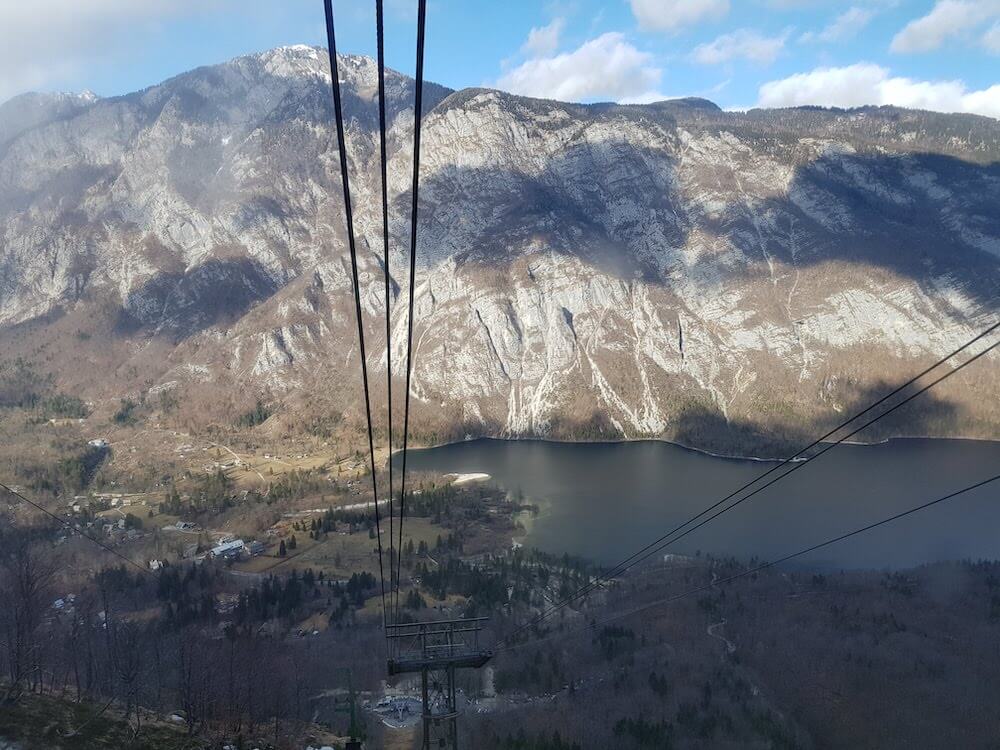 Once you arrive, the gondola drops you next to a great cafe with pretty impressive views over the valley. There is also a ski and snowboard rental shop right there, which is handy as I rolled straight in there to pick up my rental gear before I hit the mountain. For the record, I was snowboarding in Vogel.
Once out of the station, you're next to a few small beginner slopes, which are very much baby slopes. You then roll across some fairly flat-ish terrain to the first lift which brings you up onto the mountain.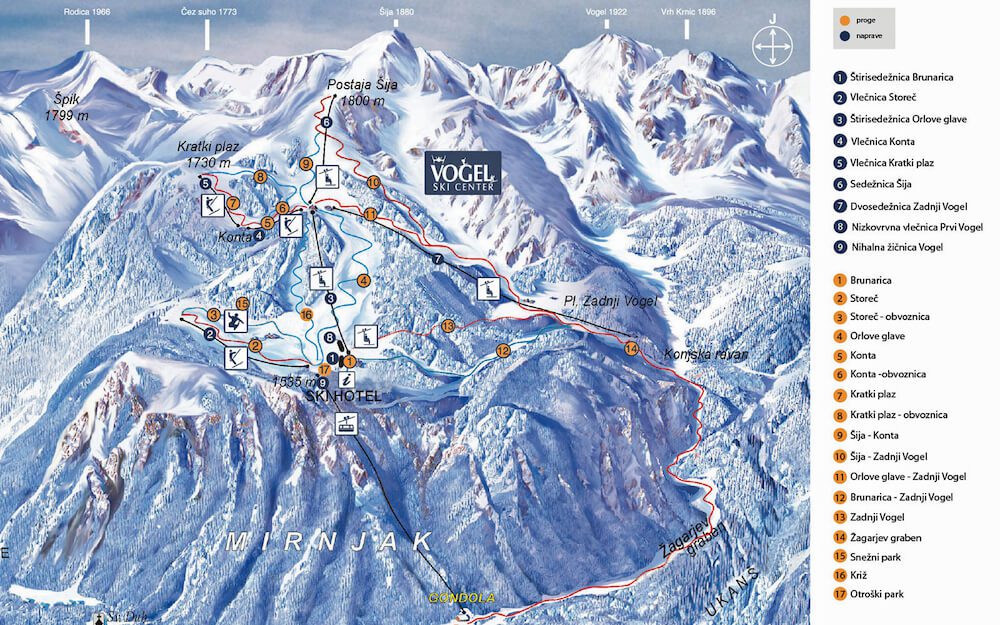 From here, you either have a nice and sedate blue which takes you back to the first lift, or options to either go further up the mountain or down a twisting forest run which eventually takes you back to the base station (number 4 on the map). This is pretty much the ideal terrain for learners, and the bowl where the main lift is also brings you up another small run next to a snow park. Yes I did try and go through the snow part, and no I wasn't very good.
I got to grips with the terrain by snowboarding down the easy run back to the lift for a couple of runs, and then deciding to brave the forested run. (number 11 on the map).
It was at this point that a snow storm rolled in, and I experienced my first white out. For those not in the know, a white out is when the snow hits and you basically can't see anything. This basically meant that my descent down the side of the mountain wasn't as enjoyable as it should have been. But, even with limited visibility I could tell that this would normally be a fun and relatively challenging run, which is also the longest in the resort.
The other option is to head to the peak at 1800 metres, and then either zip down the forested run and take the lift back up, or go all the way back to the beginner run/bowl.
Unfortunately, the whiteout basically closed off half of the lifts for the rest of the afternoon, so I didn't get to do that. But, I managed to have plenty of fun in the smaller area that was available.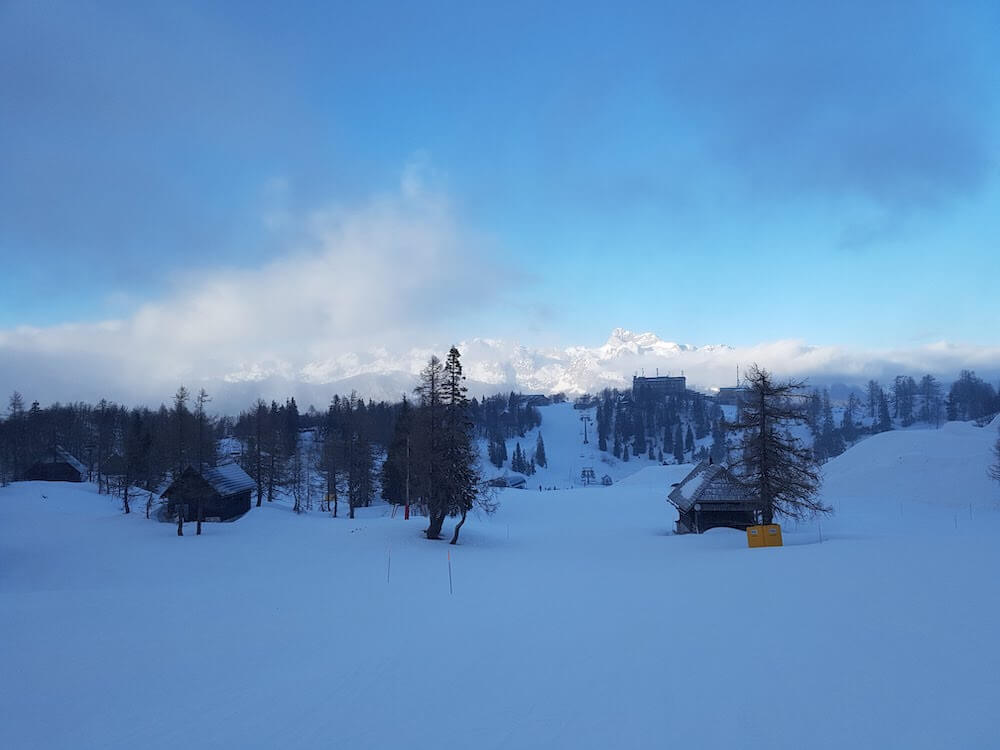 Is Vogel a Good Ski Resort?
While Vogel isn't a huge ski resort, it offers a decent 22 kms of mountain to explore. And with a good mix of red and blue runs, as well as a good selection of chairlifts and smaller t-bar lifts, it's perfectly suited to beginner skiers and snowboarders, families with younger kids and even intermediates looking to level up their skills
I thought that the mix of wide open runs on top of the mountain and that forested run made this a nice resort and one that is both afforable and varied ebough.
The infrastructure is also very good, which I think contributes to the appeal of Vogel ski resort. The nursery area seemed well equipped and the cafe on the lift station offers stunning views across Lake Bohinj far below.
And, another thing about Vogel is you can commute to other Slovenian ski resorts if you have a multi-day Slovenia ski pass.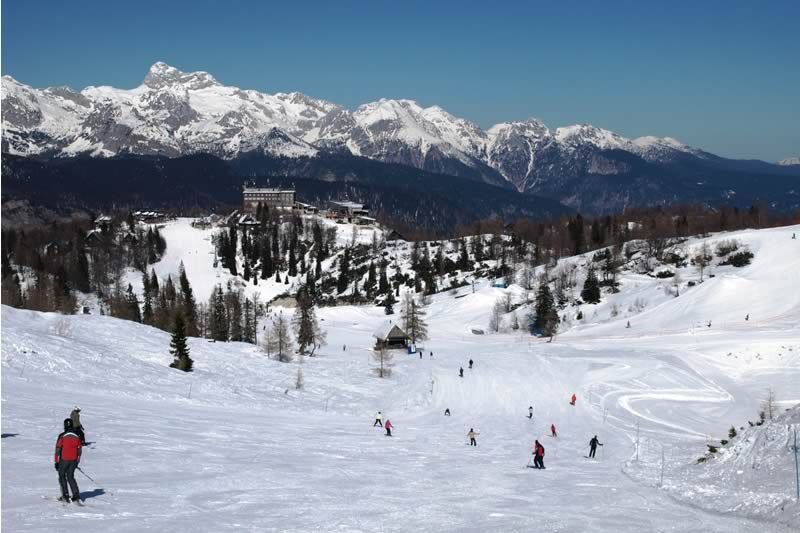 Where else can you ski/snowboard in Slovenia?
Slovenia is dotted with a variety of really nice little ski resorts, which are all included in the All Slovenia Ski Pass. These include Krvavec, Krjanska Gora, Kanin-Bovec, Rogla and Maribor. Not all of these are commuter distance from Vogel, but if you've gone for a Ljubljana ski holiday, then you could explore a different resort every day.
If you went for a Slovenia ski holiday with a base in Bled or Kranj, you could access Vogel, Krvavec, Kanin-Bovec and Krjanska Gora easily by car.
Is it cheap to ski in Slovenia?
Compared to other Alpine ski locations, yes, skiing or snowboarding in Slovenia is very cheap. The cost of a ski pass in Vogel for the day is €40, with 3 day lift passes at €111, and 5 day lift passes €174.
As for other costs, accommodation, food, car hire and other sundries are all way cheaper than you'd find in neighbouring Austria or Italy. I spent less than €400 on a 4 day solo snowboarding trip, which also included some expensive apres ski and eating in relatively expensive places.
If you're looking for a budget family ski break, then I think Slovenia ticks all the boxes.
Is Vogel a good place to learn to ski or snowboard?
One of the best things about Vogel is that the terrain is very forgiving and uncrowded, with a good lift infrastructure. This makes it ideal for learning to get to grips with the basics and beyond on skiing and snowboarding.
For kids, I'd say Vogel is a great place to learn to ski. None of the runs are too terrifying, and you're probably never too far from mum or dad, even if they've gone exploring.
You can also get good ski learner packages in Vogel. For example, this package on GetYourGuide offers pick up and drop off from your accommodation and private tuition.
All in all, if you're looking for a fun solo ski trip, family friendly winter sports break or a long weekend ski trip, Vogel and Slovenia are a good option.
Looking for other ideas for budget ski trips? Check out our guide to Krvavec, Zakopane and Andorra.