Let's be straight here – snowboarding is cool. It's like punk is to rock and roll, or like the edgy kid at the disco to the preppy jock. In fact snowboarding culture and clothing owes a lot to other board sports such as surfing and skateboarding.
Basically, what I'm getting at is that if you're going to snowboard, you probably want to look the part. You want to look like a cool snowboarder, and that means knowing who the cool snowboard clothing brands are.
If you wanna style out the slopes this winter, or even rock some cool snowboard clothing in your hometown, these are the brands you need to add to your wardrobe.
Quick note: There are some affiliate links in this article. What that means is that we earn a small commission if you purchase anything via our partners, at no cost to you. This is the only we way monetise our site, so feel free to click those links
Burton
When it comes to the best snowboard gear brands, Burton undoubtedly deserve a spot at the top. As the pioneer of modern snowboarding, Burton's edgy designs and functional apparel are unparalleled. In fact we'd go so far as to say that Burton are the definitive brand when it comes to snowboarding gear.
Known particularly for their innovative snowboards, Burton also produces a stellar range of sturdy snowboard jackets, high-performance boots, and smartly-designed accessories, making them a one-stop-shop for your stylish snow sports needs.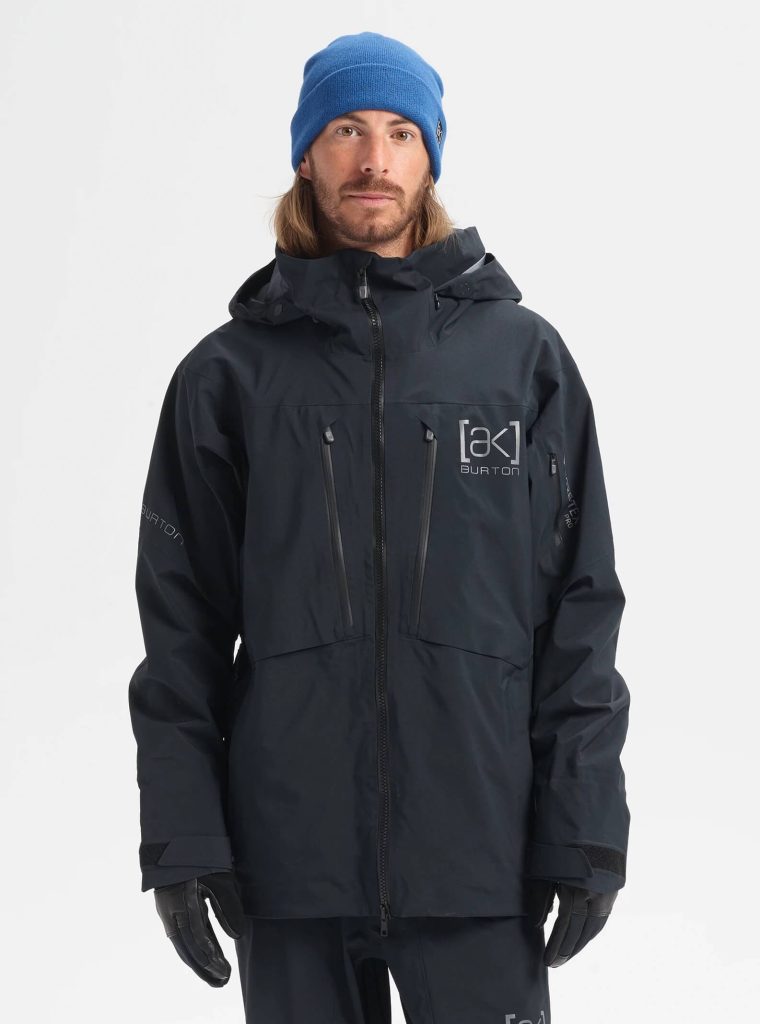 The snowboard clothing and jackets are usually simple and stylish, with dark or muted colours, sometimes including a dash of camo or and edgy pattern.
If you want to look the part, and you want the best snowboarding gear, Burton are basically ground zero.
Burton also offer the full range of snowboard gear, from jackets, hats, gloves and goggles; through to more hardware elements such as snowboards and bindings.
Browse Burton Snowboards online.
Patagonia
Patagonia are one of the first names in adventure clothing, with the brand founded by climber Yvon Choinard in 1973 as a result of several years making climbing gear. With this mountain pedigree, Patagonia is also well suited to snowboarding adventures.
What makes them one of the best snowboard clothing brands is that Patagonia focused on quality and reliability through environmentally conscious production. Their backcountry-focused jackets not only offer top-tier performance but also contribute to sustainability, an initiative that places Patagonia well above many competitors.
Patagonia ski and snowboarding gear is reliably high quality. Known for their durability, comfort, and warmth, all Patagonia clothing is covered by a lifetime guarantee – a nod to the brand's resistance to today's throwaway culture.
While Patagonia isn't a snowboard brand specifically, they have plenty of cred that you'll look cool af if you rock one of their jackets.
Check Patagonia snow and ski range.
Volcom
Board sports brand Volcom have a background in skateboarding and surf. Their Californian styling and attitude definitely makes them one of the coolest snowboard clothing brands on the block.
And while you might worry that there is a bit too much style over substance, you don't need to worry with Volcom. Their snowboard gear might be relatively affordable, but is very much premium in both design and performance.
In fact, as well as their snowboard jackets, we also think their snow pants and salopettes are top notch too.
The Volcom range of snowboarding clothes includes everything from base layers, goggles and jackets right up to actual snowboards.
Check out Volcom Snowboarding range.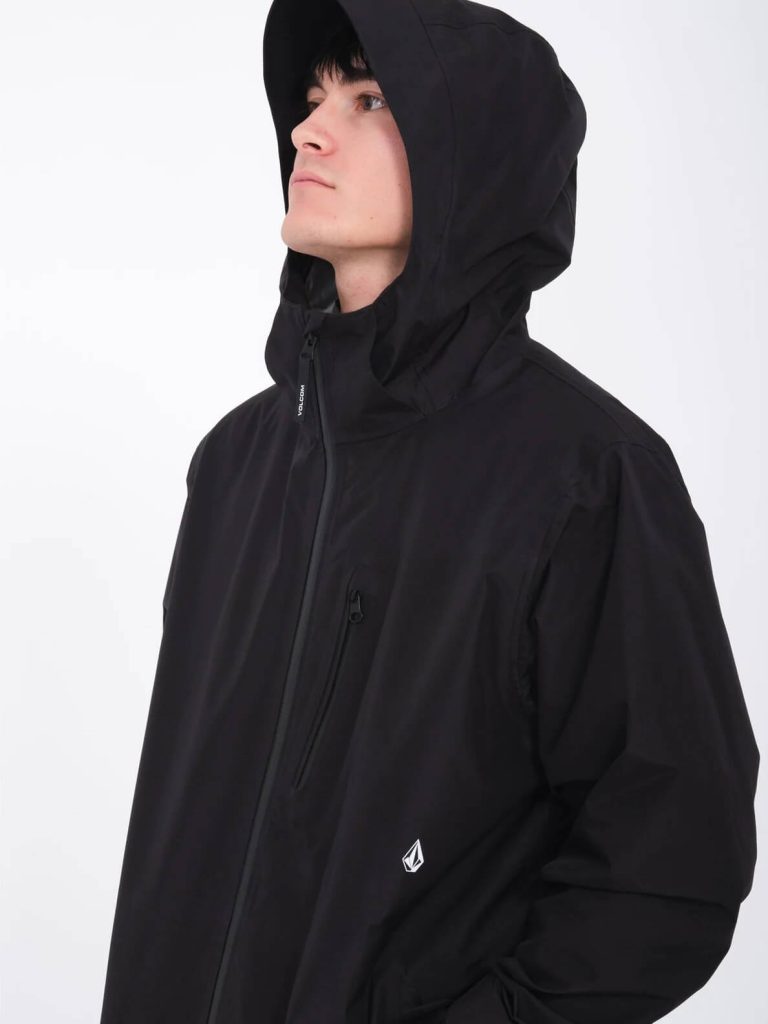 Picture Organic
Picture Organic are a relatively new French sports gear brand with a particular focus on snowboarding. Their focus on sustainability and recycled materials is a nice touch that contributes to their nature loving image.
What makes Picture Organic a cool snowboard clothing brand is their simple styling, solid construction and commitment to quality. In fact Picture Organic are one of our favourite brands with great styles in many of their various outerwear ranges.
If you wanted to kit out in full snowboarding clothes, we think Picture have tons of great clothing to choose from. They also have a focus on street clothing too, with everything from lifestyle clothing such as trousers, fleeces and puffer jackets, up to the more technical snowboarding jackets, gloves and mittens, face masks and base layers.
Their snow pants and salopettes are also excellent, and if you want to stay warm with maximum comfort, Picture are the real deal.
Another cool thing about Picture Organic. They offer the opportunity to rent their apparel when you're heading off on your next snowboarding adventure – try them out.
Find Picture Organic gear on Amazon.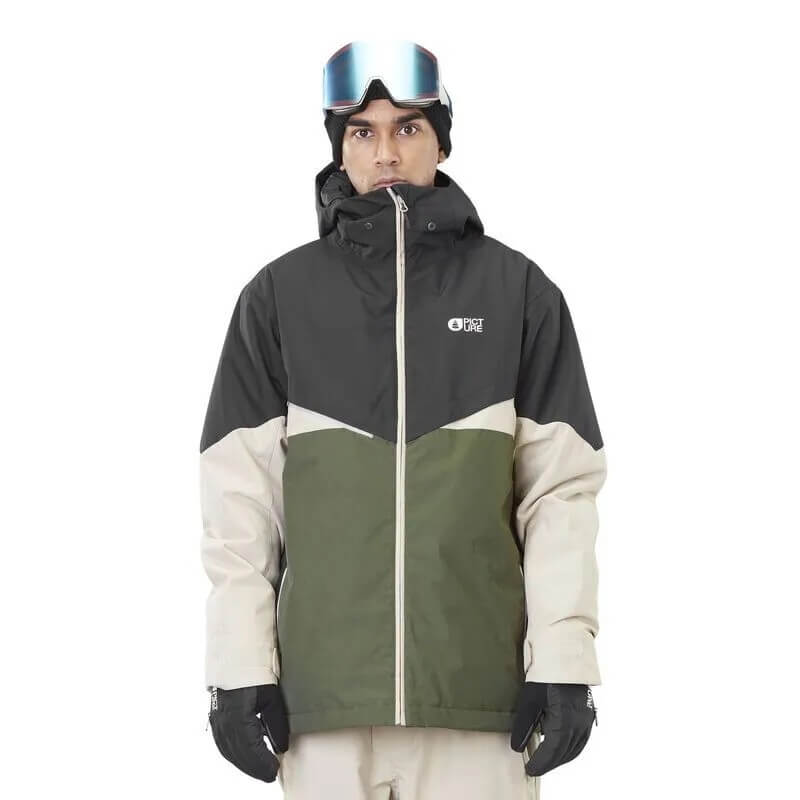 Oakley
Wait, aren't they a sunglasses brand? Yup, Oakley also make some pretty cool snowboarding gear too.
In fact, while Oakley are often overlooked in discussions about snowboard coat brands, we think they deserve a special mention. Oakley's innovative, well-crafted line of ski goggles and helmets offers high-definition optics, ensuring reliable durability and comfort without sacrificing style and performance.
However we also love the cool styling on their snowboard jackets, which are mostly simple and solid colours.
And of course, they're also a great option for snowboard goggles, as well as helmets, gloves and other accessories.
Check out Oakley Ski Gear on Amazon.
Quiksilver
As a brand with their roots firmly on their board, surf brand Quiksilver a definitely a cool option for snowboarding in style. Their jackets offer great protection, technical performance, and come in a bold colour way to ensure you look snappy on the hill.
We love the cool aesthetic of Quiksilver gear, and we can also testify that this is the kind of snowboard jacket and apparel you want when you're carving up the backcountry.
As well as offering an excellent collection of jackets, they also stock outerwear from ski pants, gloves and goggles, to ski and snowboard rucksacks.
Browse the full Quiksilver snow sports range on Amazon.
The North Face
Known for their high quality outdoor wear, The North Face delivers superb functional designs without compromising cost-efficiency. Their extensive collection includes a great selection of snow sports friendly styles that will suit riders of all types. Offering high levels of all weather protection and warmth, alongside quality garments, the North Face snow range will keep you warm all day long.
While The North Face might not win points for being the coolest snowboard brand on this list, they do win points for top quality and functionality.
We especially rate their snow pants and other protection layers such as powder hoods, gloves and mittens, beanies and base layers.
Browse the full range of The North Face snow sports gear.
Dare2B
If you're looking for affordable snowboarding gear that still has that cool riders style, then Dare2B will fit the bill.
This British adventure sports brand showcases an extensive range of affordable, technical snow apparel that combines modern fabrics and technology. Their snowboard range truly embody the "performance made playful" mantra, highly valued among the best snowboarding clothing brands. In fact we think that Dare2B are a good snow wear brand with some cool styles.
We rate their ski trousers too, if you're looking for a comfortable and affordable pair of snow pants to see you through the season. What might tempt most people to Dare2B is the low prices, which are often a bargain compared to other brands on this list.
You'll also find all your essential snowboarding gear from base layers and beanies, to gloves, snow helmets, and snow boots.
Browse the full Dare2B snow sports range.
Surfanic
Surfanic, a UK-based brand, stands firm in the sector of snow gear brands with high-quality, value-for-money ski and snowboard clothing. Combining durability, comfort, and style, Surfanic focuses on creating "fun on the mountain" outfits for every winter sports enthusiast, regardless of skill level.
While you might not be getting a well known brand, they do offer the right snowboard gear to see you through those variable (and often freezing) weather conditions.
What's more Surfanic are both affordable and offer a full range of snowboarding apparel. From snow pants and base layers to goggles and socks, you'll find everything you need for your winter adventure.
Dope Snow
New brand Dope Snow are definitely one of the coolest snowboard brands, with some seriously stylish jackets, snow pants and apparel. In fact, if you want to look cool AF on the slopes, we think that Dope Snow are probably the sickest brand on this list.
And while you think that might also translate to expensive, actually, Dope Snow are one of the more affordable brands too. Sitting somewhere inbetween well priced and premium. And considering you get gear designed to withstand the rigours of winter and to look cool on the slopes too, it's worth checking out Dope Snow.
Their snowboarding jackets come in a range of pastel style colours as well as quite out there patterns.
And their t-shirts, snow pants, gloves and snowboarding apparel is all very well priced.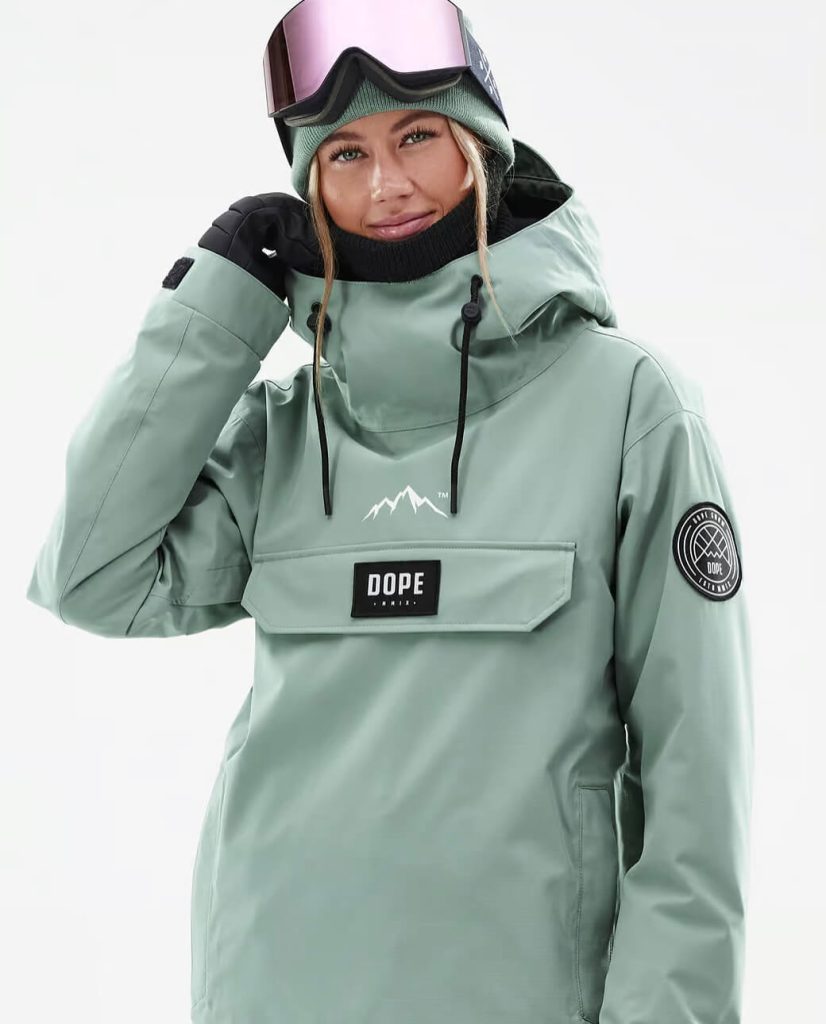 Which is the best snowboard clothing brand?
If you're looking for the best snowboarding gear, we think Burton are your go-to. They're the original snowboarding brand and offer a comprehensive range of quality winter wear designed to perform on the snow and look awesome too. Burton are also B-Corp certified, like many of the brands on this list, which adds to their sustainable appeal.
However, when it comes to looking cool on the snow, we think plenty of the other brands on this list will fit the bill.
We love Volcom's street styling, Picture Organic's French chic, the affordable and stylish vibes of Dare2B and the hip hop attitude of Dope Snow.
I guess, at the end of the day, if it keeps you warm on the snow and lasts you more than a handful of seasons then that's what matters.
Planning your next snowboarding trip? Check out our guide: Where to snowboard in February.