So you've booked your winter sports trip, and you're trying to work out how to get from the airport to your resort of choice? While public transport is usually the cheapest option, it isn't always the most efficient. Hiring a private transfer company is usually the best way to get from the airport, directly to your resort front door with the least amount of hassle.
However, these transfers are not always the cheapest option.
So, in this post I'm gonna look at a few ways to find the best value ski resort transfers. Yes, there are a few affiliate links in the post too – which does mean if you click on these links and book, I might make a small commission (thank you). And no it won't cost you anything extra.
Anyway, lets find out how to book a cheap ski transfer.
Should you use public transport to get to a ski resort?
In some cases, the options for public transport are, without a doubt, the cheapest way to transfer to the resort. Some ski resorts are very well served by buses and trains, or even cheap taxis.
An example of this is the Zillertal valley in Austria, which includes Mayrhofen.
While it will be a lot cheaper to take the train, there will be two changes from the airport, which will include a ride on the tram to the train station and then another change at Jenbach. But that said, if you're visiting any resort from Innsbruck, you'll often find the train connections are excellent and reasonably fast. Also, you won't be the only people with a load of skis or snowboards on these public services.
Some other ski resorts well served by public transport include Zermatt, Verbier, Morzine and Bourg St Maurice.
In Switzerland, you'll find trains connect you to pretty much all the ski resorts. For Verbier, for example, you can take the train from Geneva Airport to Le Chable, which is then connected via gondola to the town of Verbier itself. Of course, finding your hotel is a whole other thing.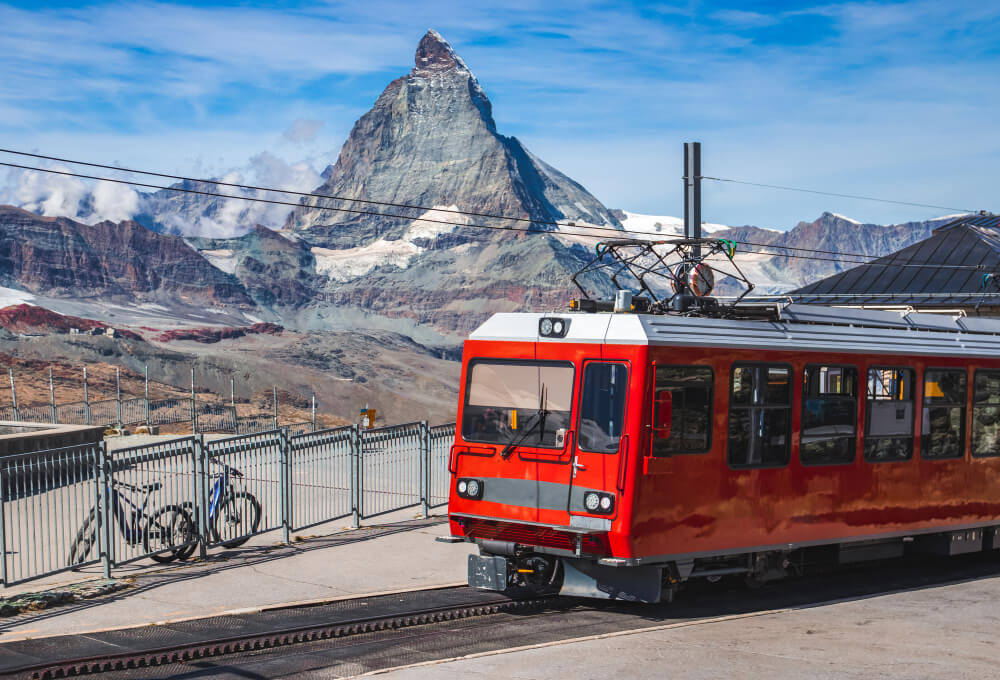 So if you want the absolute cheapest, this is often the way to do it.
If you want to find the cheapest public transport transfer to ski resorts, check out our handy widget below.
Cons
Pros
Can be a hassle to make connections
Need to carry your equipment on busy transport services
Probably need to walk or get a taxi at the other end
Usually the cheapest option
Can be a relaxing way to travel and see the country

Ski resorts served by good bus links
There are also a number of European ski resorts who are well served by direct bus links from the airport, although these are often premium bus services – so you're not gonna be paying €10 or anything.
One of these is Andorra, which is well linked from both Toulouse in France, and Barcelona in Spain.
We took the AND bus from Barcelona directly to El Tarter in Andorra, which was (I believe) €70 for the round trip (mas o menos).
Another company, Aerocar runs shuttles from Geneva Airport to towns which link to popular resorts including Chambery and Grenoble. This gives you access to places like Alpe d'Huez and Les Deux Alpes from Geneva Airport by bus. Yes, it's relatively cheap, but it is long.
If you're looking for the best prices for bus transfers in Europe, or anywhere for that matter, we recommend using BusBud.
BusBud is basically a search engine that finds the best deals on bus journeys, and even includes transfers if needed.
Check cheap bus transfers to ski resorts on BusBud.
Cons
Pros
Long journey time
Scheduled service means you may need to wait
Cheapest option
Can be door to door
Often regular bus transfer from major ski airports (GVA, TLS etc)
Is hiring a car a good option for ski transfers?
If you want full control over your transfer, of course car hire is the best option. I've hired cars to access ski resorts on several occasions. In the case of Slovenia this meant I could travel to the many small ski resorts from Ljubljana and come and go as I pleased.
I used RentalCars.com to find the best deal on car hire.
The benefits of car hire for ski transfers are that you can make your own way there, you can get everyone in your vehicle and you can explore around the resort if you want.
The downside though is that you have to find your way there, often pay road tolls (in France especially this can really add up) and you might also pay quite a bit more than a private transfer.
Cons
Pros
Driving can be expensive
May need to pay tolls
Fuel, parking etc
Potential for damage to car
Driving in dangerous icy conditions isn't for everyone
Most convenient option for many
Can be most direct way to get to the resort
Great if you have lots of baggage
Some countries car rental is very cheap (Spain, Slovenia etc)
How to find cheap private transfers to ski resorts
Private transfers are the fastest and most convenient way to get from the airport or other location to your ski resort of choice. However, they are not the cheapest option.
Due to their cost they're usually perfect for groups to split the cost, or for families who want to save on the hassle of transferring with kids and equipment.
There are lots of companies offering airport transfers to pretty much every ski resort in Europe.
GetTransfer is one of these which offers a good choice of different transport options at various price points.
There are other options too:
So there you go… How to find cheap ski resort transfers.
TL;DR: The cheapest ski resort transfer options
The cheapest options are:
Public transport/coach bus
Train when available
And then either private transfer or car hire (depending where you are)