Budget skiing doesn't come much more affordable than this gem in Poland's Tatra mountains. With it's quaint wooden houses, stunning mountain scenery, top notch apres ski and very affordable food and drink, is a ski trip to Zakopane a must for your next winter trip?
We actually enjoyed a trip to Zakopane over a week, which was a while back now. But, let's take a look at what Zakopane is like for winter sports, and who it would suit for a ski or snowboard sesh.
I actually learned to snowboard in Zakopane, which was attractive for its price at the time. So this entire Zakopane review is done from the perspective of a novice snowboarder – in retrospect. OK. With that out of the way…
First up – how do you pronounce Zakopane? It's actually Zak-oh-PAN-EY, which caught me out cos I was saying it wrong for the first day.
Where is Zakopane?
Zakopane is a mountain resort nestled in the far south of Poland, practically throwing distance from the Slovakian border. At just under 2 hours from Krakow by car, it's a simple transfer from Krakow airport, and is also easy to reach via public transport. Both coach services and trains run from Krakow to Zakopane pretty frequently throughout the year.
So if you're planning on visiting Zakopane, you can be assured it's easy to get here.
First impressions of Zakopane…
The route from Krakow is along a fairly fast stretch of road, and with minimal hill climb. There is no zig-zag mountain pass, but as you get closer, the trees start to change and you start to notice the log cabin aesthetic which is a main feature around here.
Another thing is that the mountains don't really appear until you're almost in Zakopane itself. This is because Zakopane is pretty much nestled at the foothills of the Tatra mountains, with the imposing mountain of Kaspowry Wierch framing the city.
I'll be honest the landscape is pretty cool, and the chocolate box quaintness of the town with the mountain backdrop puts it on par easily with towns like Mayrhofen. Now… Don't assume I'm comparing the ski terrain in Zakopane with Mayrhofen there, because I'm definitely not. But the aesthetic is definitely up there.
Having settled into our b&b just outside the centre of town, we strolled down to the main drag, Krupowki Street. This could be a ski resort high street anywhere, with many familiar brands such as InterSport and all your favourite ski supply centres. But the difference becomes clear when you spot the little local cheese stalls.
Oscypek is a local sheeps cheese, which is kinda hard and rolled into cylindrical shapes. It's grilled and served with a sort of currant sauce. And.. You'll see stands selling it everywhere.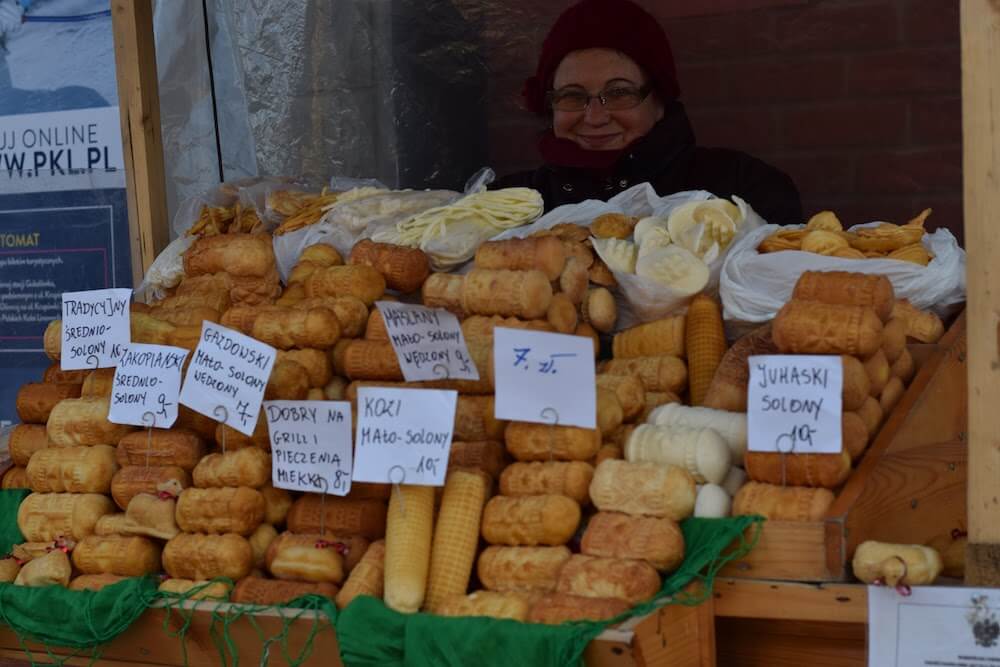 Beyond ski rentals and cheese stands, there are also tons of local grills and restaurants, serving up massive plates of meat and potatoes for not much money. Washed down with Polish beer… It's a recipe for excellent post-ski refuelling.
OK. So the town fits the bill. What about the terrain?
Ski in Zakopane
Now one thing to be clear about is that Zakopane is not a ski resort itself. It is the town that sits at the centre of a cluster of smallish ski resorts, most of which are around half an hour from Zakopane itself. There are a couple of options for ski/snowboarding in Zakopane itself, but you're not going to find ski-in/ski-out deals here.
But if you get a package with transfers included, thats not going to be an issue. We'll come back to that later on.
For now though, the ski resorts in and around Zakopane include:
Kaspowry Wierch – the only real mountain run in the area (that big mountain just outside of town, around 20 mins transfer)
Gubalowka – One of the few ski slopes in town, accessible by funicular from the end of the main street
Harenda – A simple black/red run around 20 minutes from town
Bialka Tatrazanska – Probably the biggest and most comprehensive resort in the area (and the one I enjoyed most), which is a 30-40 minute transfer from Zakopane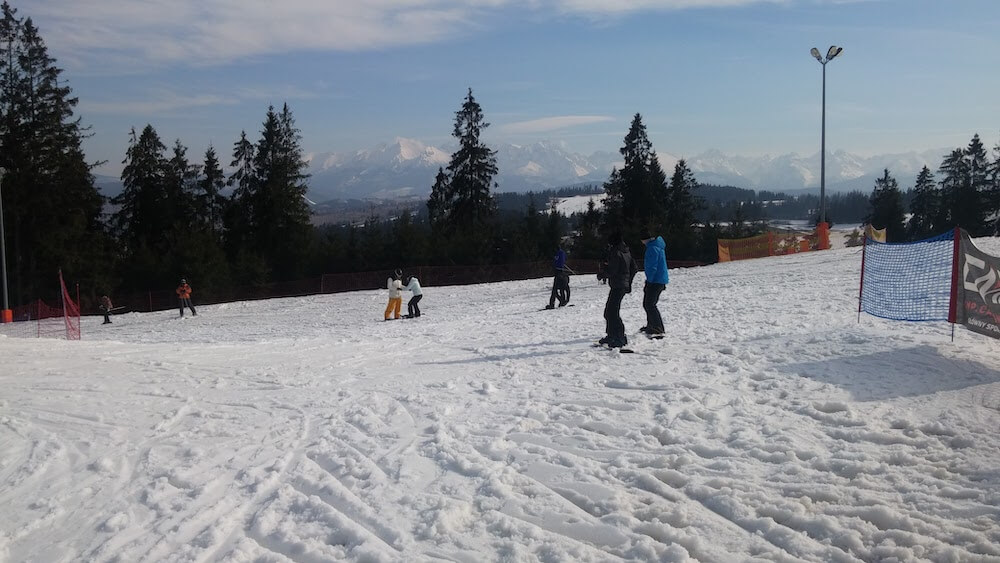 First day snowboarding in Zakopane
As I mentioned, this was my first experience of learning to snowboard. Our guide took us to Harenda, a simple ski resort around 20-30 minutes outside of Zakopane. This is where we got fitted and kitted and headed to our first slice of snowboarding action.
Now, it might be unfair to judge Harenda, as a beginner. But it's basically one run, top to bottom, with one lift. I don't think you'd do much more than a morning here at best. We got out falling leaf started here and then headed to the much bigger Bialka Tatrazanska.
That looks like this:
As you can see from this, the pistes are mostly quite wide tree lined runs with not very challenging gradients. As a learner, it was ideal. The lifts were pretty much all fast and modern, and the actual runs were not super crowded when we were there.
We spent probably 3 days at Bialka Tatrazanska, or Kotelnica Tatrazanska as I believe the resort is called. Day one was mostly learning and sliding down the learner slopes.
Day two more of the same with some progress up the mountain, and day three was the first excursion away from the learner facing side of the mountain (or is that hill).
Even now I'm an experienced snowboarder who has been to some of the best ski resorts in Europe, I would happily head back to Zakopane to give Bialka Tatrazanska another whirl. One of the reasons is that it's just easy runs. Nice and wide, reasonably fast, not too challening and fast enough lifts.
And, to add to that, it's diiirrrrt cheap.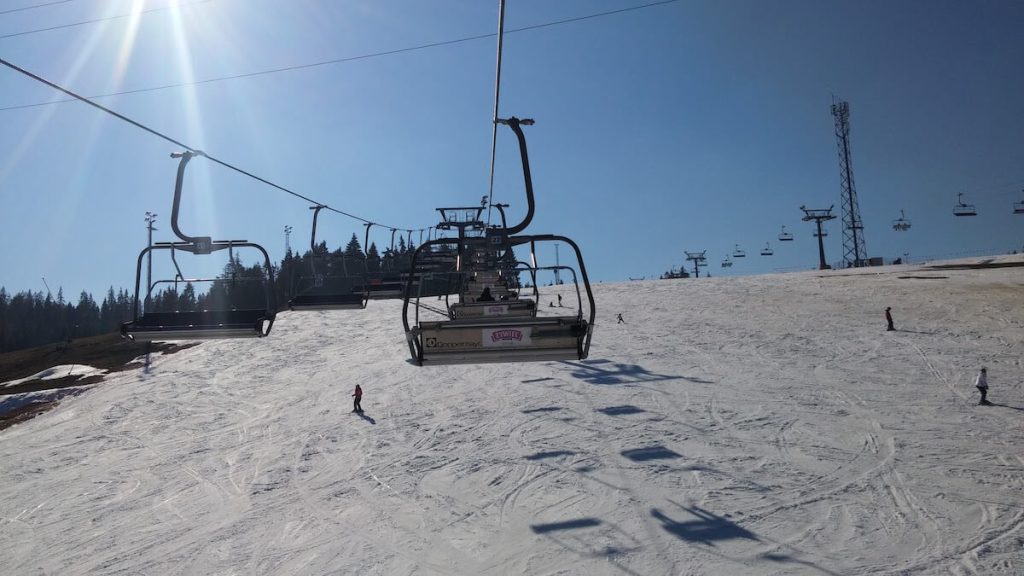 Who would enjoy ski in Zakopane?
I think a ski trip to Zakopane would suit a mixture of demographics. For starters, beginners and families on a budget would find this an excellent place to find their ski or snowboard legs.The affordable nature of the town and the variety of things to do beyond winter spots is also very appealing.
I'd also suggest Zakopane for a great stag or hen do. The reason for that is the ski resorts are obviously good fun, but then there are also nightclubs, bars and even some 'adult' entertainment such as strip clubs. Drinking and partying is very cheap here – and the Poles love a crazy disco with tons of vodka.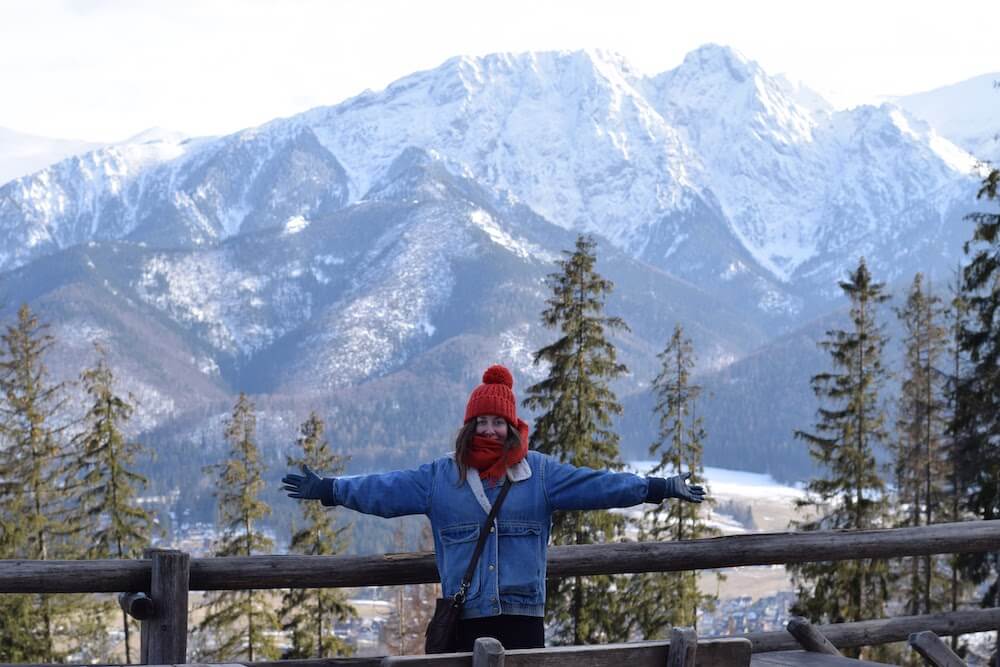 Booking a trip to Zakopane?
We actually booked our package with Whiteside Holidays, who include the transfer from Krakow Airport (and back again) as part of the deal. Our package included bed and breakfast, equipment rental, tuition, lift passes and transfers to and from the slopes every day. So all in, it was a pretty sweet deal.
At the time we paid something under £400 per person, but this was in … I wanna say 2016… So prices have definitely gone up since then.
But there are actually several options now for ski packages to Zakopane, so you'll likely find a great deal.
Zakopane Trip Ideas
Zakopane is actually a great trip as part of a trip to Krakow. If you wanted to do a Christmas or New Year trip to Krakow, you could squeeze in a day or two on the snow as a bonus experience.
Or, if you're on a Krakow stag do during the winter, you could even factor in a couple of days skiing or snowboarding. And Zakopane is also a good spot for some stag do fun…
There is also the option of a long weekend in Zakopane, of you're looking for a cheap place to hit the snow. Lots of options to head to Zakopane!