Ski goggles are an essential. And no, you don't need to spend a fortune on them to be mountain ready.
But that said, if you're looking for cheap ski or snowboard goggles, it can be a minefield. If you browse sites like Temu, obviously you can pick up a set of very cheap ski goggles for what seems like an absurd bargain. But are you getting anything half decent?
While we do believe that you buy cheap you buy twice (or more) we have also used our share of cheap goggles for snowboarding and skiing, and can definitely testify that some are better than others.
With that in mind, we've picked 12 pairs of cheap ski goggles for your consideration.
Yes, there are some affiliate links in this post. We earn a small commission if you buy anything via those links, at no additional cost to you. Click away!
What are your criteria for cheap ski goggles?
When picking out ski and snowboard goggles for you, we've taken a look at the reviews, read into the specifications and the details and even used a bit of personal experience.
We've aimed for any pair of decent ski goggles under £30, but have drifted slightly over on a couple.
As a general rule, we've aimed for familiar brand names and stayed away from generic non-brands, as we think you should too. While there are some decent non-brand names, the whole ski and snowboard space is quite image based, so it's usually a good idea to go for something familiar.
Our Picks
Top pick: Acure ski goggle
Best all round: Rayzor ski goggles.
Cheapest ski goggles: Jazooli snow goggles/Decathlon Wed'ze goggles.
1. Acure Ski Goggles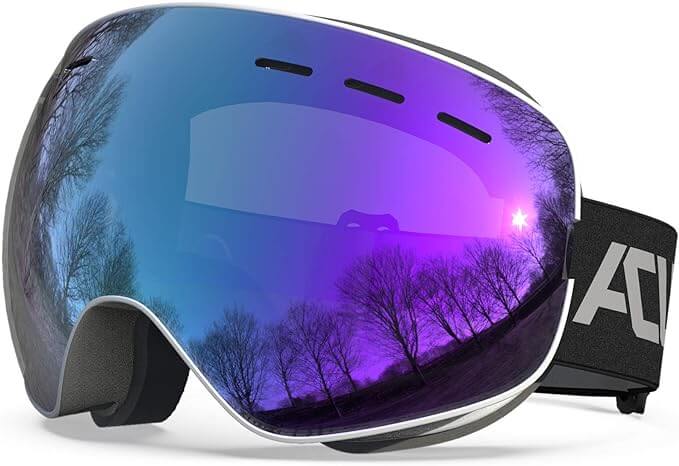 Kicking off our list we have these excellent goggles from Acure, which you can pick up on Amazon for less than £30. In fact, we'd might as well stop this list here because these have everything you need.
They've got panoramic vision, UV400 protection, good air flow/ventilation to reduce fogging, will fit over prescription glasses and are available for men, women and kids.
Reviews are also overwhelmingly positive. Some reviews do state that these are for kids… Actually, just make sure to select L (adult) or whatever your size is, and you'll be fine.
You see, everything you need… They're also pretty cool looking and Acure is a relatively trustworthy brand.
Bag your set on Amazon for £26.99.
2. Bolle FREEZE unisex goggles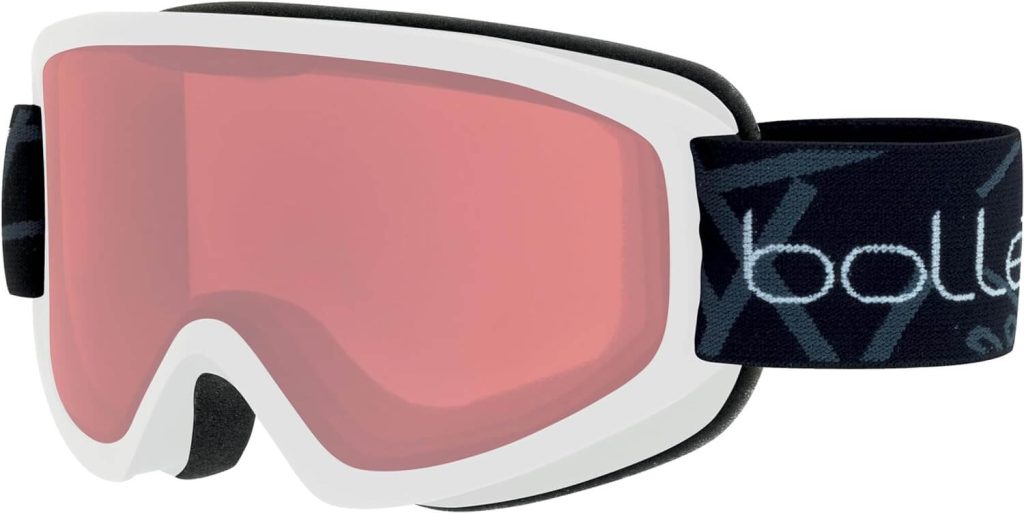 So this is one of those goggles that is just over £30, but we think they're very much worth the extra investment. For starters, Bolle are a premium ski brand, so you're getting a trusted label here. And while these definitely aren't vintage Bolle design, they are perfectly adequate for any ski trip.
They feature good quality venting, adjustable straps, anti-fog technology and anti-scratch too.
And they're unisex too which could be a bonus for some.
And with a high average rating on Amazon, and lots of positive reviews, it's clear that investing in a pair of Bolle ski goggles is a wise move.
Buy the Bolle FREEZE on Amazon for £36.
3. Wed'ze Ski and Snowboard Mask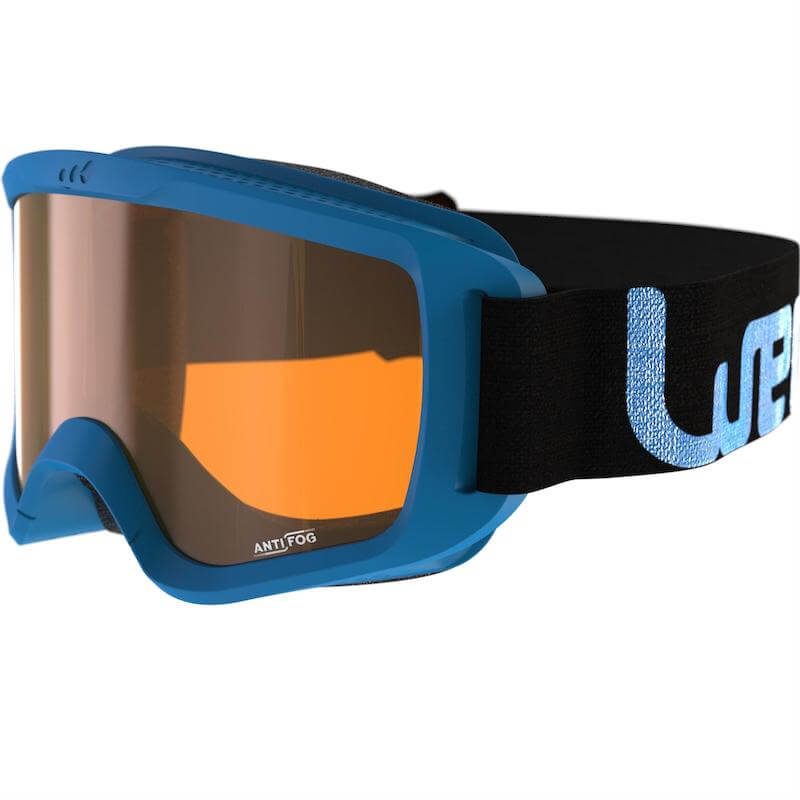 French sports megastore Decathlon are a reliable source of budget ski and snowboard gear, including budget goggles. And they don't come much more budget than these.
Wed'ze are a brand you'll spot all over European ski resorts, so you know you're getting decent quality. While these aren't the cheapest snow goggles you'll find at Decathlon, at under a tenner, you're getting a seriously affordable set of eyewear with the essential anti-fog technology plus UV protection and adjustable straps.
4. Wed'ze All weather G 100 Ski Goggles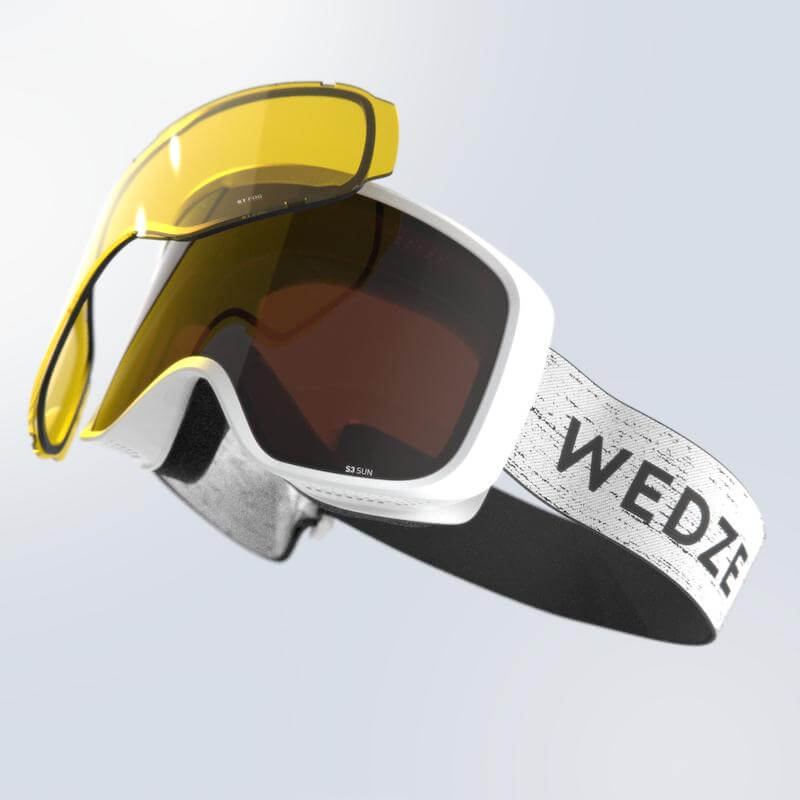 While we're browsing Decathlon, this set of cheap ski goggles are a bit less cheapy, but much better quality overall. These also feature UV protection, anti-fog technology and replaceable lenses. They're also prescription glasses compatible and we think they look pretty cool too.
At £24.99, we reckon these are a solid purchase from Decathlon.
5. UVEX Unisex Athletic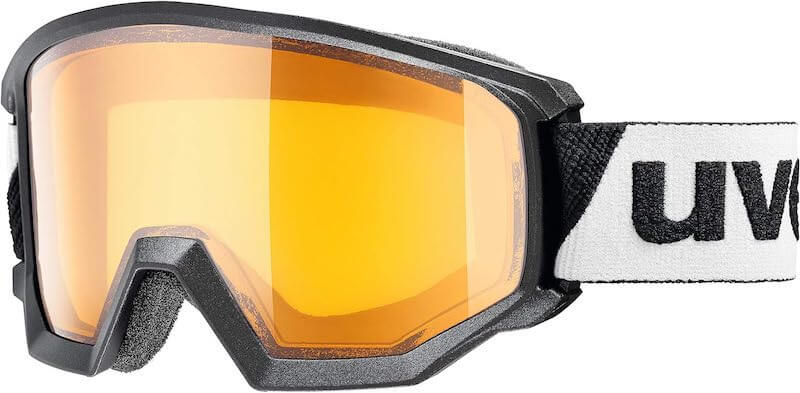 Our second set of over £30 goggles are from heavyweight ski brand, Uvex. Like Bolle, you're getting quality with this set, which includes a premium construction. You're also getting anti-fog coating, ventilation, OTG (over the glasses) fit and adjustable straps.
Uvex are also a cool brand, so spending a little more gets you a stylish pair of goggles that will also perform on the mountain in all weathers.
6. Findway Unisex Ski Goggles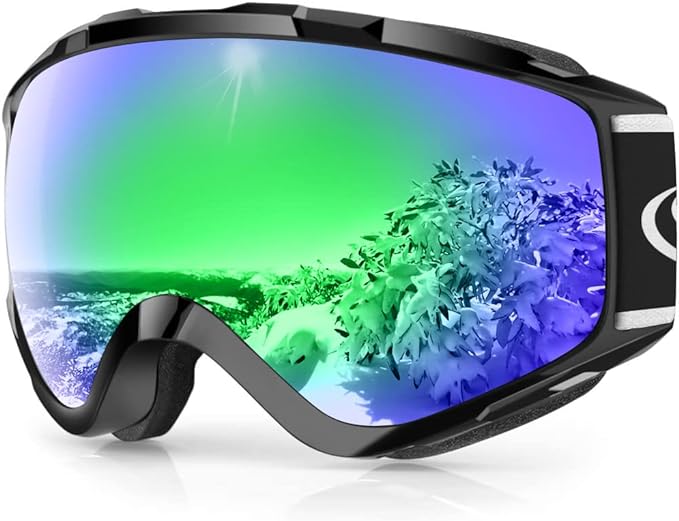 One of the millions of Amazon dropship brands selling budget ski goggles, but these seem to have some good feedback. In fact, most people say that they're surprised by the high quality and good fit, so thats obviously reassuring.
Feature wise, they're well packed, with anti-fog, over the glasses (OTG), adjustable straps and all the bells and whistles you need.
At nearly £30, I'd shell out a little extra for the Bolle or Uvex myself, but they're pretty cool looking so maybe they're your type.
7. Outdoor Master OTG Snowboard Goggles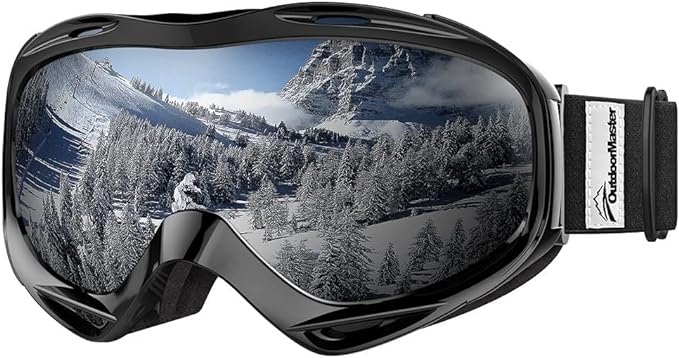 Apparently the number one selling ski goggles on Amazon, Outdoor Master seem to be a solid choice. First up, they have a bunch of positive reviews which is always encouraging. People like the fit, but stress that the pro version of these goggles are a better investment for the extra features.
You'll be getting anti-fog, UV400 protection, an extra long adjustable helmet strap and dual lenses.
At just £25.99, they're a bargain. Grab yours on Amazon.
The pro version are £35.99 – so if you can afford the extra tenner, go for those instead.
8. Nevica Davos Goggles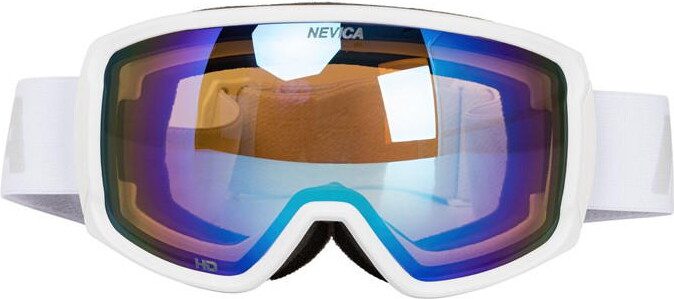 British sports retail giant Sports Direct offers a decent range of budget ski and snowboard gear, including some very decent budget snow goggles.
Pretty much all of their Nevica branded ski goggles range are under £30, with some well under £20. And, to be honest, they're all pretty decent. They have the essential spec, including anti-fog, UV protection and adjustable straps.
They're also pretty cool looking, and several in their range are unisex or suitable for kids too.
We like these Nevica Davos goggles which, for under £20, offer pretty much everything you need.
Get Nevica goggles at Sports direct from £16.99.
9. The Edge Piste Unisex Goggles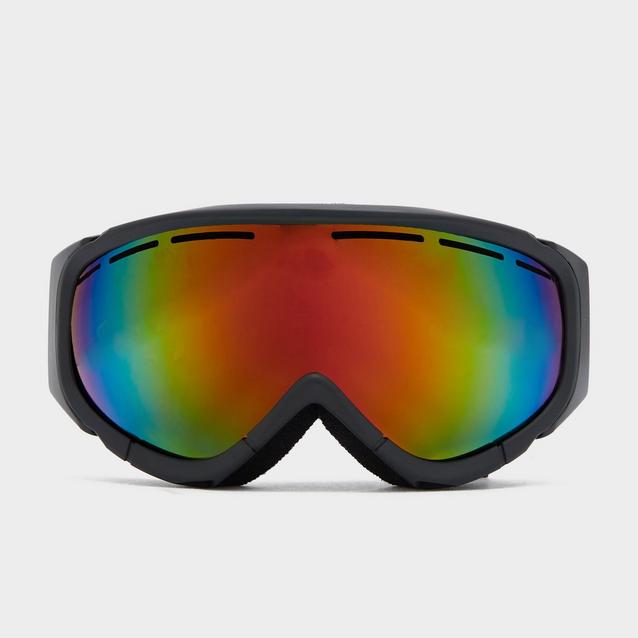 The Edge are a brand which you'll spot in several British high street chains including Millets/Blacks and Go Outdoors. Their ski gear range is actually pretty decent, including their snow goggles.
While these do fall into the over £30 category, they are good quality and feature packed. They've got the essential anti-fog and anti-glare tech, as well as anti slip padding and interchangeable lenses.
Their list price is £65, but if you're a Go Outdoors member you can get them for £31.00.
Buy ski goggles at Go Outdoors.
10. Rayzor Unisex Ski Goggles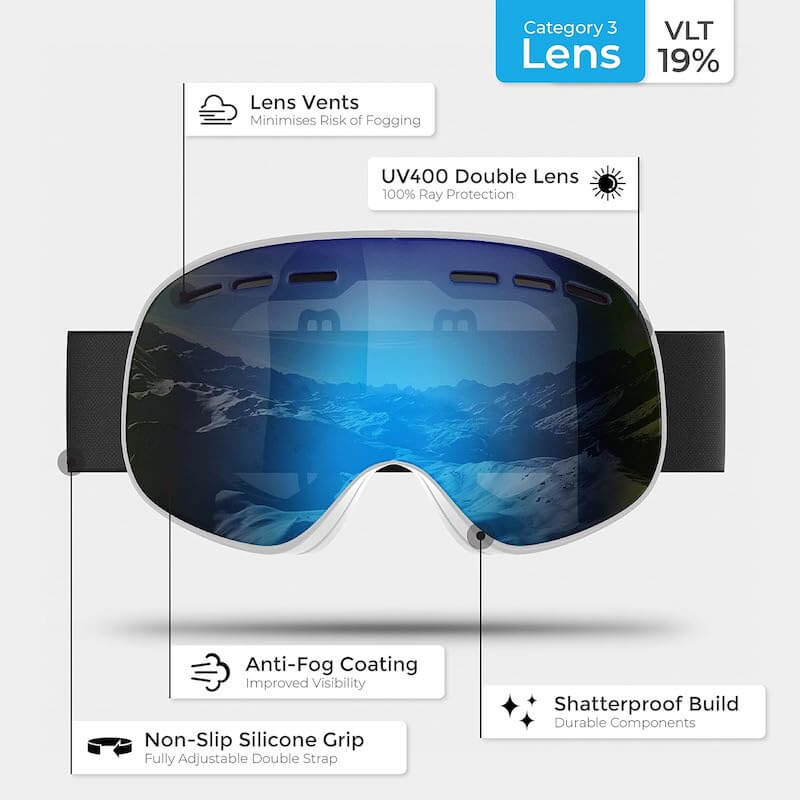 Another Amazon based brand, Rayzor are actually pretty decent and offers quality eye protection for under £30. These great budget ski goggles feature UV protection, non-slip fit, air vents and non-fogging coating too.
They also feature interchangeable magnetic lenses too, a feature you'd expect on much more expensive ski goggles.
There are also budget options under £20, but we think the best bet is the £29.99 set which are both stylish and functional too.
The reviews also testify to the quality, including the clarity of vision, comfort and cool looks.
Buy Rayzor goggles for £29.99 on Amazon. 
The cheaper Rayzor goggles are a little more 'youth' looking, with camo detailing. But at £19.99 on Amazon they're a great set of goggles.
12. Jazooli Snow Sports Goggles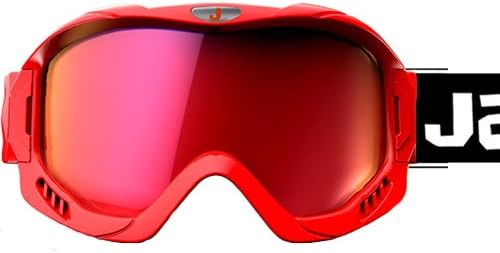 A super cheap wild card right at the end. These came up as a cheap option, and despite limited reviews, they seem to fit the bill for those who have used them. And at under £10, you're probably gonna be happy with these very cheap ski goggles even if you only use them for one trip.
They're air vented and have UV protection, but don't expect top quality here. But hey.. They're a tenner!
Buy Jazooli goggles on Amazon for £9.99.
How to look after ski goggles
However much you pay for your snow goggles, there are some best practice tips to ensure that they last for as long as possible.
Store your goggles in a soft case or bag. Many of these models come with a case, so make sure to minimise chances of scratches or damage by keeping them secure.
Clean your goggles using glasses cloths, or if you need to remove stubborn stains, cold water will suffice.
Need more ski gear suggestions?
Read our ski packing list guide.
Or, looking for the coolest styles on the slopes? Read our best snowboarding brands guide.