Embarking on a snowboarding trip is an exciting prospect. The anticipation of gliding down mountainous terrains and taking in the winter vistas is an exhilarating feeling. Yet, there's a good bit of prep work that goes into getting ready for this frosty adventure, especially when it comes to selecting the appropriate snowboard clothing.
Preparing for a snowboarding journey is much like diving into a compelling novel – it's riveting and fun, yet requires a good deal of readiness.
So lets find out to choose the right snowboard gear and ensure you stay warm and have the best experience out there on the mountain.
Quick note: We have some affiliate links in this post. This means we'll earn a small commission if you do buy via these links, at no extra cost to you. Feel free to click away!
How to Choose Your Snowboarding Jacket
Your snowboard jacket will be one of the main style statement items on the slopes, so this is usually where people spend the money.
When selecting a snowboarding jacket, the first thing to consider is waterproofing. The higher the waterproof rating, the less moisture will seep into the jacket.
Look for a snowboarding jacket with a waterproof rating of at least 10,000mm, and remember that snowboard clothing that features GORE-TEX material typically offers superior waterproofing.
Burton are probably the best option for stylish and functional snowboard jackets.
Snowboarding jackets typically come in two designs: insulated jackets and shell jackets.
Insulated jackets are designed to provide warmth via a layer of insulation sewn between the exterior and the lining of the jacket, making them ideal for activities in extremely cold weather.
Shell jackets, on the other hand, provide excellent weather protection but minimal warmth, giving you flexibility in clothing layers underneath for temperature regulation.
Want the best style on the slopes? Read our guide: The best snowboard brands.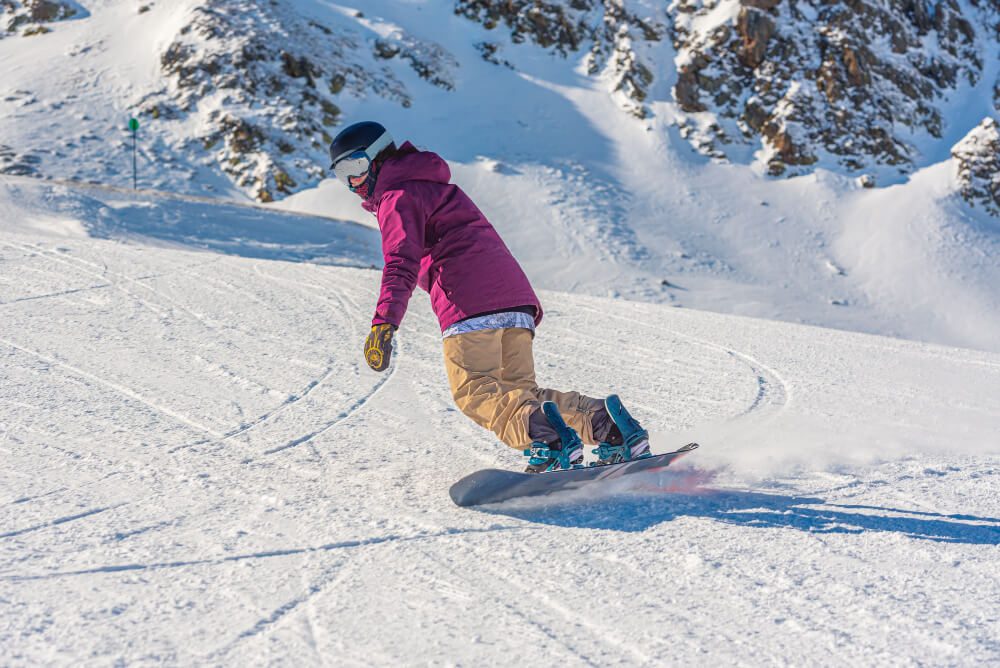 What to Wear Under Your Snowboard Jacket?
Here's where the concept of layering comes in. The principle with snowboarding clothing – and indeed, all winter sports clothing – is to stay dry and warm. Start with a moisture-wicking base layer like thermal underwear made from merino wool or synthetic fabrics. This layer will absorb sweat and keep your body dry.
Next, add a mid-layer for insulation. This could be a fleece jacket or a lightweight down sweater. In extremely cold conditions, you might add another layer, such as an insulated vest.
Lastly, your snowboarding jacket acts as the outer shell, protecting you from the harsh outdoor elements.
Do I Need Snow Pants, Salopettes or Waterproof Trousers?
In a word, yes. Like the snowboarding jacket, the correct lower wear is essential to keep you dry and warm.
Snow pants, salopettes, and waterproof trousers all serve the same goal, providing waterproof protection and insulation from the unpedictable mountain weather conditions. While each style has its merits, we think snow pants or salopettes are the best option, and waterproof trousers should only be used as a contingency option.
Snow pants provide top-notch insulating properties. These are insulated pants that have high waterproof and breathability ratings.
Salopettes are a European term for what North Americans call bib pants. These pants extend higher than your waist and come with or without insulation. The term salopettes usually refers to ski trousers with braces over your shoulders, which can be preferable for some. And, in addition to this, they are renowned for keeping snow from getting under your gear.
Waterproof trousers give you the protection against the elements but offer less insulation, thus, they're suitable for milder conditions or for those who prefer to layer underneath. They might be cheaper, but they might not always be the best option when it comes to both suitable snowboarding clothes and looking cool.
One more point. Snowboarders spend quite a bit of time sitting on the snow. You don't want a wet butt… Invest in a good pair of ski pants or salopettes.
Decathlon are a great place to pick up good quality and affordable snow pants. Browse snow pants and snowboard gear.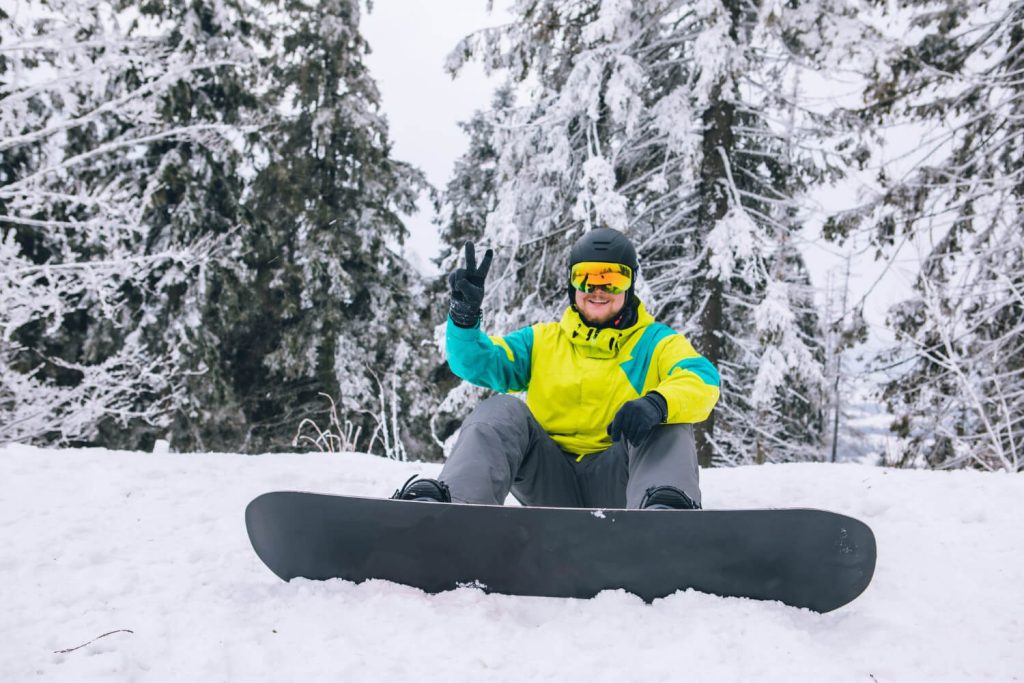 Goggles vs Sunglasses?
In the blazing brightness of sun reflected off snow, protecting your eyes is crucial. Goggles come out ahead when it comes to protection. They offer superior coverage, secure fit, and less chance of fogging up.
Sunglasses are best suited for milder, spring-like conditions. They are lighter and offer a broader range of vision. However, they provide less eye protection and are more likely to fall off during falls.
It's a good idea to have both to be honest.
While you can pick up a half decent set of cheap snowboard goggles, we do think it's worth spending the money if you're planning on going snowboarding regularly.
We think these Salomon snowboard goggles are a great deal at just £50 on Amazon.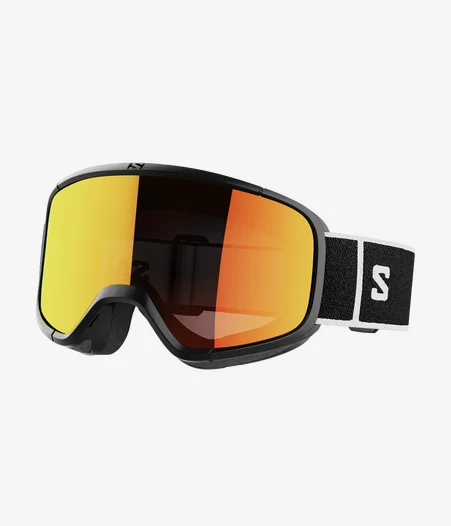 Do You Need to Wear a Helmet When Snowboarding?
Whether a seasoned or novice snowboarder, a good-quality helmet is a vital piece of your snowboard clothing kit.
Helmets protect your head from impact, offer warmth, and some even come with integrated goggles or handy mounts for action cameras.
However, you don't necessarily need to buy a snowboarding helmet, especially if you're only learning. When you hire a snowboard in the resort, you'll also usually get the option to hire helmets for a small additional charge, usually something like €10-15 for a week.
Whether you buy or rent a helmet, don't slide down a mountain without one!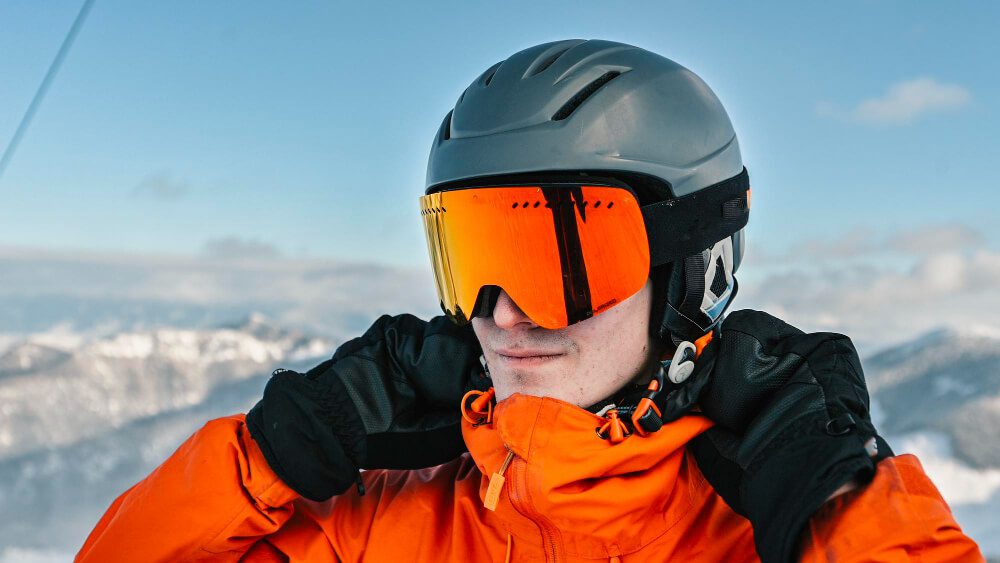 Which Gloves are Best for Snowboarding?
Keeping your fingers warm and nimble is critical for snowboarding. Snowboard gloves come in a variety of designs and materials. Look for those that offer a good balance between insulation and flexibility.
Many snowboarders prefer mittens for their warmth and simplicity. However gloves with separate finger chambers are better for dexterity.
Consider snowboard gloves with additional features like wrist guards for protection, a goggle wipe for convenience, or touchscreen compatible digits for easy smartphone access.
Cheap gloves might seem like a good idea, but they quickly get wet, and there is nothing so icky as putting on and taking off damp gloves all day. Invest in a good pair of waterproof snowboarding gloves or mittens.
Check out these Rossignol ski gloves on Amazon. They're waterproof, quick drying and breathable.
Ski Socks vs Thick Socks
Contrary to conventional wisdom, thick socks aren't necessarily the best. What matters more than thickness is the material and fit of the sock. The best ski and snowboard socks are made from materials like merino wool or synthetic fibers that wick away moisture, keeping your feet dry and warm.
Avoid cotton socks as they absorb and retain moisture. Also, ensure your socks are long enough to cover the calf, provide a snug fit to avoid blisters, and are thin enough to reduce the risk of decreasing blood circulation.
What Materials are Best to Wear When Snowboarding?
When selecting snowboard clothing, material matters. Prime materials include:
Merino Wool: Renowned for its warmth, breathability, and anti-odour properties, especially for base layers and socks.
Synthetic Fabrics: These are quick-drying and excellent for layers in direct contact with skin.
Down: Best for exceptionally cold conditions. It's lightweight, highly compressible and offers unbeatable thermal efficiency.
Fleece: Lightweight, warm and breathable, ideal for mid-layer.
GORE-TEX: A high-end material that offers maximal water and wind proofing, used in outer layers and gloves.
Preparing for a snowboarding adventure is more than selecting flashy gear. It's about ensuring your snowboard clothing is composed of suitable, high-quality essentials that provide functionality and comfort.
So hopefully this guide has been helpful and you're prepped and ready to pack the best snowboard clothing for your trip.
Still browsing beginner snowboarding holiday packages? Sign up for our newsletter and get regular deals and offers sent to your inbox – guaranteed spam free.