February is a great time to go skiing in Europe. About this time you usually get plenty of snow, and the slopes are relatively quiet until the schools break up. This is peak winter season though, so prices aren't always the most budget friendly.
But saying that, there are plenty of great places to snowboard or ski in Europe in February. And, lucky for you, we've summed them up right here.
Lillehammer, Norway
Lillehammer is a great place to ski in February. It has lots of snow, and you can get there by train from Oslo in about two hours. The resort is also great for families with kids, who will love all the activities on offer at the resort–from tobogganing to ice skating and snowmobiling!
Norway is also a relatively under-explored ski destination for Brits, and it isn't the cheapest option. But there is lots to love. The Norwegians are great fun, the country is stunningly beautiful and you might even catch a glimpse of the Northern Lights!
If trekking into deepest Norway doesn't appeal, there is also a ski resort in the city limits of Oslo! Tryvan, or Oslo Vinterpark, offers 9kms of skiable terrain, and you can commute from the city in 20 minutes. A fun day out!
Val d'Isere, France
Val d'Isere is the perfect place to ski in Europe in February, especially if you want to avoid crowds. The resort is located in the French Alps and has several slopes on offer at different levels of difficulty–from beginner to expert. It also offers plenty of amenities, such as restaurants, shops and bars.
If you're looking for something more challenging than just skiing down a mountain slope then Val d'Isere has plenty for you too. You can try ice skating or snowboarding; play golf at one of its two golf courses; visit one of its many museums; take an excursion up Mont Blanc (Europe's highest peak); go sledding down Le Brévent with your family…the possibilities are endless!
Sestriere, Italy
Sestriere is a ski resort in the Italian Alps with a cable car that takes you up to the top of the mountain. The resort is located in the province of Turin and it's one of Europe's most popular destinations for skiers and snowboarders.
The town itself has a population of around 2,500 people but during winter months when there's snow on the ground, Sestriere swells with crowds from all over Europe who come to enjoy its slopes. The village itself has little more than hotels, restaurants and shops but if you're looking to spend some time off-piste then there are plenty of options nearby such as Cervinia or Zermatt (both just over an hour away).
Val Thorens, France
Val Thorens is a ski resort located in the French Alps, part of the Three Valleys. The town of Val Thorens is surrounded by mountains and has more than 100 kilometers (62 miles) of ski runs. There are three distinct areas: La Plagne, Paradiski and Les Arcs/La Rosiere that make up the Trois Vallées region.
The snow conditions at this time of year are good, with an average snow depth of 6 meters (20 feet).
St. Anton am Arlberg, Austria
St. Anton am Arlberg is a village in the Tyrol region of Austria, lying at the foot of the Wilder Kaiser mountain range. It has a ski area covering over 200km of runs and is popular with skiers from all over Europe. Of course Austria is also great for apres ski, and St Anton is probably one of the most raucous of Austrian resorts.
To be honest, St Anton is busy all through the winter, especially on the weekends. Being a short transfer (around 1 hour 20) from Innsbruck, it is popular with weekenders.
But if you're looking for great ski and snowboarding in February, you'll be hard pressed to find somewhere more fun than St Anton in Austria.
Zermatt, Switzerland
Zermatt is a great place to ski in February. Although it's not the biggest resort in Switzerland (thats the 4 Valless/Verbier), it is one of the prettiest with the Matterhorn dominating the skyline and the pedestrianised resort of Zermatt below.
Being this deep in the Alps, it's always good for fresh snow, even if everywhere else is lacking. But Zermatt is snowsure in February and easily one of the best places to ski in Europe at any time of the winter season.
Granted, it's not the cheapest option. But you can often find great ski deals on sites like Snowtrex and Skiworld.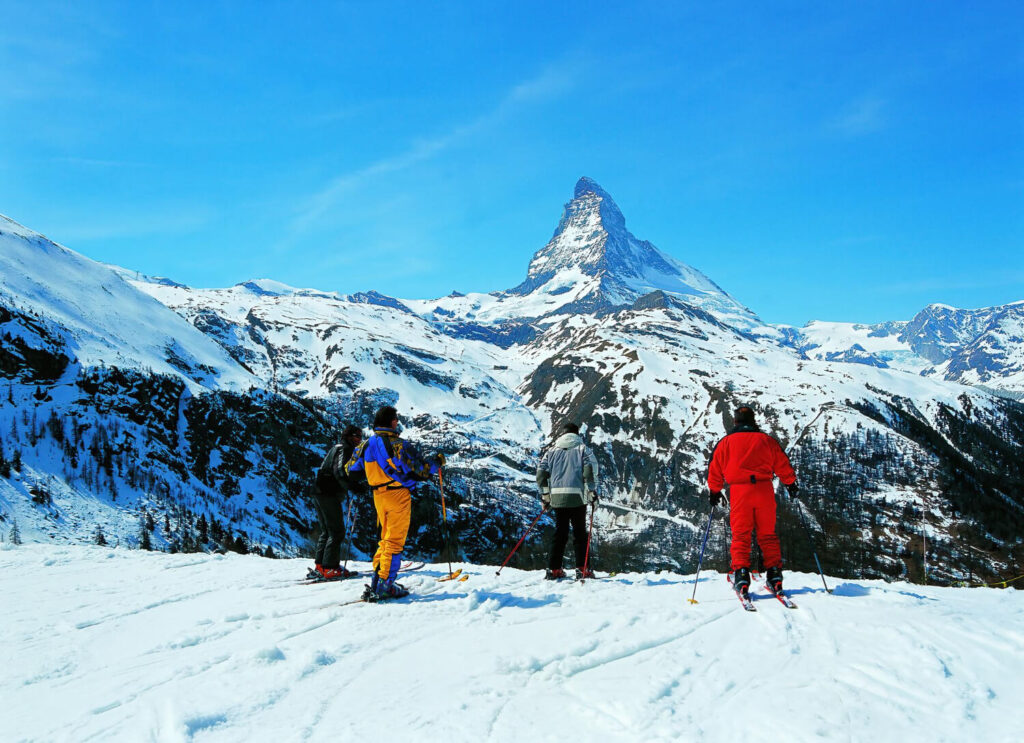 Val Gardena/Alpe di Siusi, Italy
Val Gardena is a great place to ski in February. If you want to learn how to ski or snowboard, this is a great spot for beginners because of its wide range of slopes and easy access from the village at Alpe di Siusi. It's also good for families with small children since there are many parks and lifts for kids that have shorter queues than the main ones.
The snow coverage is excellent here – on average there's 80cm (31in) per season!
Andorra
It's not just the Alps! The Pyrenees also often get a good dump of fresh snow around this time of year, making a trip to the expanse of Grandvalira or the smaller Ordino-Arcalis well worth it. We loved our trip to Andorra and the terrain is perfectly suited to both beginners and intermediates, with plenty for the expert and off-piste crowd too.
To add to this, the apres ski in Pas de la Casa can be great fun too. And… If that wasn't enough, you will also find some great deals to Andorra around this time of year.
Cortina D'Ampezzo, Italy
Cortina D'Ampezzo is a great place to ski in February. It's home to the Dolomites, the largest ski area in the Alps and there are over 100km of pistes that wind through this Italian resort town. The ski school here is very large with over 40 instructors who teach you everything from beginner level skills through advanced techniques.
If you're looking for something more challenging than just skiing down a mountain then try heli-skiing! It's where skiers use helicopters instead of lifts or chairlifts so they can access remote areas with steep terrain and lots of snowfall (the best conditions).
Kitzbueheler Alpen, Austria
Kitzbueheler Alpen is a popular ski resort in Austria, located in the Tyrol region. It's easy to get to from Munich, Innsbruck or Salzburg and it's a great place to go skiing if you want something more than just downhill runs. The resort has lots of different slopes for all levels, including some for beginners as well as many challenging black diamonds for experts. There are also plenty of activities outside of skiing such as snowshoeing and ice skating!
Almost anywhere in the Austrian Alps is perfect for skiing in February, but we think Kitzbuhel is one of those ski resorts that everyone should visit at least once!
Courmayeur Mont Blanc Italy/Chamonix, France
If you're looking for more of a European experience, Courmayeur is a great option. It's not as crowded as other ski resorts in Europe and it's also close to Chamonix so you can take advantage of the variety of terrain.
If you want to spend your February skiing down through the Alps with less people around, Courmayeur is an excellent choice! There are plenty of runs for beginners and intermediates alike–and if you're feeling adventurous, there are some challenging black diamonds available too!
Chamonix is always popular, due to its proximity to Geneva, and a great choice to ski or snowboard in February.
But don't just think about the slopes when it comes time for February skiing in Italy/France; there's also plenty going on off-hill at night as well! Chamonix is known for great apres ski too.
Read our guide: All about apres ski
Where to ski outside of Europe during February
Want to head further afield? Well, its not just snowing in Europe in February. If you have the time and inclination, jump on a long haul flight to one of these great ski resorts.
Alta Ski Area, Utah, USA: This is where you'll find the largest vertical drop at any resort in North America (2,000 feet). It's also home to more than 1,300 acres of skiable terrain and over 500 different trails–all within a few hours' drive of Salt Lake City. If you're looking for something different from your typical European mountain experience, this could be just what you need.
Whistler/Blackcomb, Canada: Arguably the best ski resort in North America, and definitely the biggest, Whistler is a ski and snowboarders dream. If you want snowsure, stunning views and great food, this is a must visit. Oh and you won't need your school French either.
Hakuba Valley (Hakuba), Japan: This Japanese skiing mecca offers some great off-piste opportunities that would be hard to come by elsewhere on this list. The unique geography here makes for an unusually steep slope profile; so if challenging runs are your thing then this place might be worth checking out!
Conclusion
We hope you've enjoyed our list of the best places to ski in Europe in February. If you're looking for an afforable package, we love both Skiworld – who offer fully inclusive deals with flights from the UK. And we're also big fans of Snowtrex who offer some of the best prices for trips to the Alps and Andorra.