If you're a UK based snowsports enthusiast, you might have noticed Dare2B in a few shops. Especially GoOutdoors, Millets and Sports Direct. You might also have noticed that Dare2B jackets and clothing are pretty well priced for the budget snow sports fan. And hey, in this cost of living crisis era, cheap ski gear is a win if you've shelled out for a trip to the snowy mountains.
So is Dare2B any good? Should you kit out in Dare2B gear before you head off on your Alpine trip this winter? And will it stand up to your demanding activity? And more importantly, will you look cool af?
Let's take a look….
Who is Dare2B?
Dare2B are a British snowsports clothing brand who launched in 1999 (according to their website). Their head office is registered in Manchester, and as I mentioned you'll find their clothes in many high street stores in the UK.
Now, they might not be associated with any high profile snowsports stars, and you probably won't see a Dare2B logo emblazoned on the gondola at whichever French ski resort you head to this year.
But their jackets and clothing do tend to fit the bill of being both stylish and functional. So far so good for Dare2B.
But are they any good?
Is Dare2B a good brand?
Dare2B fall into the relatively budget ski wear bracket, meaning they are decent quality and functional. Their jackets are lightweight, waterproof, breathable and they even have the essential buzzword of the era, 'sustainable' in their product listings.
Putting it simply, yes, Dare2B are a fairly good ski and snowboarding clothing brand, and they'll probably serve you well if you need to kit yourself out for a trip ASAP.
While you're not getting the premium equipment of other top name ski brands, such as Burton, Arcteryx, Picture Organic et al, you are getting stylish, functional and affordable ski and snowboard wear.
And while some people might look down their noses at the less than premium snowsports clothing brands, for most people, they just need a comfortable ski jacket with enough pockets for their goggles, lift pass, a decent hood and a snow skirt. Job done.
And in this respect, yes, Dare2B is a perfectly good brand.
I think they'd be on a par with brands such as Decathlon's Wed'ze. But they'd definitely be a better buy, both cooler and better quality, than Sport's Direct's other cheapy brands like Nevica and Campri.
Is Dare2B a good brand for serious skiers and snowboarders?
While Dare2B jackets certainly fit the bill on paper, I'm not sure how much they'd stand up to extended wear.
If you're planning on hitting a ton of air off the kickers in the snow park, or you're expecting to spend the whole season on the mountain – you might want to spend a bit more and buy a more hard wearing and premium jacket. This one from Burton for example is a great alternative (and damn expensive too).
But if you jet off for 7 days of skiing or snowboarding every year, and you mostly do fairly sedate runs with the kids, then Dare2B are going to be more than adequate for you.
In addition to this, thanks to their winter sports functionality, Dare2B are also a good brand for the British weather. So even if you're not carving up the pow, you can definitely stay warm and dry in the lashing rain wherever you may end up.
How much are Dare2B jackets?
While the list price of Dare2B ski jackets on their website is around the £130-£300 mark, they currently have some amazing deals (as of September 2023) with some of their previous season ski jackets on sale for around £50.
Now, when it comes to ski wear, so long as it is waterproof and wind proof, you're not going to care too much about the rest of the details.
But actually, I think Dare2B jackets look kinda cool.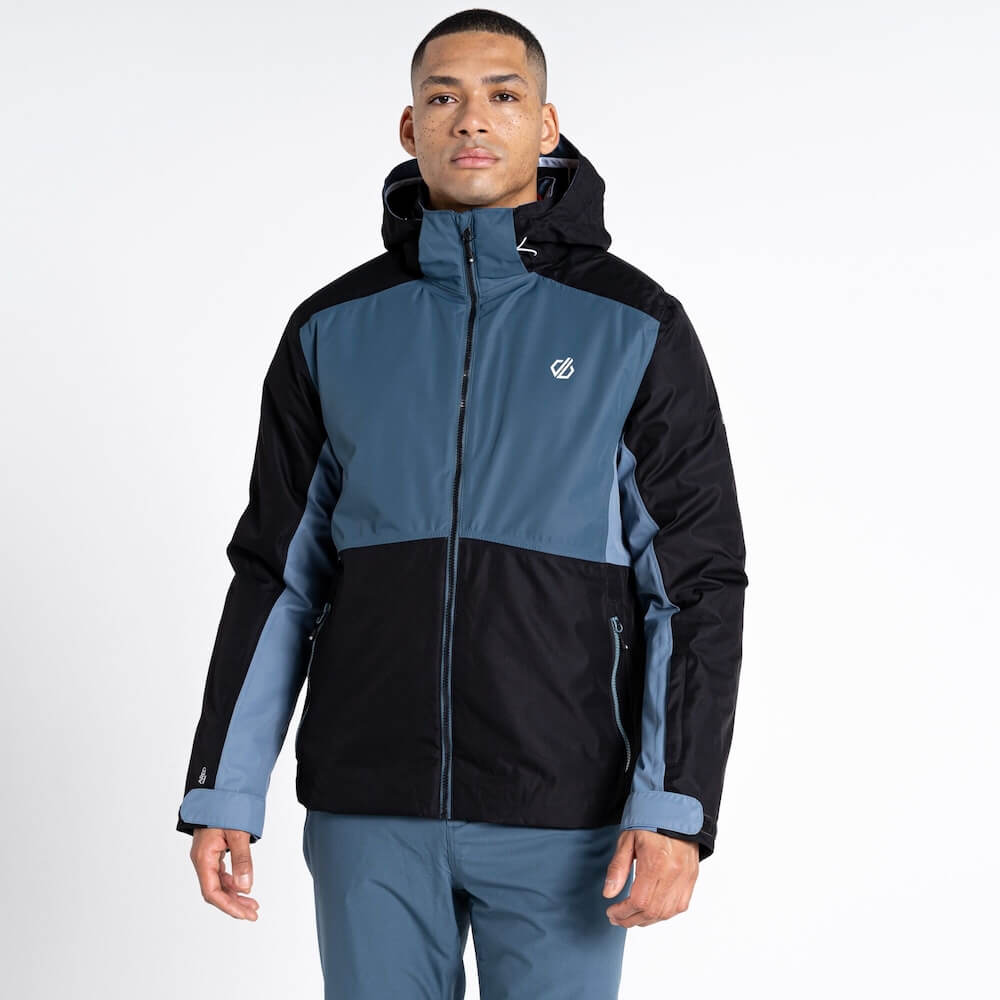 It kinda helps that Jermaine Jenas is styling it in a cool way. But if you ask me, snow sports jackets are cool anyway, and if you rock any ski or snowboard brand on the high street, you're rocking your own style. And that's cool right.
Anyway. Looking at the stats on it:
Recycled waterproof & breathable fabric – Ared 10,000
Complete ski features (incl ski pass pocket and fixed snowskirt with gel grip)
Adjustable foldaway technical hood
2 x lower zip pockets
Adjustable cuffs & hem
(yes that is cut and pasted off the product listing).
And all that, for a list price of £130, currently on sale for £52. If you need cheap ski gear it's a no brainer to be honest.
OK, but what about the other gear such as salopettes and ski trousers?
Are Dare2B ski trousers and salopettes any good?
Like their jackets, Dare2B ski trousers and salopettes certainly have the right specs. And while they might not be made from premium materials like some other brands, again, I think these will be more than suitable for most people on their ski holiday.
Again, looking at the stats on Dare2B mens salopettes, the product details are as follows:
Our most breathable fabric yet! Recycled waterproof stretch fabric – Ared 20/30
Complete ski features (incl adjustable braces, snow gaitors and a zip gusset at hem)
High backed adjustable waist system
Abrasion resistant fabric to inner ankle & bindings for extra durability
Tab up hem for when boots are off
Should you buy Dare2B ski and snowboard gear?
Honestly, if you're looking for functional and stylish ski or snowboarding jackets, salopettes, thermals or even ski gloves, I think you'll be fine with Dare2B. I say this for most casual skiers and snowboarders who just need kit for a week on the mountain once a year. If you're planning on more hard wearing and extreme snow sports then you might want to consider paying more for one of the premium snowsports brands such as Burton.