Hitting the mountain this winter? You'll want to pack a great bag to bring all your kit. From extra layers and sunglasses, to drinks, snacks, selfie sticks and cameras. Yes, you will need a good rucksack that doesn't slip about and will allow you to carry all your ski or snowboard essentials.
We've taken a look at some of the best bags you can get to take on the piste with you.
Note: There are some affiliate links in this post. This simply means we earn a commission if you buy via these links, at no extra cost to you.
First though, some questions to ask before you buy a daypack for your skiing holiday.
How to choose a rucksack for a ski or snowboarding
If you think any rucksack will do for a day on the mountain, well, you might be surprised. With all that slipping, sliding and possibly even jumping, you need a rucksack that will be secure. And you also need one that will take all the equipment you need.
First of all, who is the bag for? Is it just you, or are you skiing with kids or friends?
If it's just for you, you might just need a few small snacks, a bottle of water, suncream and maybe your phone charger or camera. In this case a smaller ski pack might be sufficient.
Of course for kids, you'll likely need to carry all their extra kit like tissues, wet wipes, snacks, drinks and maybe even a spare layers, jumpers or scarf.
Your style of skiing or snowboarding might also influence your daypack purchase.
Long days off piste? Make sure to take avalanche rescue gear and a first aid kit – so your ski pack will need an avalanche gear compartment.
Shooting adventure video? Make sure there's a place for your selfie stick, multiple cameras and possibly even a drone!
OK, so with all that in mind, which are the best ski backpacks for those busy days of skiing or snowboarding this winter?
1. Wedze – Ski touring bag 25L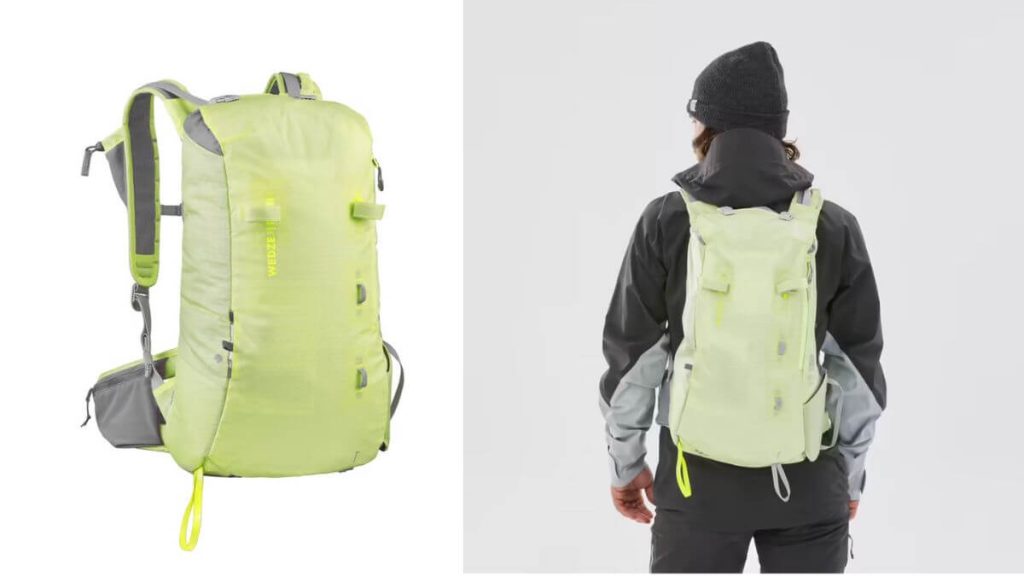 This nifty ski rucksack from Decathlon is ideal for a day out on skis or snowboard. The French chain are always very snow sports friendly, and their kit is often well made and durable.
This Wedze ski touring backpack comes with the all important chest strap to stop your bag slipping around while you're sliding downhill. There are also plenty of straps and buckles to keep your helmet or bottle strapped to.
And with a decent but not excessive 25 litre capacity, you can bring your snacks, camera and extra bits and bobs too.
2. Dare2B Vite III 25L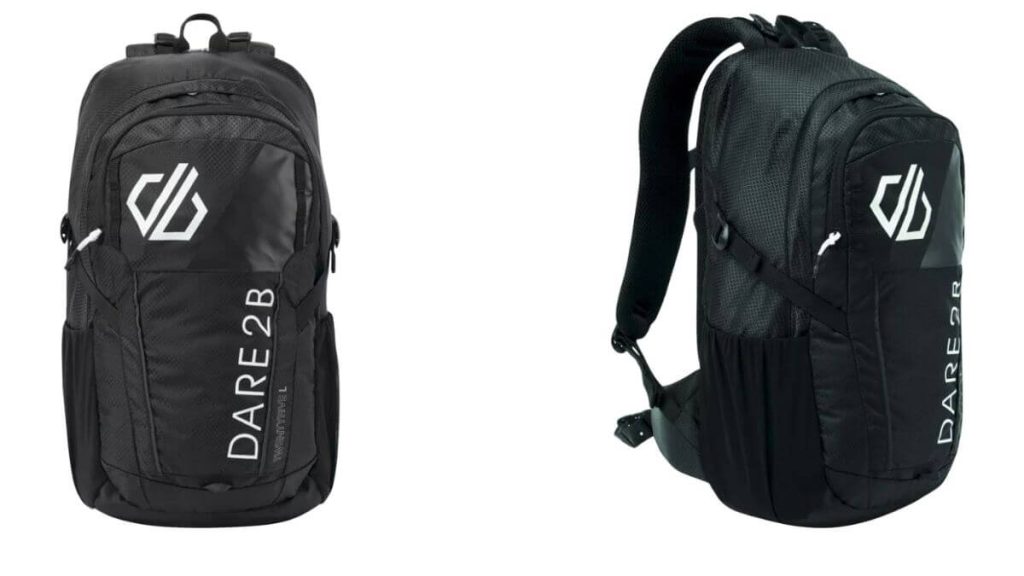 Another nifty 25 litre bag, this time from British ski brand Dare2B. You might have spotted Dare2B kit around, as they're stocked by brands like Go Outdoors. And they're actually pretty decent kit. This 25 litre bag is an ideal ski rucksack or snowboarder daypack – featuring a chest strap, compartments for first aid kits or snacks, and a removable rain cover.
Dare2B actually have a pretty decent range of ski rucksacks too – all at very reasonable price points.
3. Herschel Tech Pack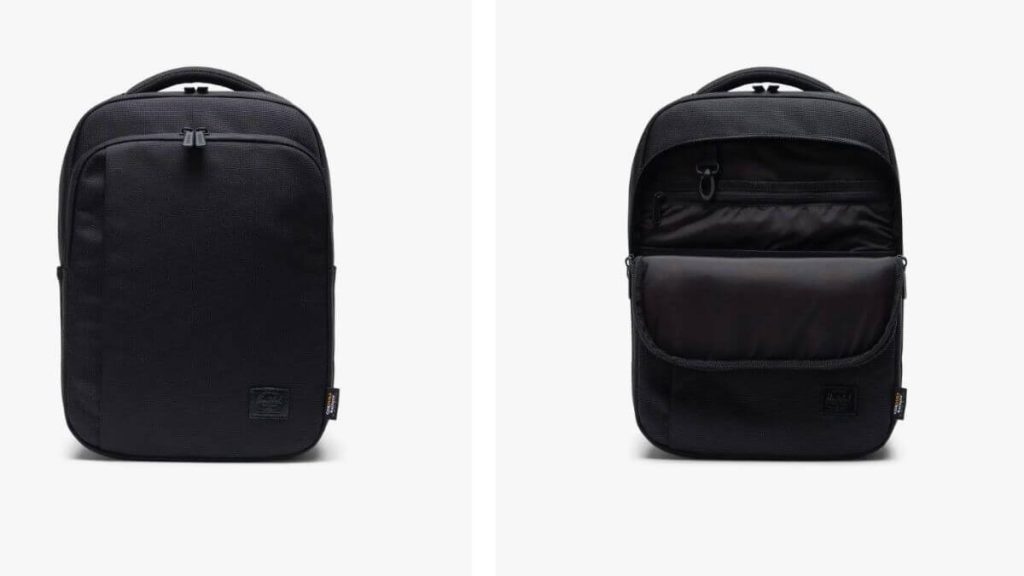 OK yes, this is technically a laptop bag. But if you know Herschel kit, you know they make great quality bags, very hardwearing. The Tech Pack comes in the classic Herschel minimalist style with plenty of space for your ski gear and supplies.
With the essential chest strap, this will be a comfortable rucksack while snowboarding or skiing. And you can easily stow your water bottle, snacks and more.
4. Deuter Freescape Lite 26 Ski Touring Backpack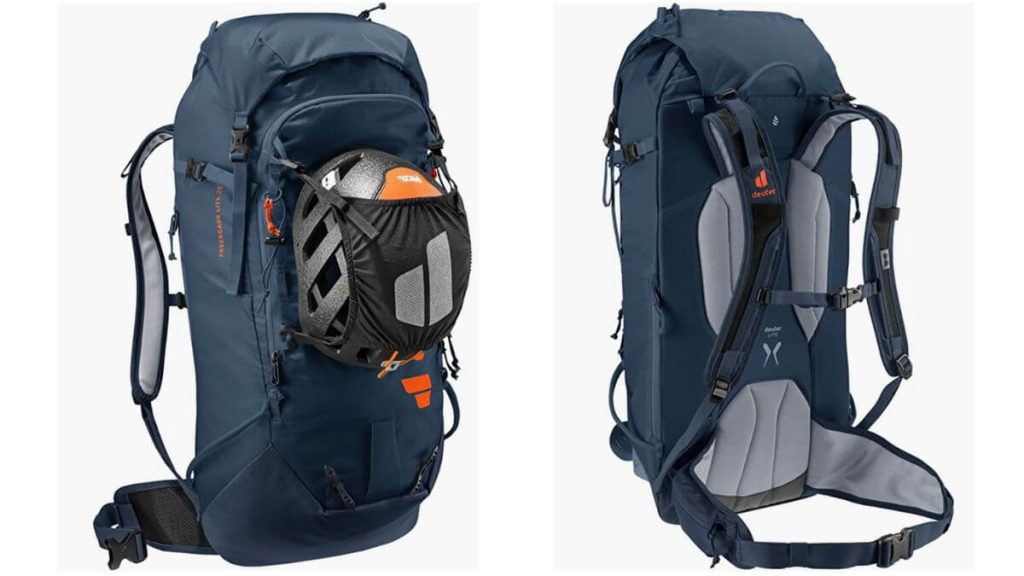 This great ski backpack from German brand Deuter is made for purpose ski touring backpack. Well… Just look at the name. At 26 litres its not the biggest pack on our list but is a perfect daypack for skiiers or snowboarders.
But it is compact, has a comfy padded back, plus a helmet carry system on the front. There is even a seperate compartment for avalanche gear, including space for a snow shovel.
If you're looking for the best ski backpack brand, and equipment made for ski touring check out the Deuter Freescape.
5. Mammut Nirvana 18 Ski and Snowboard Pack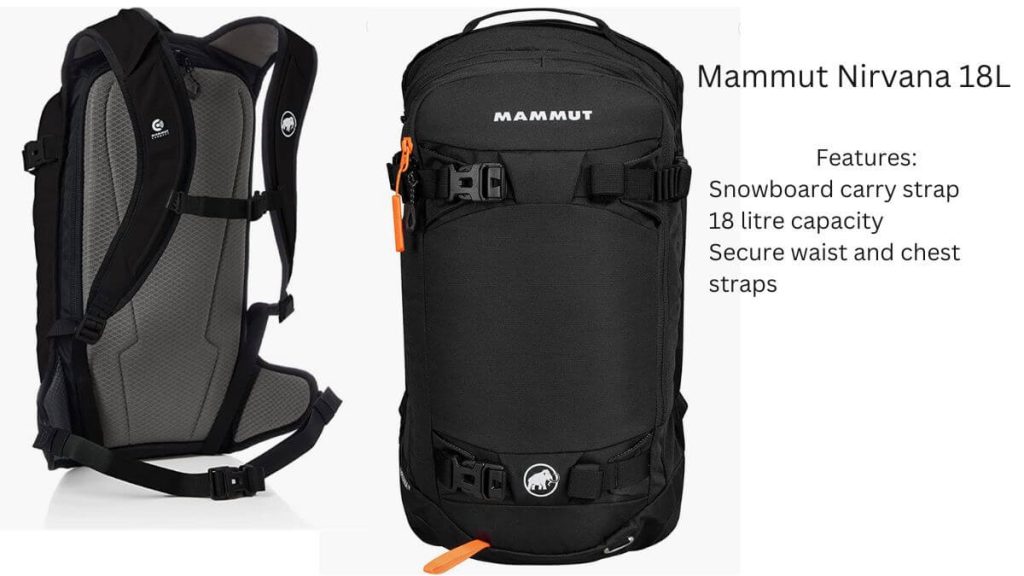 A compact daypack from Mammut, made for skiers and snowboarders. With it's comfortable waist strap, plus the chest strap, comfy padding and a compact 18 litre capacity, this is one for the purists. And as if to underline it's credentials, it even has a snowboard carry strap!
You'll also find a ski or snowboard carry strap, and space to store walking poles for those intrepid mountaineers.
Mammut are also a top quality brand, and we recommend this snowboard backpack for anyone who wants a good looking, comfortable and made for purpose ski daypack.
6. Salomon Trailblazer 20L Hiking Backpack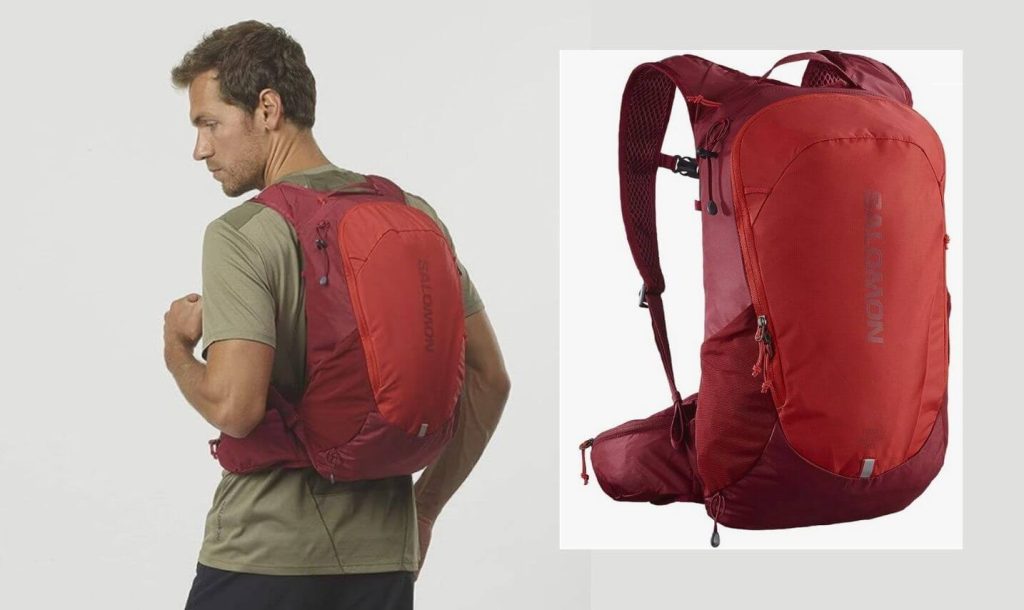 This cool hiking pack from Salomon gives you ample storage for your essentials in an eyecatching red hiking bag. It's a simple bag, with back padding, adjustable waist and chest straps, 2 stretchy side pockets, an assortment of internal pockets and an external key or pass pocket too.
While this isn't a made for purpose ski backpack, we think it ticks all the boxes with the hip belt and chest straps, as well as decent storage.
Obviously Salomon are also a great brand, with durable and quality gear that should last you a few years of ski trips.
7. Burton [ak] Dispatcher 18L, 25L and 35L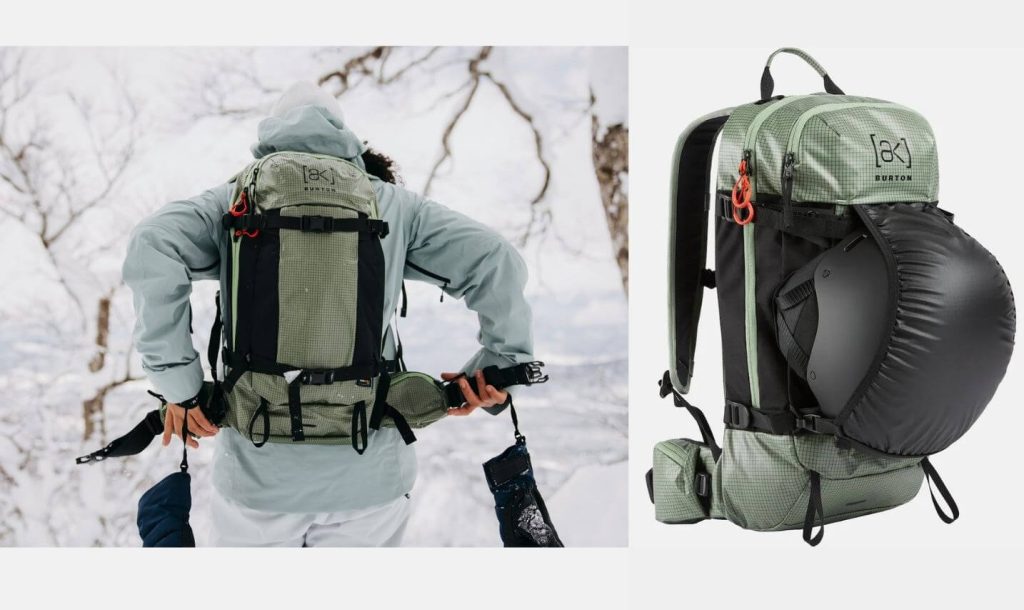 Snowboarding brand Burton are obviously not just in touch with the needs of snow sports heads, they also make some great kit. And the Dispatcher day pack for skiers and snowboarders is obviously built for purpose. I'd go so far as to say this is one of the best ski touring backpacks on our list here…
The handy helmet storage on the front of the bag is obviously one notable feature. But. this excellent snowboarding backpack also features a fleece lined goggle pocket and several easy access compartments.
Being Burton, the build quality is second to none, and even has sustainability credentials too.
The Dispatcher rucksack is available in an 18 litre daypack, 25 litre or a 35 litre weekend pack. The bigger bag features a fully openable back compartment and space for avalanche tools.
8. Berghaus Remote Hike 25L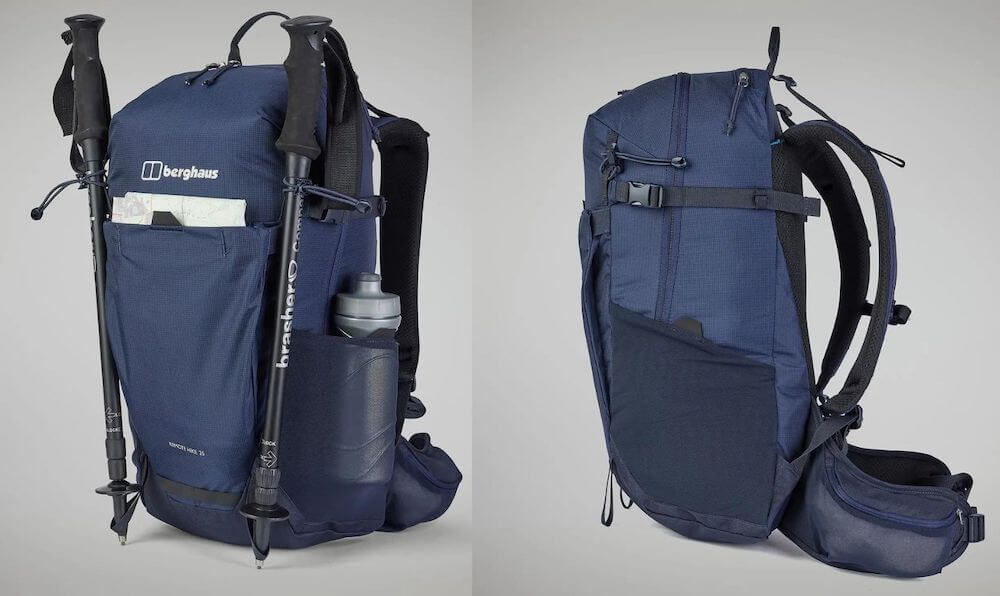 Berghaus are more associated with hiking and mountainerring, but this nifty day pack has a bunch of features perfect for skiers and snowboarders. From the handy pole holders on the side, or the stretch bottle holders, to the belt pockets or elasticated front stash pocket, this is a great bag for riders.
While it's not the most stylish bag on the list, you are getting a durable bag which will stand up to whatever you can throw at it over the course of a season.
9. Wedze Ski Snowboard FR500 Backpack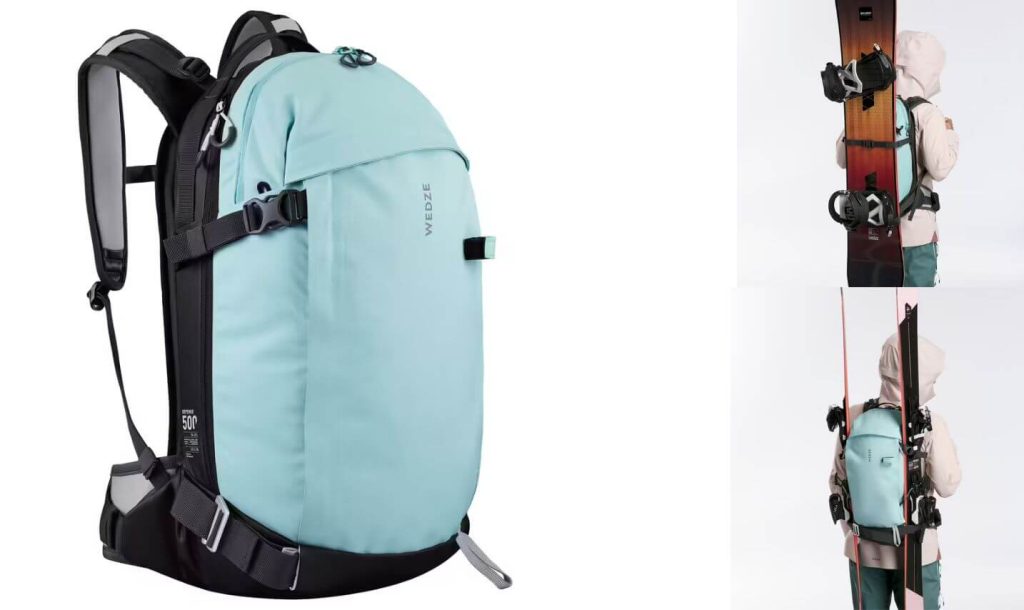 Another ski backpack gem from Decathlon. This time, the ski and snowboard day pack is designed to hold pretty much anything you might need on the mountain including your skis or snowboard! It also packs 27 litres of storage space, in 6 pockets, and a handy helmet holder too.
Decathlon are a reliable brand for quality ski packs on a budget, and we think this is both stylish and feature packed.
If you're looking for a solid piece of kit for your ski touring or snowboarding freeriding, this is an excellent bag from the French brand.
10. Gregory Kiro 22L Day Pack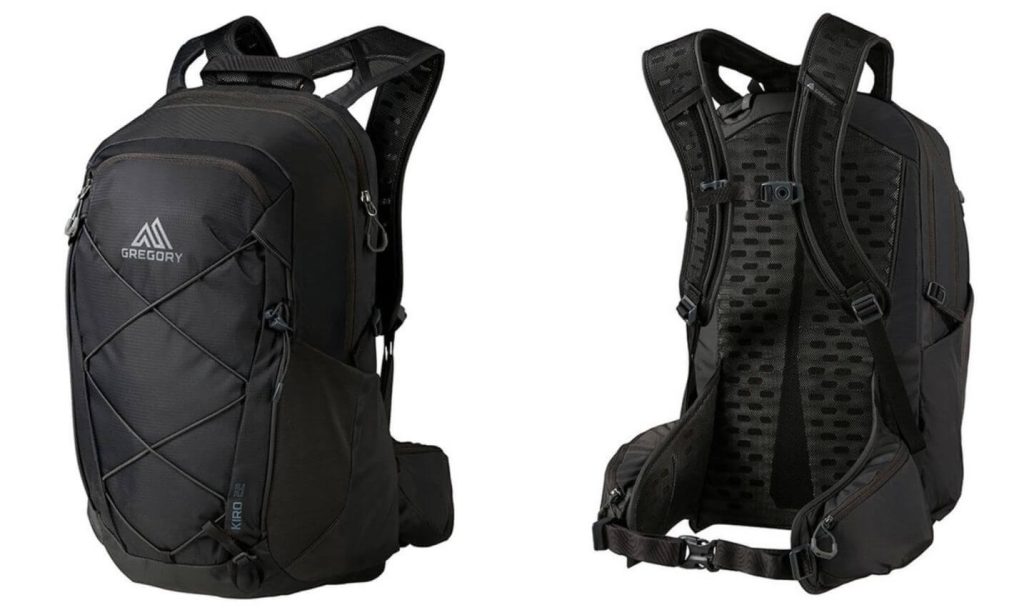 With all the features you might need in a ski backpack, the Gregory Kiro is a simple yet smart choice for your daypack. With ski pole/trekking pole attachment, plentiful internal pockets, side stretch mesh pockets and front webbing for your essentials, plus waist and chest straps.
Price: £85
Buy from: SimplyHike or Amazon.
11. Picture Organic Komit 18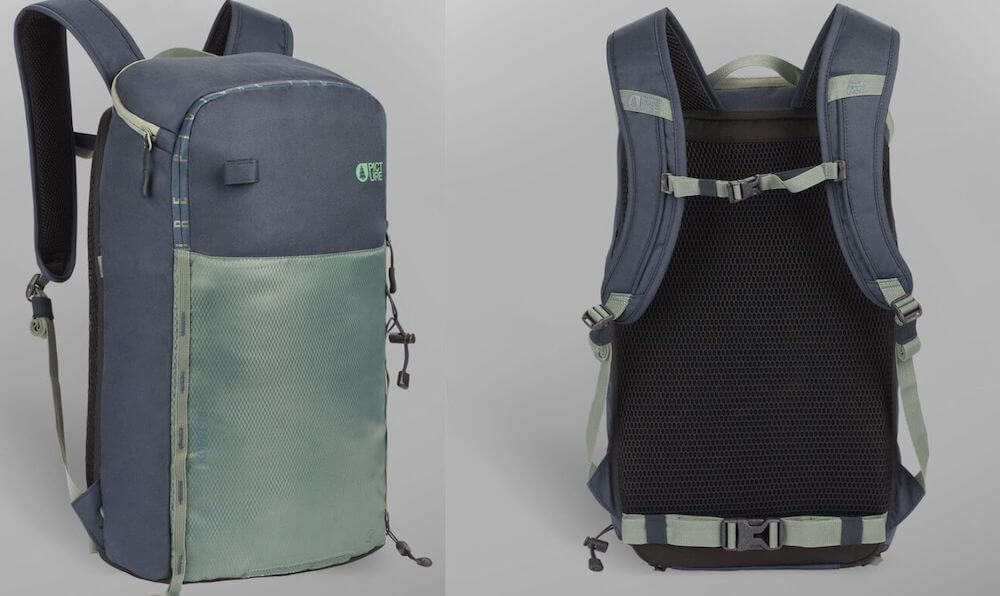 We like French brand Picture Organic for their effortlessly cool styling. They're kinda like the Patagonia of France… Maybe… Anyways, their Komit 18 litre pack is both funky looking and practical too. The bag features a helmet holder, plenty of internal compartments and is also 'hydration system compatible', if you've got one of those already.
12. Dakine Heli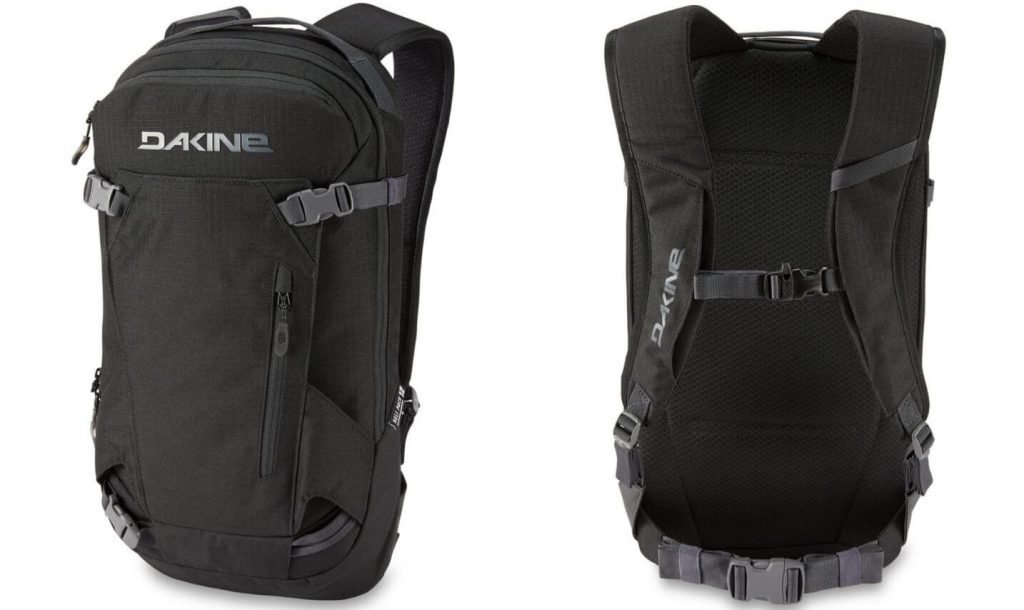 This is definitely a contender for one of the best ski backpacks on the market, packed full of features for skiers and snowboarder, and available in a variety of cool colours and styles.
The Dakine Heli is available in 12 litre day pack, 18 litre or 20/24 litre pro size.
Even the 12 litre Heli ski backpack comes with a fleece lined goggle pocket, tool compartments and a hydration sleeve! The 20 litre Dakine Heli Pro also features a ski or snowboard carry strap and more storage. As well as an A frame ski carry and rescue whistle on the 24 litre version.
Certainly a serious ski backpack for serious skiers and snowboarders.
In summary
Whether you're out there enjoying a day on the pistes with some resort skiing, or you're venturing off on a multi day tour into the mountains, be sure to bring a good ski backpack. Our list of the best ski packs features some of the best mountain hardwear available with everything you need to carry a range of essentials; from extra clothing, to safety equipment, ice tools or simply ample space for your lunch.
Read our guides: What to pack for a ski trip – and the best cheap ski goggles.