When it comes to booking ski holidays, we often look for packages on the slopes, with ski-in/ski-out packages and views of the mountains. But with more people than ever looking to get the best bang for their holiday buck, paying top whack for a French ski resort might not be ideal for everyone. I headed to Ljubljana a couple of years back to discover the jobs of snowboarding in Slovenia, and what I found was a great option for a ski hub in Ljubljana.
Stay with me here… Because I do think this is the sort of holiday experience that could be perfect for many casual skiiers, family ski or snowboard breaks or even beginners and intermediates.
So what makes Ljubljana in Slovenia a great ski hub?
Where is Slovenia?
Slovenia is a small nation sandwiched between Italy, Austria and Croatia, with the top half of the country mostly mountain scenery. This mountain range is still the Alps, and although they're not quite as Alpine as say, Val D'Isere or the Tyrol, they are still perfectly suited for ski holiday makers.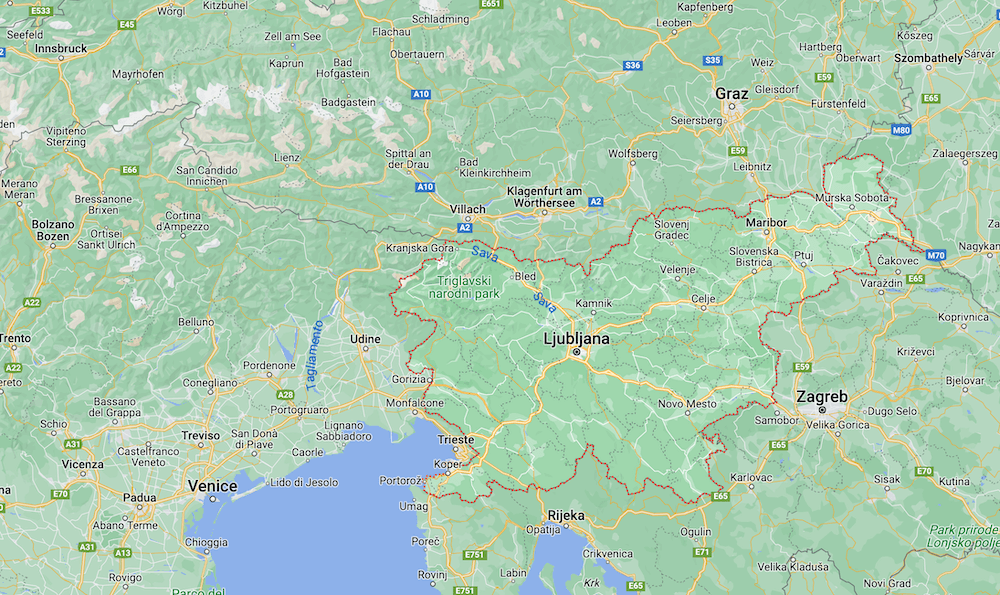 Ljubljana airport is connected to most major European cities, including London, Brussels, Paris and Frankfurt. You can also fly to Ljubljana from international destinations such as Tel Aviv and Istanbul.
If you're coming from the UK, you will need to either fly from London (Gatwick, Luton and Heathrow all connect to LJU), or fly into Trieste airport in Italy and then cross the border. Be careful with car hire though as you might need to pay extra to cross the border.
One of the great things about Slovenia is that nothing is that far away, especially if you're driving.
From Ljubljana, the capital, to the mountains, takes around 30-40 minutes on a pretty fast road. So where can you go and ski or snowboard in Slovenia?
Where to ski or snowboard in Slovenia?
There are a number of ski resorts in Slovenia, mostly dotted along the north of the country. They are:
Krvavec
Vogel
Krjanska Gora
Mariborsko
Kanin-Bovec
Cerkno
Rogla
Golte
Kope
Verlika Planina
Soriška Planina
Most of these are quite small, with under 10 kms of pistes. But if you want a full ski or snowboarding adventure in Slovenia, I'd recommend Krvavec, Krjanska Gora, Vogel, Mariborsko, Kanin-Bovec and possibly also Rogla/Cerkno as a bonus.
These recommended resorts all offer over 20 kms of skiable terrain, with Mariborsko being the largest at around 45 kms of pistes.
I did actually enjoy a few days snowboarding in Krvavec and a bonus day at Vogel, which you can read about.
Read my review of Krvavec.
If you want to commute from Ljubljana to the mountains, the times are going to be:
Krvavec – 30/40 mins
Vogel – 1 hour 20 mins
Krjanska Gora – 1 hour 10 mins
Mariborsko – 1 hr 30 mins
Is Ljubljana a good base for a ski holiday?
Ljubljana is a small city, very walkable, and with plenty of things to see and do. There is a nice castle, a cool old military barracks which is now an arty hangout, a gorgeous riverside walk and an old town dotted with nice restaurants.
In short, its a lovely city, if a little sleepy during the winter.
While it isn't close to ski resorts, it also isn't that far to transfer. And if you don't have a car hire, yes you can use public transport to get to Krvavec and some other ski resorts too.
I did a full review of Ljubljana over on our sister site.
What is it like to ski or snowboard in Slovenia?
Despite the fact that Slovenian ski resorts are kinda small, with shorter runs than in the high Alps, I think there is plenty to enjoy. I found that Krvavec offered some good varieties of runs, and Vogel also had plenty for beginners and even advanced intermediates to get stuck into. Both of these resorts also had a snow park, so anyone wanting to practice their skills would be very happy.
In addition to this, I found that the lifts were pretty modern and quick, and never busy.
I did't use the ski schools, but they looked very popular, and what I can see they are also pretty affordable.
If you're a mile munching ski fanatic, or you want some intense terrain exploring then, honestly, go somewhere else. If you just need a ski or snowboard fix for a relatively cheap price and some epic views, then Slovenia will very likely tick all your boxes.
Why choose Slovenia for a ski or snowboard holiday?
While Slovenia isn't going to compete with the high Alpine terrain of France or Austria for the expansive terrain, there are a number of reasons that make it a good option.
Firstly, Slovenian resorts are very affordable, with the average day pass coming out at around €35.
There is also an option to purchase a Slovenia-wide ski pass which allows you access to all of the ski resorts in Slovenia with one pass. A 2 day pass will set you back €75, while a 7 day pass just €221. Anyone from North America reading this, I'm guessing your jaw just dropped as that 7 day pass costs about the same as one day in the States.
Secondly, the terrain is very beginner and intermediate friendly. I found the ski terrain at both Vogel and Krvavec to be suitably challenging for my level at the time (which was kinda newbie, but levelling up) with plenty of options to get more challenged.
This makes Slovenia perfect for families, beginners and intermediates, or even casual skiers or snowboarders.
Thirdly, I think the option to explore the country as part of a ski break is very appealing. While on my trip to Slovenia, I got to enjoy about 4 days of snowboarding whilst also checking out the spectacular sights of Ljubljana, Lake Bled, Lake Bohinj and the views from the ski resorts. If you have casual or non-skiing members in your party, this means you can drop them off to explore while you hit the mountain.
And my fourth and final reason to try a ski holiday in Slovenia is… It's much more affordable than other Alpine nations when it comes to a ski experience.
Lets' take a look.
How much does it cost to ski in Slovenia?
When it comes to a budget ski experience with premium terrain, I think Slovenia might be hard to top.
I hired a car, all my snowboarding equipment and stayed in a hostel in Ljubljana, plus enjoyed some apres ski with some buddies at my hostel. And, all in, a 4 day ski break cost me around €400. Yup, in the region of €100 a day, with accommodation, lift passes, food, equipment and ski hire.
Lets break that down.
Car hire: €35 for 3 days, plus around €30 in fuel
Lift pass: €115 for 3 days
Equipment hire was around €60 for the 3 days I was snowboarding
Accommodation: Less than €20 a day (hostel dorm room in Ljubljana), clocking up at less than €80 for the full stay.
Food: I was eating €10 pizza in Ljubljana, and enjoying €7 lunches on the mountain.
Apres ski: Ljubljana isn't the liveliest town, but I did hit a few bars with a hostel buddy – with beers and drinks being less than €5 a pop.
So I spent around €320 on the snowboarding essentials including transport and lift passes, with the rest spent on sundries such as food and partying.
How to book your Slovenia ski trip
I booked a pretty much all of my Slovenia winter sports trip independently.
I used Rental Cars to find car hire at Ljubljana airport – which was very easy to use, very affordable and excellent value.
Check car hire in Ljubljana with RentalCars.com
My accommodation was found through Trivago, I simply searched for a hostel with a low cost and free parking.
Browse hotels, hostels and apartments on Trivago.
Ski passes I actually bought from the lift office at Krvavec on the day, but you can also book ski and snowboarding experiences with sites like Get Your Guide.