If you're planning a trip to the mountains this winter, you might be wondering how much to budget. While the sport of skiing has often been seen as a luxury experience, the truth is that a European ski trip can be surprisingly affordable. But, of course, this depends where you go, when and where you stay.
We're going to take a look at the costs of the average ski trip in Europe. We'll find out where to go to make your ski budget go further, and suggest some of the best places to book your ski holiday in the Alps and Europe in general.
So let's find out what is the cost of a ski trip to a European destination, and how can you find these ski packages…?
Quick note: There are some affiliate links in this article. What that means is that we earn a small commission if you purchase anything via our partners, at no cost to you. This is the only we way monetise our site, so feel free to click those links 😉
What is the average cost of a ski holiday in Europe?
European ski resorts come in a wide variety of sizes and prices. At one of the scale you have your Zermatt, Val Thorens and Lech, representing the premium ski resorts. While at the other end you have bargain options such as Bansko, Zakopane or Kranjska Gora.
And of course, there are countless options in between.
However to give you a ball park figure, based on past experience and current prices (as of 2023), a good average would be:
Ski package for 7 days with accommodation and lift pass: £400
Return flights from a UK airport to Geneva, Lyon or Innsbruck: £150
Transfer to your resort: £70
Equipment hire: £70
Food, drinks and sundries: £150
This brings our (very rough) average cost of a ski trip in Europe to £840 per person for 7 days.
That's just over US$1000, or about €970. Ish.
BUT… This is not factoring in things like high season, additional lessons or experiences, dining out regularly, or apres ski every night.
In fact, despite this average cost, I would say that it's very reasonable to budget a week in a low profile ski resort for closer to £500 per person (that's about $600 or, well, also about €600). Let's find out how.
Read about my £400 ski trip to Slovenia!
How to work out the average cost of a ski holiday
When it comes to working out the costs for your ski or snowboard break, we need to work out a few things first. They are:
How long are you going for?
Where are you going?
How many people will be on your ski holiday with you?
How will you be getting there?
Do you have your own equipment or do you need to hire gear?
Will you be needing lessons?
Will you be self catering or being catered for?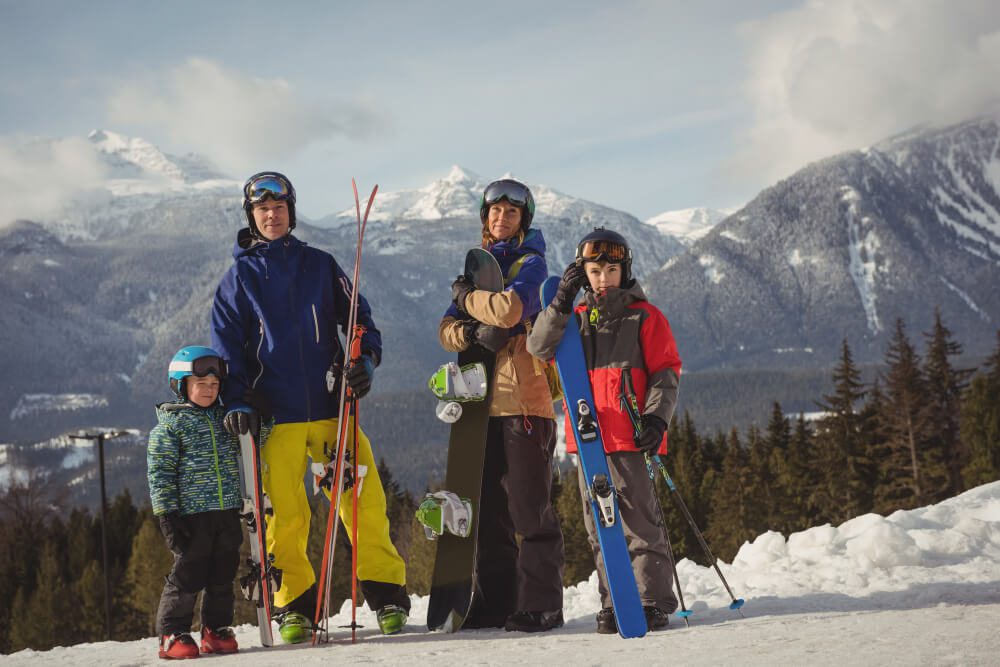 Depending when you go, you can get some incredible deals on ski packages. Usually this is early season (December), or late season (March-April). You can also sometimes find some great deals on the best Christmas ski resorts, although prices tend to go up around New Year.
Believe it or not, going solo can often be cheaper in Europe. You can do budget things like find a cheap hostel or budget hotel, book weird flight times, avoid eating in costly restaurants and generally keep the cost down.
Saying this, sometimes the price can be shared between a group for a ski chalet and transfers, which also brings the average cost down. A group of six friends can easily find a cheap apartment in one of the mid tier ski resorts such as Mayrhofen or Avoriaz, and probably save a bunch of bucks/quids/whatever you call your money.
Lets find out how.
Ski packages
There are many options for ski packages, from all inclusive with flights, lift passes, transfers and food included, through to do it yourself options.
And when it comes to bargain ski breaks, paying attention to the popular ski package booking sites can really help.
For example, with Ski World, you can currently get a great deal on 7 days self catering in a premium chalet in Val d'Isere, one of the world's bets ski resorts. This includes flights from Birmingham, UK; transfers to the resort and hold luggage for £589. (view deal)
You'll need to add on your own lift pass, which is £295 with Ski World, and of course equipment if you're not bringing your own.
So the total here is £878 for 7 days in one of the best ski resorts in Europe, or, indeed, the world. Pretty close to our average cost for a ski holiday.
But that's just one example.
Lets check out budget ski package operator Snowtrex.
We found a deal on Snowtrex to Austrian resort Feldkirch in early March 2023. I've not been there, but there is a respectable 117 kms of pistes with a resort height of nearly 2500 metres. Sounds very good.
A 7 day, half board package with lift pass included is….. £290! (view deal)
Yes, food, digs and lift pass under £300. Add in the flight to the nearest airport, which is actually Zurich in Switzerland (currently £65 return from London), plus a transfer to the resort which is a 2 hour train ride at £40 each way. And you just scored a bargain ski holiday in Europe for UNDER £500 per person.
View more ski deals on Snowtrex.
In short, if you're flexible with where and when you go, you can get some absurd deals.
Flights
Of course flights will also have a big impact on the total cost of your ski holiday. Flying into Geneva or Innsbruck during school holidays is always going to be both expensive and pretty chaotic too. Expect prices to be more than double during these times too.
And if you want to fly into a smaller airport like Grenoble, you might also find that the price climbs more.
The main ski resort airport hubs in Europe are:
Geneva, Switzerland for the northern Alps, such as Chamonix, Morzine, Verbier, Zermatt etc
Zurich, Switzerland for Davos, Engelberg and the Eastern Swiss Alps and Western Austria
Innsbruck, Austria: For most of the Tyrol including Mayrhofen and St Anton
Salzberg, Austria: Flachau, Kitzbuhel etc
Lyon, France: For the Mid Alps, Isere region such as Les Deux Alpes, Alpe d'Huez, Val Thorens etc
Grenoble, France: For the same Isere region but slightly less transfer time
Turin, Italy: For the Italian Alps including Sauze d'Oulx and Livigno
Verona, Italy: For the Southern Alps such as Madonna di Campiglio
Barcelona, Spain: For the Spanish Pyrenees and Andorra
Toulouse, France: For the French Pyrenees and Andorra
These are all main airports which often offer reasonable (if highly variable) flights during ski season. Expect to pay something on the region of £100-150 for return flights from a British airport to one of these airports.
As we've seen though, prices can drop to that £65 region, or skyrocket to well over £200 or more.
As a bonus, you might also find ski deals near to these cities:
Malaga, Spain (Sierra Nevada)
Nice, France (Isola)
Ljubljana, Slovenia (Slovenian resorts)
Krakow, Poland (Zakopane in Poland and Jasna in Slovenia)
Sofia, Bulgaria (Bansko and Borovets)
Brasov, Romania (Poiana Brasov)
Transfers
Getting to the resort from the airport is another cost you'll need to factor in. We've looked at this in depth, in our guide how to find cheap resort transfers, and it will depend where you're flying into and where you're going skiing or snowboarding.
In some places, a bus or shared transfer can be around £70 return, or a private transfer can be hundreds. But in some places you can hire a car for £40 for a week!
Factor in those transfer costs!
Read our guides: How to find ski resort transfers from Geneva / Ski resort transfers from Lyon / Ski resort transfers from Barcelona.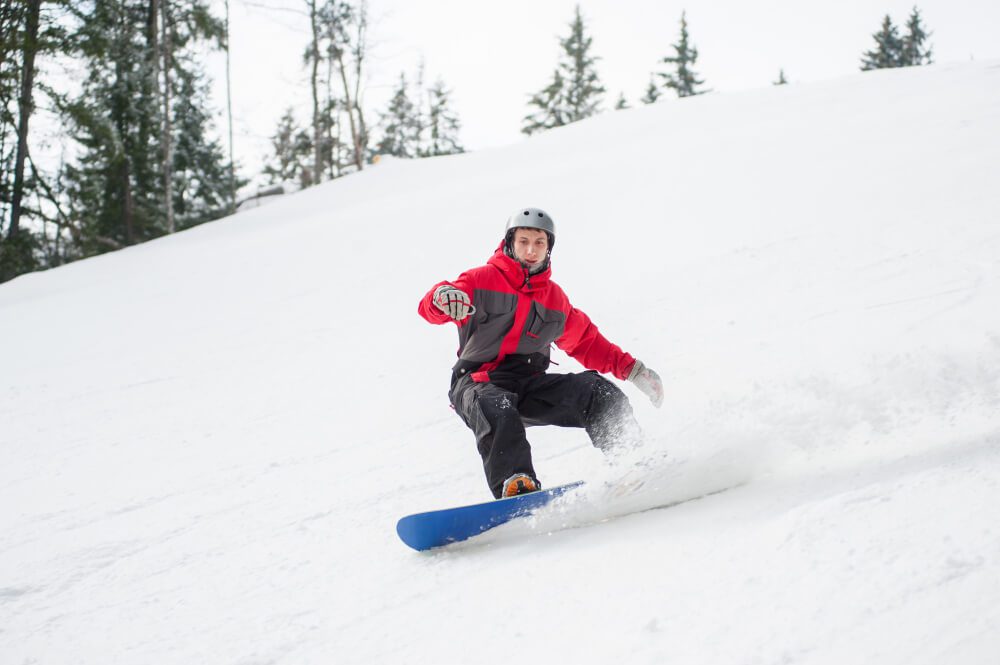 Equipment
If you're bringing your own skis or board, you're golden here. Simply factor in the extra cost with your flight, which is included with some airlines (Swiss for example). Easyjet, WizzAir and Ryanair all charge between £30-60 one way – so check when booking.
In some cases, it is often cheaper and easier to simply rent skis or snowboard, plus a helmet, at your resort.
I normally find this is around £80 for a week, for a decent snowboard with boots/bindings and a helmet.
There is almost always either an Intersport or SkiSet rental location. But you could also try your ski package provider who often include discounted deals on ski holiday equipment rental.
Food and drink
Enjoying that Alpine cuisine can get expensive, depending where you are. If you're dining out on steak hache and fondue every night, then expect to be spending at least €40 a head, not including drinks.
But of course, every ski resort, even the premium ones, will have a cheap sandwich place, a pizza bar and obviously a local corner store or Carrefour.
If budget is an consideration, head to the supermarche and fill up on cheap pasta, cheese and wine and enjoy your ski lodgings over some Netflix. By doing this, you could easily feast like a king/queen on around £100 for a week, or less.
But if you want to go and enjoy the apres and the local cuisine, expect to spend at least €3-7 on beer and wine (cheaper Austria and Andorra, expensive Switzerland and France), or between €10 – €30 on a meal per person.
Where to find cheap ski package deals
When it comes to finding the best deals on your ski holiday in Europe, you're actually spoiled for choice. We have some of the best prices for ski and snowboarding, with a huge range of resorts. This includes those premium ski resorts as well as just as fun cheap ski resorts too.
Generally speaking, if you book before Christmas or after February, you'll find some good low priced deals. March is particularly good, but you can also find nice prices in January or February too – keep an eye on the sites.
Our favourite sites for ski packages are:
Snowtrex: One of the best ski package providers, who also include lift passes as standard. You'll often find some crazy deals here, especially last minute.
Skiworld: They offer some of the best packages for all-in ski holidays. This means, flights, equipment and transfers are included in the price. And they also often come with some great deals around the holidays too.
Esquiades.com: Spanish tour package provider offering some great deals on both the Alps and the Pyrenees.
Estiber.com: Another Spanish tour operator, some great deals to Andorra and the Pyrenees.
LoveHolidays: Has some good deals on Bulgarian resorts Borovets and Bansko – check them out if you're looking for a budget ski break.
LastMinute.com: Yes, LastMinute even has ski deals. They usually offer a good deal on flight and hotel deals, so you'll need to manage your own lift pass and transfers. But can be great for hotel packages.
Europe-Mountain: This Polish ski package provider sometimes offers some seriously solid deals, often in the Alps. Some deals also include lift passes… Definitely worth checking out.
Ski lessons
If you need to add lessons to your ski holiday in Europe, again, this will vary between countries, resorts and even dates.
Prices can run from €40 and hour, to over €100 an hour. This will also depend on whether you have private or group lessons.
Most people book blocks of several days ski lessons, usually between 2-4 hours of tuition. This will be much better value, and obviously you'll also learn more.
In the French or Austrian Alps, expect to spend anything upwards of €200 for 2-3 days of group tuition. It will be the same price for kids too – although you'll also need to pay for their lunch which could be an extra €15-20.
In Andorra, you'll find packages are better value. You'll get 5 days tuition for around €200. Or if you really want to learn on a budget, head to Bulgaria, Slovenia or Poland. In Bialka Tatrazanska (Zakopane), you can get ski lessons for around £24 per hour.
Another option is to bag up on those dry ski slope lessons in the UK (which are often not that cheap to be honest) and then just get stuck in when you arrive on the mountains.
You could also book on specific beginners ski or snowboarding packages or deals. Read our Best beginners ski and snowboard packages.
To sum up
The average cost of a ski holiday in Europe is around £840 per person. Which includes pretty much everything. But there are a lot of variables, and you can get the price down to almost half that if you go to the right place at the right time, or double that, if you don't care and you just want the best ski holiday experience.