If you are a passionate ski or snowboard lover seeking a budget-friendly ski break in Europe, sometimes the big resorts don't tick all the boxes. And with people looking to enjoy skiing and snowboarding on a budget, sometimes you need to find a small ski resort where you can get more for your money.
If you're looking for inspiration for small ski resorts in Europe, we've summed up this list of some of the best we've found, plus a few more too. Many of these offer quality ski and snowboard terrain, but for much less than the high Alps and the premium resorts.
Small Ski Resorts: A Hidden Delight
Small ski resorts may not be as well-known as their larger counterparts, but they have their own unique charm and advantages. These resorts often offer a more intimate atmosphere, allowing you to truly immerse yourself in the stunning scenery and enjoy a sense of community among fellow skiers and snowboarders.
Besides, smaller resorts tend to be more budget-friendly, making them an excellent choice for those who want to have an incredible ski vacation without emptying their wallets.
16 Best Small Ski Resorts in Europe
Krvavec
Nestled in the heart of Slovenia, Krvavec mesmerizes visitors with its breathtaking vistas and well-groomed slopes. This small ski resort offers affordable lift passes and a variety of accommodation options nearby. Whether you are a beginner or an expert, Krvavec caters to all levels of skiers and snowboarders, ensuring a memorable experience.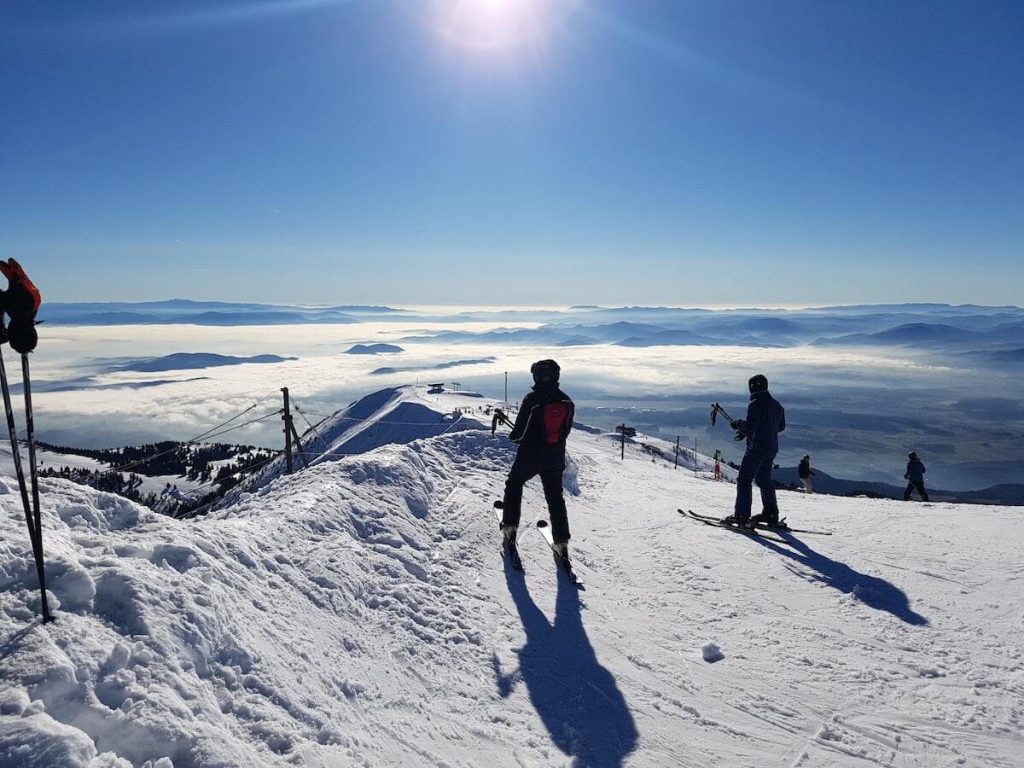 At around 30 kms of skiable terrain, Krvavec is just the right size for a long weekend on the mountain.
We recommend staying in the nearby capital city Ljubljana or staying near Lake Bled.
Zakopane
Located in the Tatra Mountains of Poland, Zakopane is a true hidden gem. This popular ski resort boasts a perfect blend of nature and culture. Skiers and snowboarders can enjoy the magnificent views while exploring the picturesque wooden chalets and indulging in hearty Polish cuisine. While Zakopane itself is the main town in the region, there are a variety of places to ski or snowboard including on the mountain at Kasprowy Wierch or at the more expansive Bialka Tatrazanska/Kotelnica.
The terrain is also not the most challenging, and will suit beginners, families or intermediate skiers and snowboarders.
When it comes to small ski resorts in Europe, Zakopane offers excellent value for money, making it a top choice for budget ski breaks.
La Fouly/Pays St Bernard
Tucked away in the stunning Swiss Alps, La Fouly/Pays St Bernard allows you to escape the crowds and soak up the tranquility of this hidden gem. With its affordable ski passes and a charming village atmosphere, this resort is a haven for those seeking a peaceful skiing experience. The resort offers a variety of slopes suitable for all skill levels, making it ideal for families and beginners.
La Fouly is just one of three great little ski resorts in the Pays St Bernard area, which all offer a good mixture of both beginner and advanced terrain. This truly is a small ski resort gem!
Val D'Arly
Situated in the Haute-Savoie region of France, Val D'Arly enchants visitors with its unspoiled beauty and extensive ski slopes. The resort offers a range of affordable accommodation options and boasts a family-friendly atmosphere. With its gentle slopes and dedicated ski schools, Val D'Arly is an ideal destination for families and beginners looking to learn or improve their skiing skills.
Kranjska Gora
Nestled in the Julian Alps of Slovenia, Kranjska Gora is a small ski resort that punches above its weight. With its affordable ski passes and a wide variety of ski runs catering to all levels of expertise, this resort is a true hidden treasure for European ski enthusiasts. Kranjska Gora is also famous for hosting World Cup ski races, which adds to its allure.
While there are some good resort hotels close to Kranjska Gora, you could also commute from Lake Bled or Ljubljana if you wanted a more lively apres ski location.
Isola 2000
A short transfer from Nice in the South Apls, Isola 2000 is a small ski resort that promises endless adventures and incredible snow conditions. This hidden gem offers affordable lift passes, excellent snow coverage, and a range of accommodation options, ensuring a memorable ski vacation on a budget. Isola 2000 is known for its sunny weather and modern facilities, making it an ideal choice for both families and experienced skiers.
Despite being closer to the Cote d'Azur than the high Alps, Isola is actually a great ski resort and is pretty snow sure. Definitely one to check out if you want something cheaper and different in the Alps.
Valberg
Located in the stunning Mercantour National Park in France, Valberg is an idyllic small ski resort that offers a wealth of winter activities. From skiing and snowboarding to snowshoeing and ice skating, Valberg provides a diverse range of experiences without breaking the bank. This resort is known for its stunning landscapes and relaxed atmosphere, making it an excellent choice for those seeking a winter retreat.
Katschberg
Embraced by the enchanting landscapes of Carinthia, Austria, Katschberg is a small ski resort that invites you to explore its pristine slopes and cozy alpine huts. With its affordable ski passes and friendly atmosphere, Katschberg is a perfect choice for a budget-friendly ski vacation in Austria. This resort offers a variety of slopes, making it suitable for skiers and snowboarders of all levels.
Borovets
Nestled in the Rila Mountains of Bulgaria, Borovets offers an affordable ski getaway with a vibrant après-ski scene. Ski enthusiasts can enjoy a variety of well-maintained slopes, numerous accommodation options, and a lively atmosphere, all without breaking the bank. Borovets is known for its stunning mountain views and diverse entertainment options, making it a great choice for both families and young adults.
Sinaia
Located at the base of the majestic Bucegi Mountains in Romania, Sinaia is a charming small ski resort that captivates visitors with its fairy tale-like ambiance. With its affordable ski passes and proximity to the famous Peles Castle, Sinaia offers a unique ski experience that combines stunning scenery with rich cultural heritage. Sinaia is also known for its excellent ski schools and beginner-friendly slopes.
Poiana Brasov
Situated in the heart of Transylvania, Poiana Brasov is a small ski resort in Romania that offers a remarkable ski experience at a wallet-friendly price. Surrounded by the Carpathian Mountains, this resort offers picturesque landscapes, a range of accommodation options, and affordable ski passes for all winter sports enthusiasts. Poiana Brasov is known for its well-manicured slopes and vibrant nightlife, making it a popular choice among young skiers and snowboarders.
Jasna
Nestled in the Low Tatras mountain range in Slovakia, Jasna is a small ski resort that caters to skiers of all levels. With its affordable lift passes and diverse terrain, Jasna offers breathtaking views and a memorable skiing experience in the heart of Eastern Europe. Jasna is especially renowned for its off-piste skiing opportunities and freeride zones, attracting adrenaline-seeking skiers and snowboarders.
Discovering the Nordic Gems
While primarily focusing on European small ski resorts, we cannot ignore the Nordic countries that boast a wealth of stunning ski destinations. Let's take a closer look at Ruka, Trysil, Åre, and Glenshee, some of the most highly recommended small ski resorts in Finland, Norway, Sweden, and Scotland respectively.
Ruka
Situated in Finland's northernmost region, Ruka is a small ski resort known for its pristine nature and excellent snow conditions. With a variety of slopes for all skill levels, Ruka offers an unforgettable skiing experience amidst the Arctic wilderness. The resort also provides additional winter activities such as ice climbing and snowshoeing, ensuring there is something for everyone.
Trysil
Located in the heart of Norway, Trysil is one of the largest ski resorts in the country, but it has managed to maintain its cozy, small-town atmosphere. With its well-groomed slopes and family-friendly facilities, Trysil offers a perfect blend of excitement and relaxation. The resort boasts modern infrastructure and a wide range of accommodation options, making it an attractive destination for families and ski enthusiasts alike.
Åre
High up in the breathtaking Swedish mountains, Åre is the largest and most famous ski resort in Sweden. However, it still retains a small ski resort ambiance. With its extensive network of slopes and excellent infrastructure, Åre caters to all levels of skiers and snowboarders. The resort also hosts various international ski competitions and offers a vibrant après-ski scene, ensuring a lively atmosphere both on and off the slopes.
Glenshee
Situated in the Cairngorms National Park in Scotland, Glenshee is the largest ski resort in the country and is often referred to as "the Scottish Highlands ski area." Although not as well-known as other European ski destinations, Glenshee offers stunning landscapes and a unique skiing experience. The resort provides a range of slopes for all abilities and boasts a friendly and welcoming atmosphere.
Booking a trip to small ski resort in Europe
When it comes to finding a good package to small ski resorts in Europe, there are a few options. Firstly, you can usually book directly with the resort itself. You can usually search for packages or hotels in the area you want to go, and you'll likely find a nice deal.
Or, and this is my favourite options, check out Snowtrex. They have a bunch of great value packages on resorts of all sizes. Click the banner below to go and check out their home page.
Yes, this is an affiliate link, but I totally LOVE Snowtrex because they offer amazingly low prices to a HUGE array of ski resorts including many of those small ski resorts across Europe.

In summary…
You don't have to head to a giant ski resort to get your snow fix this winter. Many of these small ski resorts in Europe are perfect for a week with the family, or simply to enjoy leisurely skiing or snowboarding at your leisure.
I've personally enjoyed some great experiences at several of these small European ski gems. Stay tuned, because I'll surely be checking more of them out soon…