A winter wonderland awaits you and your family in France. With its diverse range of ski resorts tailored for the family, their ski experience will be engraved in your family's album of memories. As a country known for its exquisite taste, France doesn't fall short in offering the best family ski holidays.
Whether you're looking for the perfect spot for adventure-infused bonding or a cheap ski holiday, France has it all. Buckle up as we guide you through the best French ski resorts for families that suit every budget.
Why Choose France for a Family Ski Holiday?
As the home of skiing, France is literally made for ski holidays, with some of the best ski resorts and terrain in the world.
The lush alpine landscape, scrumptious cheeses, and charming villages, are just the tip of the iceberg when it comes to skiing in France. A giant playground for skiers, the country offers a wide range of ski resorts, from premium and luxury resorts such as Courcheval, to more budget friendly options such as Avoriaz.
Budget Friendly Options
Yes, when it comes to finding a cheap ski holiday in France, you'll actually be surprised about the affordability. While many people assume that ski holidays are a big expense, with the right packages and resorts in France, you should find that a week in the snow is no more expensive than a week in the sun.
In fact, many of the best French ski resorts for families ensure affordability as much as remarkable experience. You'll also find great packages offering affordable lift passes, lodging that caters to family dynamics, and child-friendly ski schools, all just a few factors that ensure a cheap ski holiday in France.
Something for Everyone
Another great thing about French ski resorts is that you'll find terrain that suits everyone. Whether you're looking for kiddy friendly nursery slopes, or you're learning to ski or snowboard yourself, French ski schools are some of the best in the world.
And of course, intermediates and expert skiers and snowboarders will have what can only be described as the best experience.
From long and leisurely descents from the top of some of the highest peaks in Europe, to tree lined runs into quaint villages. It's not an understatement to say that the best family ski resorts in Europe are probably in France.
OK – enough preamble. Lets get to that list…
Top 12 Best French Ski Resorts for Families
1. Les Gets/Morzine/Avoriaz
Amidst a picturesque backdrop, Les Gets, Morzine, and Avoriaz comprise of a ski paradise tailored for your family. These three superb ski resorts harmoniously form the Portes du Soleil, the world's largest ski area, along with Chatel in Switzerland.
We had a great time snowboarding in Avoriaz, which is a purpose built ski resort. But if you're looking for a more genuine village ambiance, check out Les Gets or the bigger and brasher Morzine.
Another benefit of Avoriaz is that its pretty much all ski in ski out, and there are no cars, just horse drawn carriages. So that's also a nice touch for a family ski resort.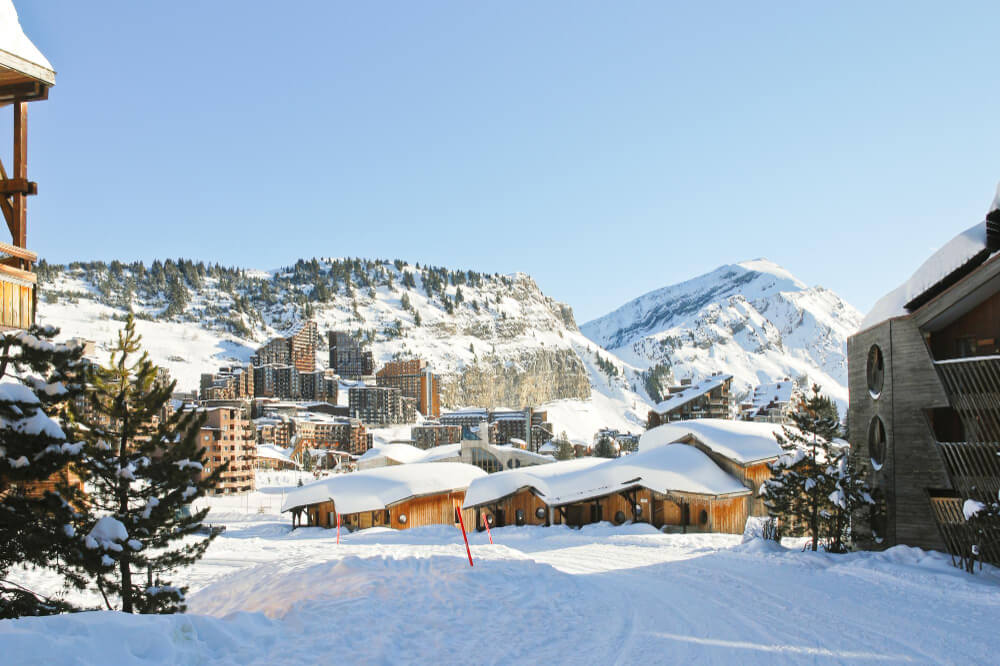 Why it's perfect for families:
Large and versatile ski areas suitable for every level.
Renowned ski schools to give your young ones a solid skiing foundation.
The "Village des Enfants," a dedicated ski area for children in Avoriaz.
Wide range of non-ski activities in all three resorts.
2. Les Deux Alpes
This enchanting destination also boasts some of the highest skiing slopes in France, making Les Deux Alpes a fantastic choice for families scouting for a cheap ski holiday.
If you've read my review of Les Deux Alpes you'll know that I thought it was AWESOME. And with a choice of glacier skiing, accessible nursery slopes and some great family skiing on the mountain, Les Deux Alpes is a solid choice for a family friendly ski area. In addition to this, much of the town offers ski in ski out accommodation.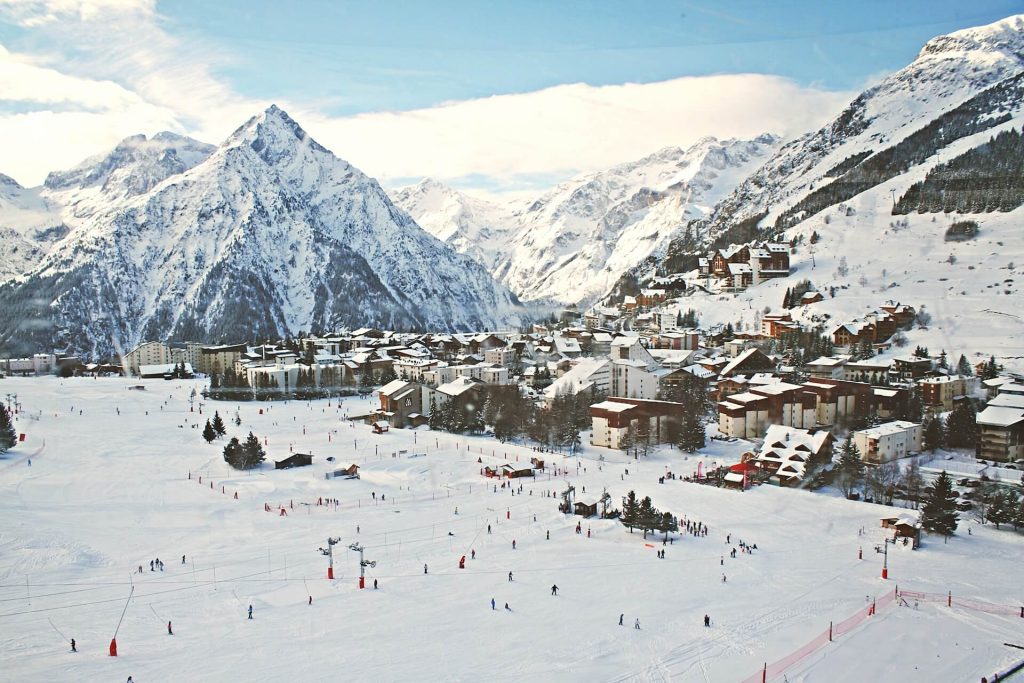 Why it's perfect for families:
Beginner-friendly slopes, ski schools, and snow parks.
Non-ski experiences, such as paragliding, ice-skating, and sleigh rides.
Stay in family-friendly accommodations with a variety of food choices.
Excellent ski terrain including the glaciers.
3. Flaine
Flaine remains one of the best French ski resorts for families. It showcases architectural charm and modernity that add a sense of sophistication to your family ski holiday. Oh, and Flaine is part of one of the biggest ski areas in the world, covering some 265 kms.
While it offers an extensive ski area, Flaine is also well located close to Geneva, offering a nice short transfer time.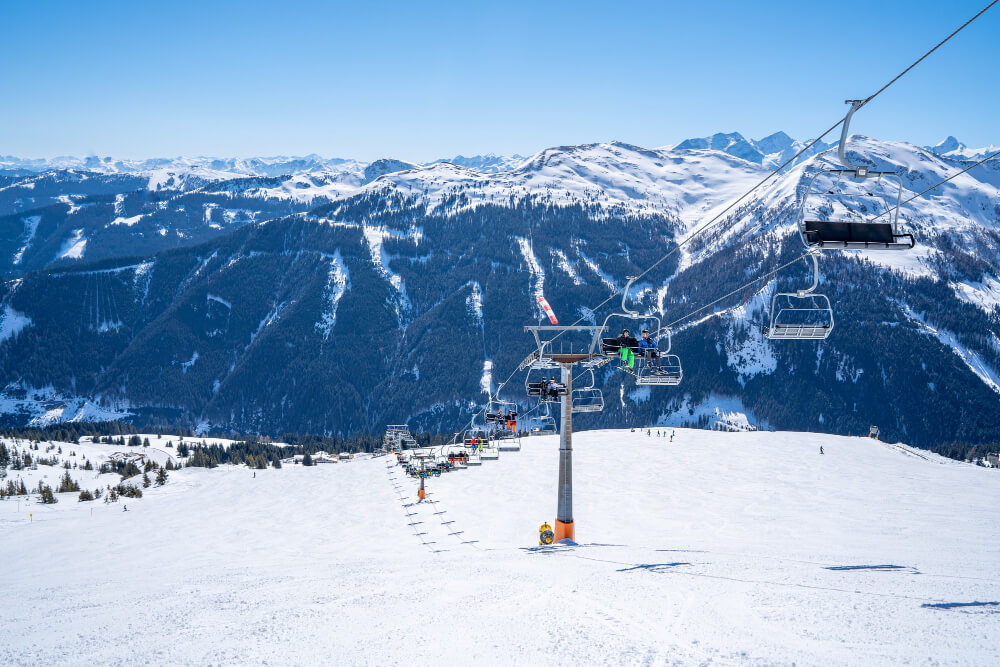 Why it's perfect for families:
Ski-in, ski-out accommodation options.
Snow-sure and beginner-friendly ski area.
The Flaine Art Center and cultural offerings.
Short transfer from Geneva Airport (1 hour 30 ish).
Find some of the best budget ski deals on SnowTrex.

4. Serre-Chevalier
Serre-Chevalier, with its massive 250 kms ski area, invites families to explore the sun-lit slopes and delight in a stress-free winter vacation. While it is a little remote, by Alpine resort standards, it offers a more authentic 'chocolate-box' style village, with lots to see and do off the slopes.
Thanks to the location in the Alps, Serre-Chevalier is also a good option for a snow sure winter break.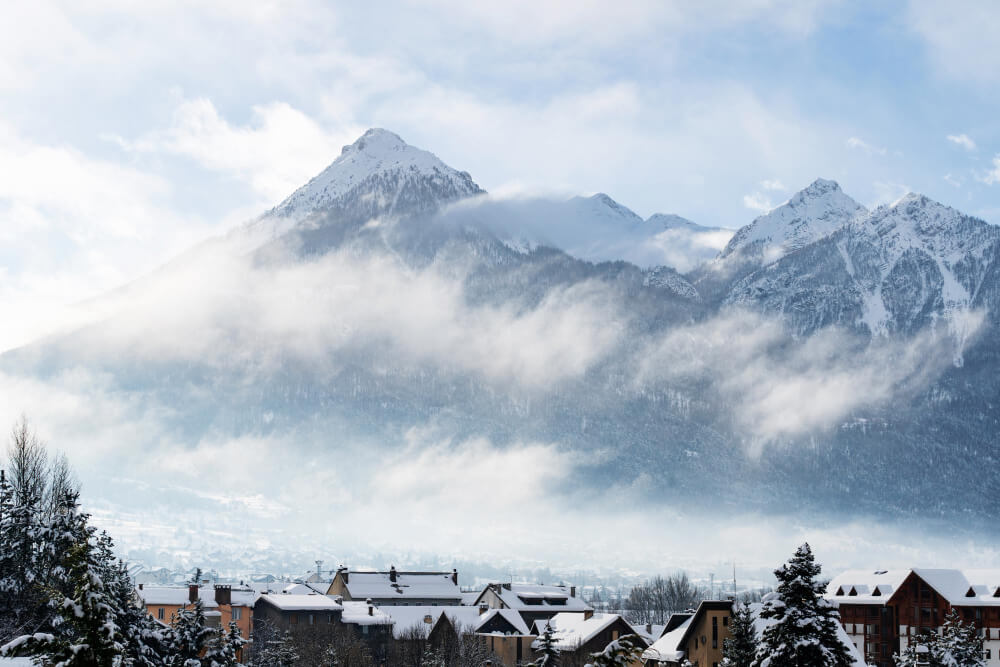 Why it's perfect for families:
Wide range of ski slopes for all abilities.
Serre-Chevalier even caters to childcare needs.
Array of family-friendly lodges and hotels.
Nice old ski village and beautiful scenery.
5. La Rosière
La Rosière cuts uniquely above the rest with its international ski area. Linked to La Thuile, in Italy, a trip to this remarkable resort will take you and your family on thrilling ski slopes that stretch from between the two countries.
While La Rosiere is not the biggest on this list, it is relatively sedate by French Alpine resort standards and a great options with many easy slopes.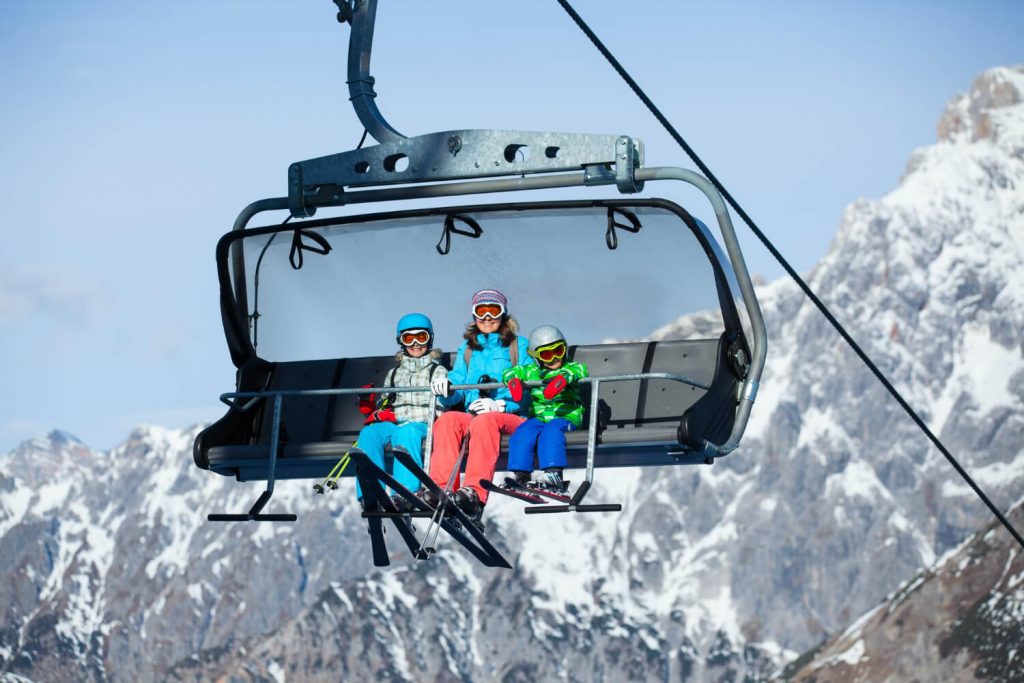 Why it's perfect for families:
Wide choice of ski schools.
La Rosière grants you accessible slopes for family ski sessions.
Savor French and Italian cuisines.
6. Alpe d'Huez
Consistently acclaimed as one of the best French ski resorts for families, Alpe d'Huez is literally a dream French ski resort. You've got a massive ski area, a mixture of some of the most challenging terrain with some very child friendly slopes, plus a vibrant town centre for when you need to enjoy some kiddy friendly apres ski.
The resort of Vaujany is also well connected to Alpe D'Huez and offers some great cheap deals on family ski chalets. Check out SkiFrance.co.uk for some great deals with lift passes included.
The children's village options are also excellent, with a wide range of ski schools and more.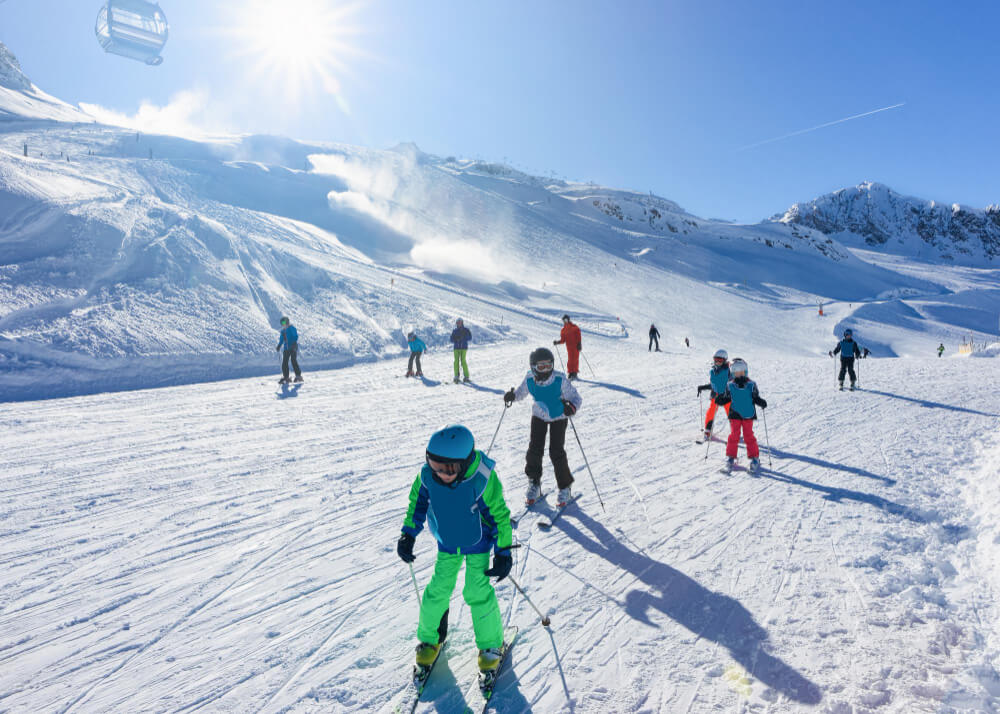 Why it's perfect for families:
Diverse ski terrains provide ample options for beginners and experts alike.
Alpe d'Huez features an excellent range of ski schools.
Off-slope activities like dog sledding and snowshoeing.
Excellent apres ski, including family friendly options.
7. Val Thorens
Want a snowsure ski resort with some of the best terrain in the world? Well, that'll be Val Thorens. The Val Thorens ski resort boasts remarkable skiing conditions, panoramic views, and an exciting atmosphere for families seeking a memorable ski holiday.
This is definitely not a budget option though, as Val Thorens offers a very much premium ski experience. But if you want to instil a lifelong love of snowsports in your kids, this is your place.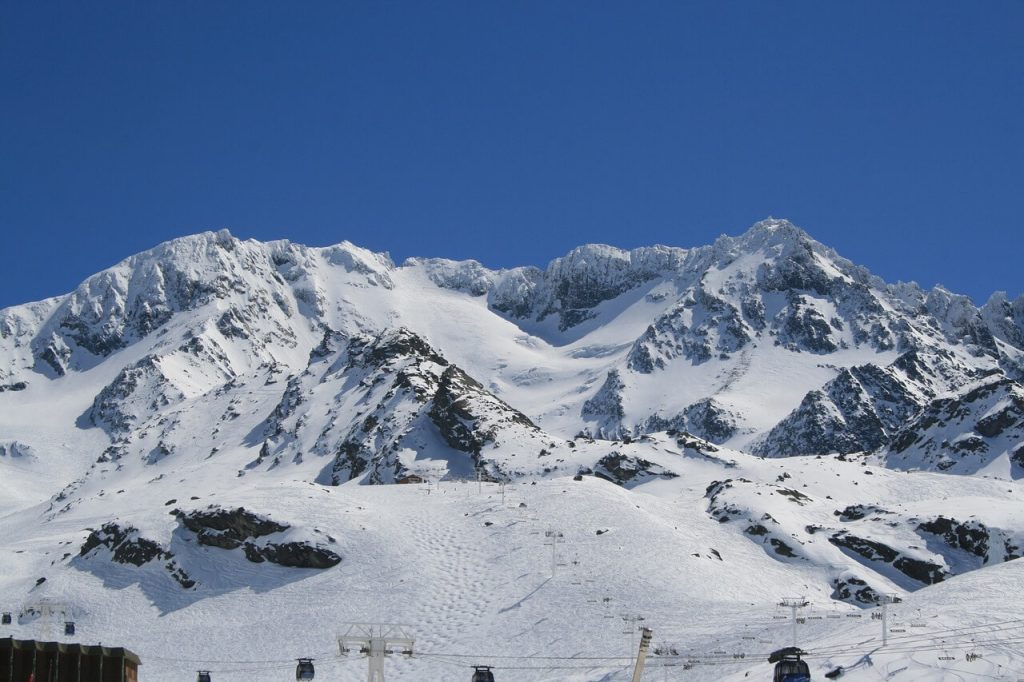 Why it's perfect for families:
Ample options for ski schools and wellness activities.
Perfect for skiing enthusiasts of all levels.
A great variety of accommodations and dining options.
Probably one of the best ski resorts in France if not the world….
8. Courchevel
When it comes to a list of the best family ski resorts in France, Courchevel has to be on the list. Part of the 3 Valleys ski area, this is one for luxury ski resort hunters.
Courchevel exudes elegance and prestige, offering world-class facilities to families on their ski holiday. And that obviously means it's not cheap. But… Again, you're getting access to some of the world's best ski terrain and a truly memorable family ski holiday.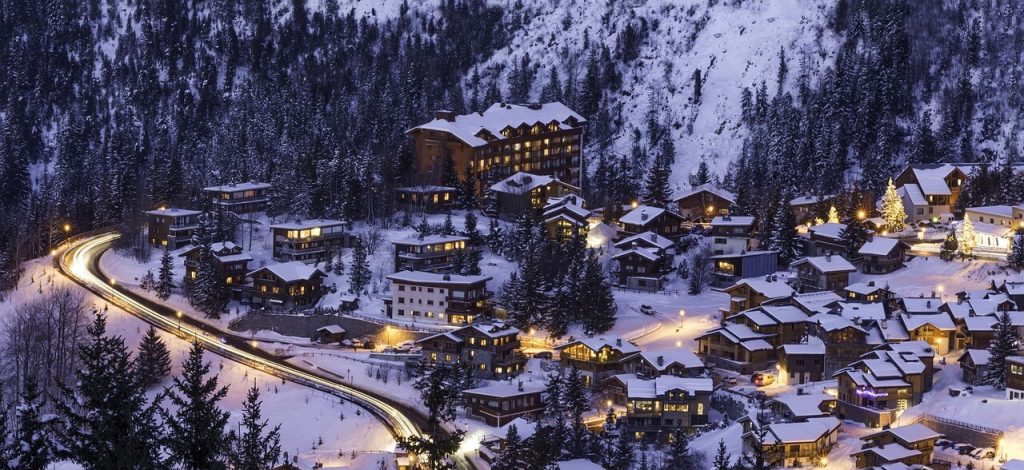 Why it's perfect for families:
Different ski areas tailored for families and abilities.
Popular options for childcare and ski schools.
Off-slope activities, such as ice skating and paragliding.
9. Tignes
As one of the best French ski resorts for families, Tignes showcases futuristic architecture, an upbeat atmosphere, and fantastic ski conditions. With Val D'Isere linked to Tignes, you're also getting a premium family ski resort experience here.
Why it's perfect for families:
Wide variety of ski school choices.
Bountiful accommodation options for every budget.
Attractions like the ice-driving circuit.
10. Meribel
Nestled in the heart of the Trois Vallées, Meribel combines charm and convenience, making it a popular choice among families for a relatively cheap ski holiday. OK, lets be clear and say that Meribel won't be the cheapest option on this list, but if you want premium ski terrain (3 valleys) then this is the relative budget option.
Why it's perfect for families:
Host to many ski schools and an array of slopes.
Numerous chalets and apartments provide an intimate atmosphere.
Partake in non-ski activities such as snowshoeing, ice skating, and dog sledding.
11. Chamonix
There are many reasons that Chamonix ticks the box as one of the best family ski resorts in France. The proximity to Mont Blanc certainly lends a nice touch to this expansive ski area, but the sheer choice of quality ski terrain, options for ski schools and options of non-ski activity makes this a top choice.
From horse drawn carriage rides to swimming pools or dog sledding, you'll find plenty to amuse everyone in Chamonix.
Be aware though that Chamonix's reputation does proceed it. In school holidays it can get very busy, and the easy access from Geneva and Annecy mean that weekends in Chamonix can be a little hectic.
Why it's perfect for families:
Awe-inspiring ski slopes, perfect for adrenaline junkies.
Wide-ranging options for ski schools for all ages.
A wide array of family-friendly attractions and activities, from botanical gardens to ice caves.
Relatively good prices for a premium ski resort.
12. La Plagne
La Plagne earns its place as one of the best French ski resorts for families due to its snow-sure slopes, excellent childcare facilities, and diverse ski terrain. Add in the fact that it is a relative bargain, considering it's proximity to Tignes and Courchevel, and you can see why La Plagne might appeal.
Despite the fact that it takes a little longer to transfer, many find it worthwhile thanks to the great terrain, child friendly slopes and relative cost savings.
Why it's perfect for families:
La Plagne features several ski schools and various terrains.
Partake in non-ski activities such as sledding and snowmobiling.
Indulge in delicious French cuisine and make memories with your loved ones.
Premium terrain for a budget price (despite the transfer time).
Find some of the best family friendly ski deals on SnowTrex.

How to find a cheap family ski deal in France
As we've seen in this article, there are lots of excellent options for family ski resorts in France. While these are some of the best, there are many other options too.
But when it comes to finding the best deals, we think you'll find some of the best packages with SnowTrex. They offer lift passes as standard, and have some of the best deals on great accommodation in all of the best resorts too.
Another excellent option is SkiFrance. They offer excellent packages on some really lovely chalets and apartments, plus discounts on lift passes, equipment hire and transfers.
If you want to just pay one price for the full package – with all the lift passes, airport transfers and fiddly add-ons included, then we think the best choice is SkiWorld. They offer some great all in packages, and often run some amazing early season deals and even last minute offers.
Our tips for getting the best prices with these packages is to either book very early in the season (which isn't too hard if you know when the school holidays are). Or, try and grab a last minute deal close to the time.
There ya go. I hope this was a useful guide for families looking for French ski deals. Happy skiing!