Hands up who loves the winter season? Yes, us winter sports nuts often spend our summer months dreaming of a snow drenched apres ski party. And if you're anything like me, you like to get the best out of your ski season by choosing one of the best après ski resorts.
However, finding an affordable ski resort that delivers the right balance between great slopes, unforgettable party atmosphere, and budget-friendly options can be quite a challenge.
Most of these best apres ski resorts in Europe type articles will list some of the usual suspects such as Val Thorens, Val d'Isere, Verbier and Ishgl. Now those are all excellent choices, both in terms of ski resorts and for that party vibe. But… They ain't the cheapest.
Lucky for you, we've done the research and gathered the best budget European ski destinations. Now you can enjoy the best ski (or snowboarding) experience, and then get your party on, for less.
The Best European Destinations for Budget Apres Ski
1. Morzine/Avoriaz, France
Located in the heart of the Portes du Soleil ski area, Morzine and Avoriaz are famous for their affordability, vibrant après ski in Europe, and never-ending slopes.
With a variety of bars and clubs, you'll have tons of options for post-ski shenanigans. Morzine is slightly livlier but Avoriaz is home to a Folie Douce and also hosts the excellent end of seasom Snowboxx festival which is well worth a trip. Check out our Avoriaz review.
While Morzine offers a traditional alpine village atmosphere, Avoriaz features unique modern architecture and a fully pedestrianized center. A week's holiday in this paradise for skiers and party-goers starts from as low as €350 per person.
Browse deals in Avoriaz with Snowtrex.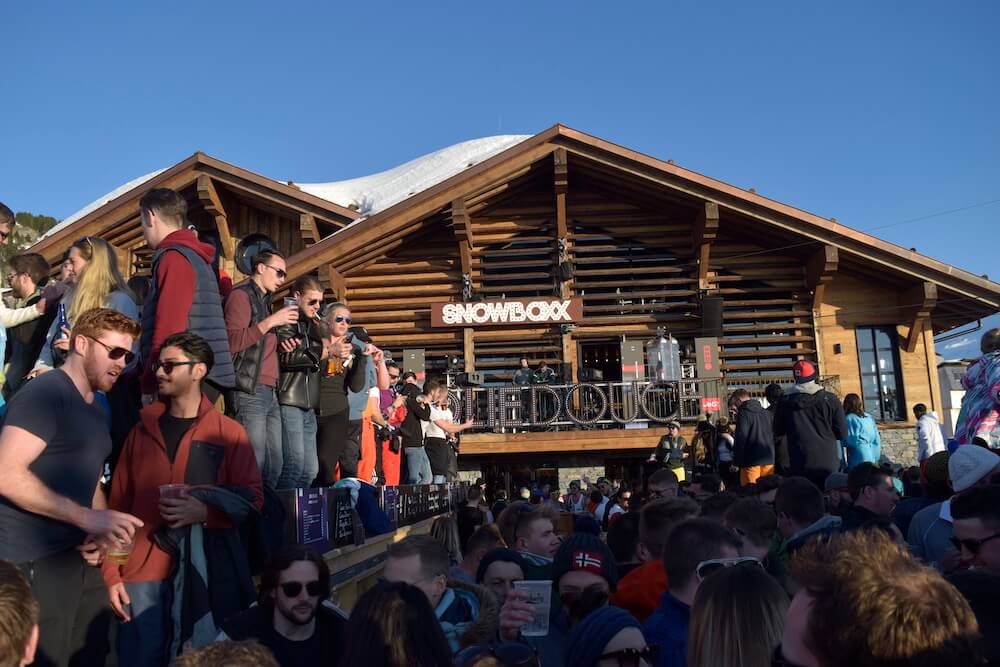 2. Pas de la Casa/Soldeu, Andorra
Andorra's Pas de la Casa and Soldeu offer a unique experience high in the Pyrenees. Not only do they provide fantastic ski conditions, but they're also VAT-free, which means shopping and partying here is relatively cheaper than other resorts.
Pas de la Casa, often described as the Ibiza of winter sports, is a hot spot for clubbing and bar-hopping. This Andorran resort is popular with French weekenders, Spanish students and Brits and Germans too, making it a particularly fun melting pot. Well, we thought it was pretty cool in our Andorra snowboarding review.
In contrast, Soldeu and neighbouring El Tarter offers a more laid-back après ski vibe. A seven-night package to Andorra starts around €400, making it another ideal budget après ski resort.
Find Andorra ski packages on Snowtrex.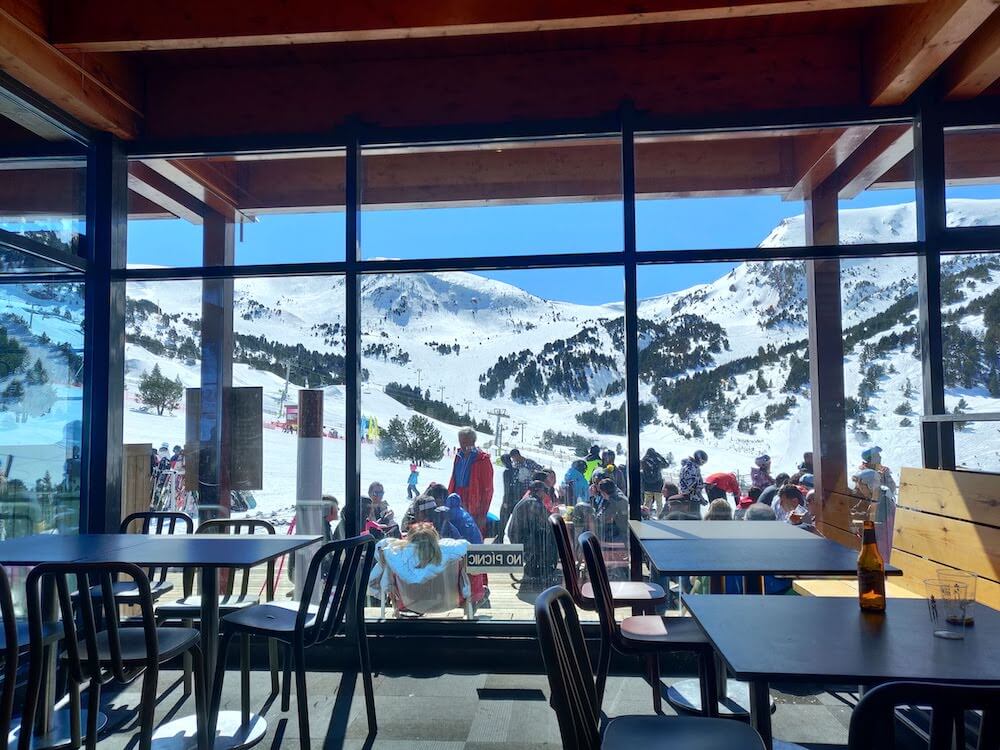 3. Ischgl, Austria
Austria isn't short of top notch apres ski. In fact, arguably, Austria is where the best apres is found. And Ischgl is probably one of the best in the Alps, let alone Austria, for vibrant and varied apres ski.
While it might not be a cheap place to ski and snowboard, or even party, it is still relatively affordable compared to some other places such as Verbier or even Meribel/Courchevel.
After a day carving up the 283 kms of epic ski terrain here, you can go wild at the legendary Khustall, or head to the Schatzi Bar to dance with the sexy waitresses.This is one of those resorts where apres starts at about lunch time, so bring your party shoes!
Anyone for Ischgl? Find deals from under £400 at Snowtrex.
4. Borovets, Bulgaria
Borovets is well-known for its budget-friendly accommodations, picturesque mountain scenery, and an intoxicating après ski scene. While nearby Bansko might get the press, with think Borovets shades it for the title of best ski resorts in Bulgaria thanks to better access to the mountains.
You'll be able to enjoy the vibrant nightlife with live music, dancing, and more – all without breaking the bank. And while some report that this resort lacks some of the better elements of the ski resorts in Austria or France, you are getting access to ski holidays in Europe for a lower price.
This quaint resort, situated in the Rila Mountains, guarantees a week of skiing fun, starting around €400 per person.
Check out LoveHolidays for some super cheap Bulgarian ski deals.
5. Mayrhofen, Austria
Mayrhofen, nestled in Austria's Zillertal Valley, is a top destination for affordable après ski. Home to the renowned Snowbombing festival, this lively alpine town offers both slopes for various skill levels and some of Europe's most enjoyable après ski scenes. With numerous bars, pubs, and clubs – including the famous Europahaus – you'll have countless possibilities to enjoy yourself after a day on the slopes.
Talking of the slopes, Mayrhofen offers some of the best bang for your ski buck, with the Zillertal ski pass giving you access to the whole valley, including a glacier up at Hintertux!
And while this is not the cheapest of the après ski resorts on our list, we think Mayrhofen offers some of the best value. Theres 544 kms of piste here! Everyone from beginners or intermediate skiers and snowboarders, right up to experts will find plenty to get stuck into.
Oh also there are lots of villages up and down the valley, all linked by train and ski bus (which is free with your ski pass). So browse the best deals which might not be in Mayrhofen itself.
Prices start at €450 per person for a seven-night ski holiday.
You'll find some of the best deals in Mayrhofen at Snowtrex.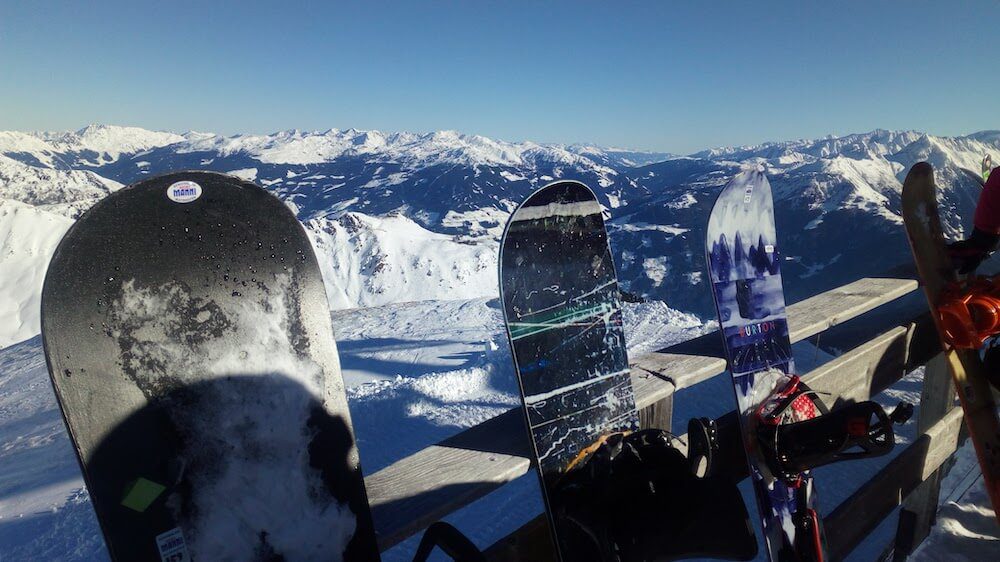 6. Les Deux Alpes, France
Boasting one of the largest glaciers in Europe, Les Deux Alpes offers excellent skiing conditions and accessible prices. This also one of the best ski resorts for mixed abilities, with lots of space for beginners to get to grips with the snow, and more than enough terrain for those who want to level up their ski runs.
This is also a ski in ski out resort, with many hotels and apartments right be the slopes.
This picturesque resort has a reputation for its electrifying après ski atmosphere, featuring over 40 bars and clubs. Plus, the two-kilometer-long Avenue de la Muzelle guarantees endless party opportunities, all without burning a hole in your pocket.
A week's holiday here can cost as low as €450 per person.
Check out SkiWorld for some of the best all in ski deals in Les Deux Alpes.
7. St Anton am Arlberg, Austria
St Anton am Arlberg is a skier's and party lover's paradise. The popular ski destination is known for its lively nightlife and affordable aprés ski. With bars like the Moosewirt and Krazy Kanguruh, the party doesn't stop until the early hours of the morning.
By day, you can ski away that hangover on one of the best ski areas in the Alps, with more than 300 kms of epic terrain.
The Arlberg ski area also includes Lech, Oberlech, Zürs and Zug. Lech is obviously one of the more premium ski resorts in Europe, but don't let that put you off.
Despite its swanky reputation, St Anton am Arlberg also offers cost-effective options, making it a prime budget après ski resort with packages starting around €500 per person for a week.
Bag an epic budget apres ski deal in St Anton with Snowtrex.
8. Sauze d'Oulx, Italy
Sauze d'Oulx offers some of the best affordability on the Italian side of the Alps, featuring fantastic skiing conditions coupled with a renowned après ski scene. Part of the Milky Way, or Via Lattea ski area, you can munch up the 400 kms of terrain over to Sestriere, Pragaleto, Sansicario, Claviere and on the French side you also have Montgenevre.
This picturesque village promises a perfect balance of budget-friendly fun and unforgettable skiing or snowboarding. Of all the Via Lattea resorts, Sauze is the most vibey, and it's definitely one of the more hedonistic of the Italian ski resorts. This is especially true on the weekends when half of Turn heads to the mountain to ski and party.
As well as lots of bars, the food is also exceptional and reasonably priced for the Alps.
Expect packages starting from €450 per person for a week of adventure and high spirits.
9. Livigno, Italy
Nestled between Switzerland and Italy's border, Livigno is a duty-free ski haven ideal for those seeking a budget après ski resort. With nearly 100 bars and pubs, this vibrant town provides endless possibilities for après ski entertainment.
You're deep in the Alps here, so this snow sure resort is going to offer some of the best ski this side of the Italian border. And while this not might not be the biggest or most budget apres ski resort, you are getting a lot of value across the 115 kms of terrain.
As a bonus, its duty-free status allows you to indulge in shopping and partying at excellent prices.
Prices for a seven-night stay start at around €500 per person.
Browse budget ski trips to Italy with Snowtrex.
10. Chamonix, France
Chamonix is a skiing hotspot known for its breathtaking views of Mont Blanc and its bustling town center.
Though it has a reputation for being luxurious and expensive, you can still find affordable après ski and budget accommodations just a short distance from the main town. In fact, the reason it's on this lift is both the fact that it is easily accessible from Geneva via a short transfer, and also offers a good mix of budget and premiun accommodation options.
With bars like Chambre Neuf and Micro Brasserie de Chamonix, you'll be partying in style while staying within budget.
The best way to get a cheap trip to Chamonix is to swoop on a early or late season deal, or keep an eye on sites like Snowtrex for last minute deals.
Expect packages starting from €500 per person.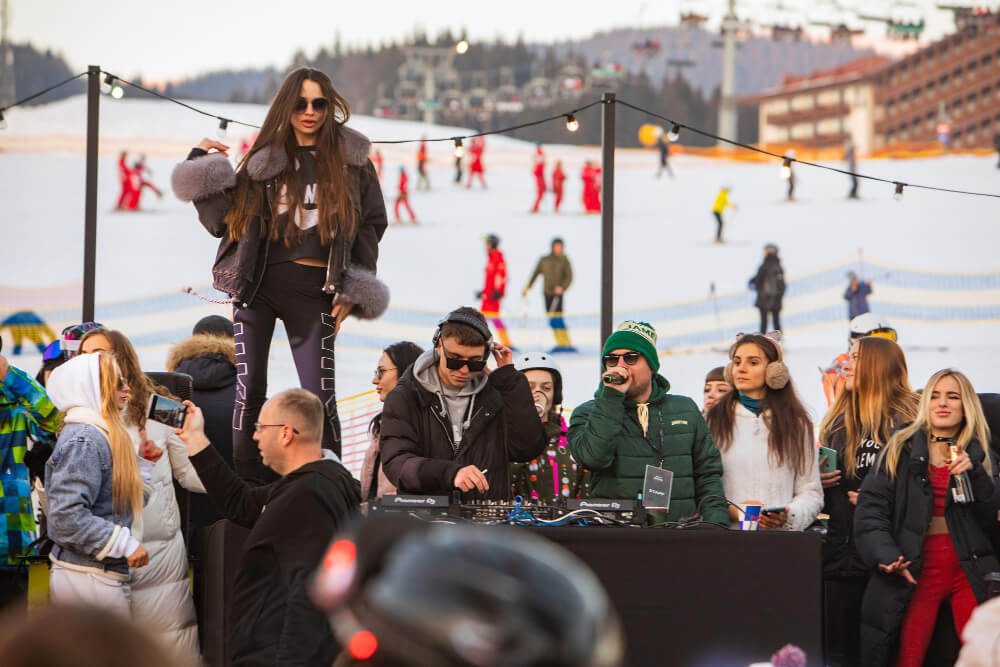 Browse SkiWorld for some epic last minute deals to Cham'.
11. Isola, France
Isola is a hidden gem located in the southern French Alps, around an hour and a half from Nice. This budget-friendly resort offers excellent skiing conditions and a wide range of bars, clubs, and restaurants that cater to your après ski needs.
Despite being relatively south, Isola actually has a top notch snow record. It's popular with snowboarders due to the fact that it hosted the first ever snowboard club in France.
And believe it or not, this under the radar ski resort might also be one of the best apres ski resorts.
For those seeking a quieter and relaxed atmosphere, Isola is the perfect choice. A week's ski holiday starts at just €450 per person.
12. Sierra Nevada, Spain
Sierra Nevada lies in the heart of the Andalusia region of Spain, and despite being close to the Costa del Sol she offers an extraordinary skiing experience. With sunshine almost guaranteed during the winter season, it's an ideal spot for those looking for warmth and great skiing conditions at a lower cost.
Just a short commute from Grenada, many choose to stay in this buzzing city and commute the 40 minutes into the mountain, which can be a fun way to enjoy some apres ski.
However the resort itself is also pretty buzzing, and you'll find a good mix of Spanish and foreigners enjoying live music, DJs and late night drinking. Hey, this is Spain, they don't even start to party until 10 pm!
Prices for a week's vacation begin at €500 per person.
You'll find some crazy prices to Spanish ski resorts on Estiber.
13. Bansko, Bulgaria
Bansko is a well-known budget skiing destination well know as one of the rowdiest après ski resorts in Europe. This is mostly due to the appeal of this Bulgarian resort for Russians and budget conscious Brits.
Located in the Pirin Mountains, around 2 hours from the capital Sofia, Bansko provides a mix of traditional Bulgarian charm and a modern skiing atmosphere. While the mountain isn't the biggest, and advanced skiers and snowboarders might have ticked off most of the best ski runs in two or three days, there is plenty for intermediates and beginners.
What's more, the après ski scene offers a variety of bars and clubs to keep you entertained well into the night. A week's ski holiday in Bansko starts at just €350 per person, ensuring you won't break the bank while having a blast.
Check out LoveHolidays for some super cheap Bulgarian ski deals.
14. Alpe d'Huez, France
In the Isere region, you're spoiled for choice when it comes to top notch après ski resorts. With some of the best known and best ski resorts in Europe right here. Alpe d'Huez can rightly hold her head up high as one of the best après ski resorts for budget party goers.
For starters, you've got over 245 kms of incredible ski terrain including some awesome runs from top to bottom. And secondly, the resort has plenty of restaurants bars and clubs to keep you busy well into the night.
The crowd in Alpe d'Huez is also a good mixed bag of younger crowd plus families, so there is always a wild time to be had.
You'll find some great deals to Alpe d'Huez from €450.
Browse SkiWorld for some great offers.
15. Zakopane, Poland
If you want to experience one of the best cheap party ski resorts Europe can offer outside the Alps, you should consider Zakopane.
Known as the winter capital of Poland, Zakopane has a charming atmosphere, beautiful slopes, and incredibly low prices – perfect for exploring affordable après ski. A beer on the mountain will cost you around €1.50, and a hot dog or local melted cheese will cost less than €2.
With an abundance of bars, pubs, and clubs, party animals will feel right at home. It's also a great spot for those looking for a winter stag do destination, thanks to it's choice of excellent bars, nightclubs, strip clubs cheap beer and general fun vibes.
Zakopane might not be one of the most expansive ski areas in Europe, with several smaller resorts close to the town (the highlight being Bialka Tatrazanska). So you'll need to get a transfer to the slopes, or hire a car (which is cheeeeap in Poland).
A week's ski holiday in Zakopane starts as low as €300 per person.
You'll find some great deals in Zakopane/Bialka Tatrazanska with Europe-Mountains.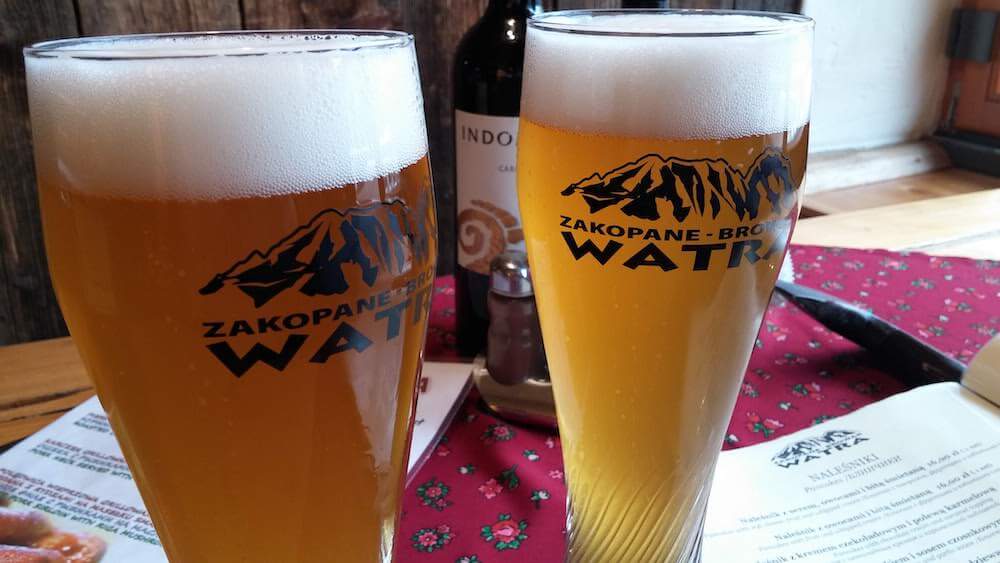 16. Val Thorens, France
While you might not immediately think that one of the major ski resorts in Les Trois Vallees would qualify for budget apres ski, well… You'd be surprised. Yes, Val Thorens is not the cheapest ski resort on the world, but there are plenty of cheap deals to the Three Valleys, and then getting your apres ski party vibe can be done for relatively cheaply.
Everyone heads to La Folie Douce straight off the mountain because… Well, thats what you do. It's basically where the rowdiest party is and if you do head to Val Thorens then you do need to experience the vibe here.
But if you want a cheap apres ski bar, head to The Frog, The Shamrock or The Saloon.
Oh and in case you didn't already know, Val Thorens has officially been voted the best ski resort in the world (again).
How to Find Your Trip to the Best Ski Resorts
When it comes to picking your budget apres ski resort holiday, you're probably going to base your decision on the price of the package. After all, that will likely be your biggest outlay.
While our list of the best après ski resorts is certainly a great guide, you can often find some amazing deals to other random ski resorts in europe that you've never heard of.
We've linked to a few options throughout this article, but in general, check the package deals with: