Often touted as one of the best ski resorts in Europe (and therefore the world), I was understandably excited to visit Verbier in Switzerland's Valais canton. With the 4 Vallees coming in at 412 kms, there is so much terrain to explore that getting the most out of a Verbier visit is going to take some serious skiing or snowboarding.
The 4 Vallees are the largest ski area in Switzerland, although technically Portes du Soleil is bigger but most of the ski terrain is in France.
Anyway, we headed to Verbier to ski in December* 2022 to find out for ourselves what it's like to hit the mountains here.
*snowboard actually – but some of us were skiing
Quick note: There are some affiliate links in this article. What that means is that we earn a small commission if you purchase anything via our partners, at no cost to you. This is the only we way monetise our site, so feel free to click those links 😉
Where is Verbier?
Verbier is village in the Alps, around 30 kms from Martigny and 55 kms from Sion. The nearest train station is Le Chable, which is connected to Geneva Airport by train and is even connected to Verbier by gondola.
So yes, you can transfer to Verbier entirely by public transport…
The journey by train from Geneva Airport to Le Chable takes around 2 hours 15 mins and will include a change to a local train in Martigny.
Deep in the south of Switzerland, almost backing onto Italy and France, Verbier is nestled among some of the best ski areas in the world. From Verbier, you can be in Chamonix in just over an hour, or as the crow flies, you're very close to Zermatt and Cervinia too. So Verbier is in good company, and actually might be a cut above these resorts, as we'll find out.
Despite being found between 1500 metres and 3000 metres, Verbier is actually well connected to the rest of Switzerland with the fast road and the train lines.
The village itself is quite expansive and twists its way up the mountain. So depending where you're based, you could be quite a way from the lifts. However, this isn't a problem as there is also a good infrastructure with ski buses which run every 5-10 minutes for free.
The 4 Vallées
When it comes to ski area, Verbier is definitely no slouch. As part of the 4 Vallées ski area, you also have options when it comes to buying your lift pass.
The main town of Verbier falls under the ski area, Verbier, surprisingly. There are also smaller ski areas such as Brunson and La Tzoumaz, which are smaller more family focused areas. These are around CHF52 to 57 for one day (approx £47 to £52).
You can actually pick up the Verbier area pass which covers Brunson and La Tzoumaz for CHF57 for the day, and you'll have plenty of mountain playground to explore.
But the best value is the 4 Vallées pass. This allows you to head out there and much those miles and really enjoy the varied terrain here. At CHF77/80 (around £70), it's not the cheapest option. But hey, you're in Verbier! And you only live once, right?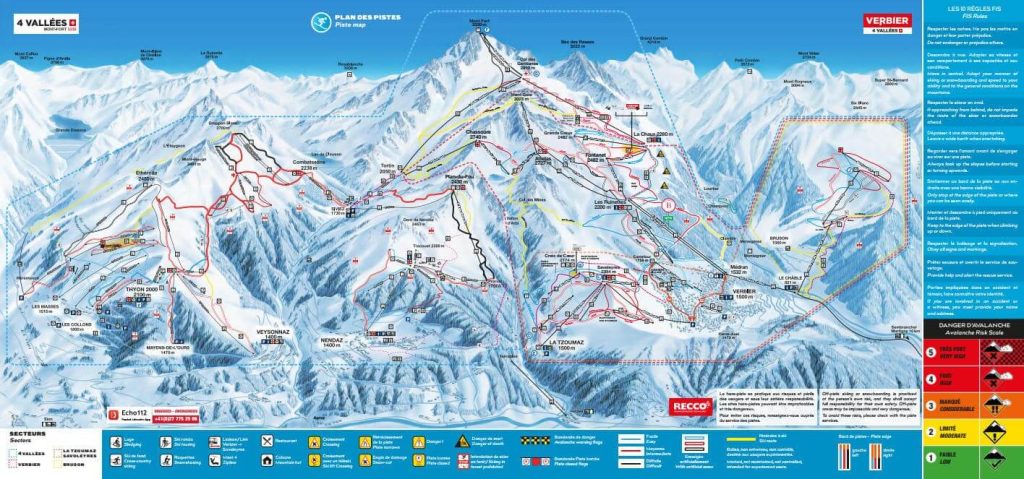 Verbier Section
The Verbier pass would probably be sufficient for most people to be honest. Although it doesn't cover the highest point, Mont Fort, you'll still be able to get above 3000 metres, at Mont Gele.
The Verbier ski area covers 195 kms, which is bigger than most other ski resorts. So even if you don't invest in the pass for the full 412 kms of the 4 Vallées, you will have more than enough fun on the snow in Verbier.
Most of the runs that we went on were wide and above the tree line. All of the infrastructure was excellent too, with fast chair lifts and gondolas as standard.
4 Vallées Section
With the additional coverage of the full 4 Vallées ski pass, you can really venture out and check out the terrain. My guide Stefan from ski-hostel.com was keen to put my shoddy snowboarding skills to the test and take us to Siviez to see one of the branches of their hostels.
And if you're looking for a budget stay in 4 Vallees, I can highly recommend checking out Ski-Hostel.com as they have some epic packages.
Anyway. Lots of fun was had, and as you can see from this video, the terrain is pretty epic. It was a bit of an overcast day though, but don't let that detract.
So yes, as you can see lots of fun…
Exploring those Yellow runs
You might have noticed from the map above that there are yellow piste trails marked on the map. These are ungroomed trails that are often more challenging, often a black or hard red trail. Yellow pistes are used mostly in Switzerland, parts of Austria and apparently in some Scandinavian resorts too.
To get from the Verbier section into the 4 Vallées section, you actually need to go down a yellow trail – the alternative it to take the gondola down. But my guide Stefan insisted I'd love it so, hey, we got stuck in.
Yes, it was challenging, but actually it was a lot of fun. As a snowboarder I mostly had to falling leaf down the early stages as it was both steep and lined with rocks. But to be fair, the skiers looked like they were finding it hard work too. Nearer the bottom I managed to start linking some turns, but the challenge with yellow runs is that they often have hidden terrain challenges such as massive dips, crazy moguls and rocks. And there were a lot of rocks.
It's basically like off-piste but without the powder – at least on the day we were there.
Here's a little shot of the terrain to give you an idea of the big yellow piste in Verbier.
Once you get to the bottom of the valley there is then a faster and more traditional trail that brings you to the lift station that marks the edge of the Verbier and 4 Vallées sections. And once you're here, you get into the fun of the more enjoyable tree lined runs and valleys.
Is Verbier good for snowboarders?
In a word, yes, Verbier is excellent for snowboarders. I thought that the general terrain was perfect for snowboarding with mostly pretty wide and long runs, very few massive drops and no noticeable flat sections which often catch us snowboarders out. While it was only my second day of the season and I was still a bit bambi legged, I had a lot of fun.
If I was solo, I would probably have stayed in the Verbier section and really got to grips with the mountain there as I feel like it would be more than adequate. For 3 or more days though, the 4 Vallees pass would be a must.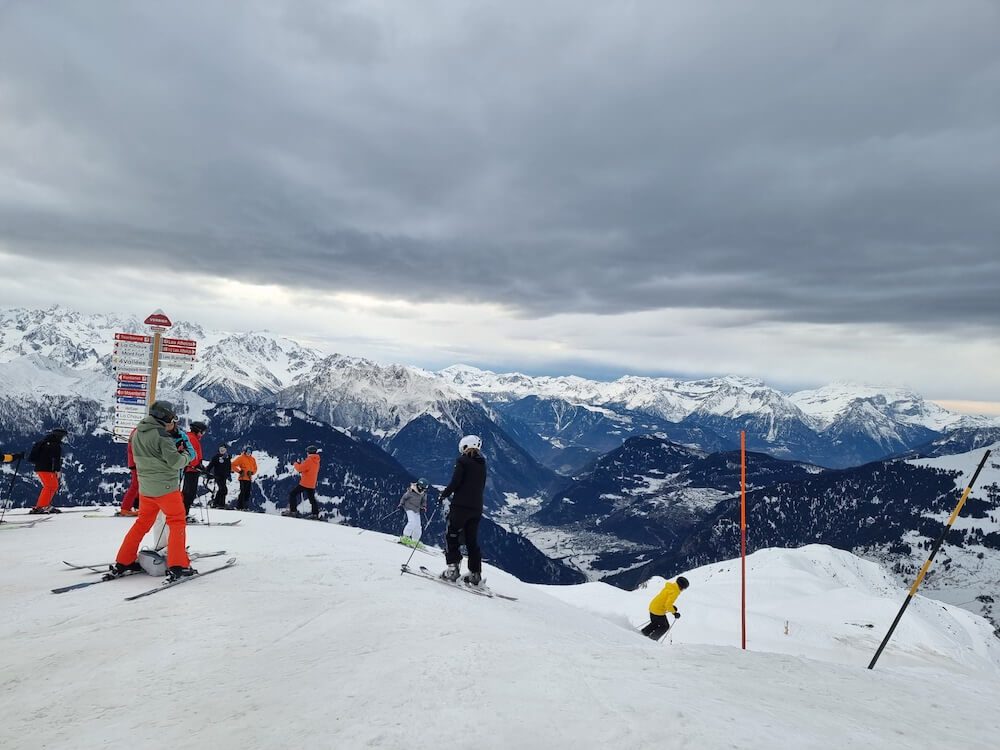 Is Verbier good for beginners?
While some reviews seem to say that Verbier is best for intermediate and up, I do think that much of the terrain is well suited to beginners and families. Especially the Brunson and La Tzoumaz sections. Both of these more compact sectors are close to the town and offer a good mix of reds and blue runs.
On one of our days, we also went with my partner and family to the learner area in Verbier itself. For CHF20, you have access to the magic carpet and a t-bar lift where you can either visit with your ski instructor or simply practice your turns on the cheap.
How expensive is Verbier?
As a premium ski resort in Switzerland, obviously Verbier isn't cheap. Or at least, it's not cheap to stay in. Most apartments and hotels will be on the pricey side, so expect to spend at least £1000 per person here on accommodation alone.
But the reason it's expensive is because you're getting a 5 star ski resort to enjoy, and with it's location above 2000 metres, it's also pretty snowsure. Oh, and it's Switzerland.
We did eat in Verbier a couple of times, and I didn't think it was prohibitively expensive. We ate at La Nonna one lunchtime, which was an excellent Italian trattoria style (twice the price of Italy though), and a meal for 5 came to CHF150 (£135). Probably around a quarter what you would pay in a French or Austrian resort for the same meal.
We also had take out one day, which was basically sandwiches, pastries and coffee. And yes, this was kinda expensive too. I forget exactly, but it was again about double what you'd pay in France.
But saying that… If you're considering Verbier, you shouldn't be worrying about the cost. You're coming for the experience of skiing in Verbier, and yes, it is expensive. But if you wanted a budget ski holiday, you'd be going to La Plagne or Mayrhofen, right?
How to do Verbier cheaply
Can you do Verbier cheap? Actually, yes, I have a few hacks.
We actually stayed with the guys at Ski Hostel Liddes, and while they offer incredibly cheap skiing at the neighbouring Pays St Bernard ski area, they can also take you for a spin around Verbier on the odd day. This is one option for a cheap Verbier ski holiday.
You can also find relatively cheap accommodation in Verbier if you can shop around and be flexible, ideally out of season.
I found a cheap apartment in Verbier, just 350 metres from the ski lifts for £547 for two people for 7 days. Shop about and see what accommodation in Verbier you can find for your dates.
You would then ski the smaller ski areas, such as Bruson/La Tzoumaz and Verbier proper. Get your Verbier lift pass in advance, paying between CHF52.50 and CHF57 per day, with maybe one splurge for the full CHF77 to hit the 4 Vallees. (Buy your tickets in advance for the best price).
Five days of Verbier (CHF285) plus one day 4 Vallees adds up to CHF362 (about GB£330), which is not bad at all for a week skiing in Verbier.
Of course, you'd be self catering and drinking take out booze from Coop or Migros, not shelling out on crazy après ski parties. But hey, you'd be exploring Verbier on the cheap!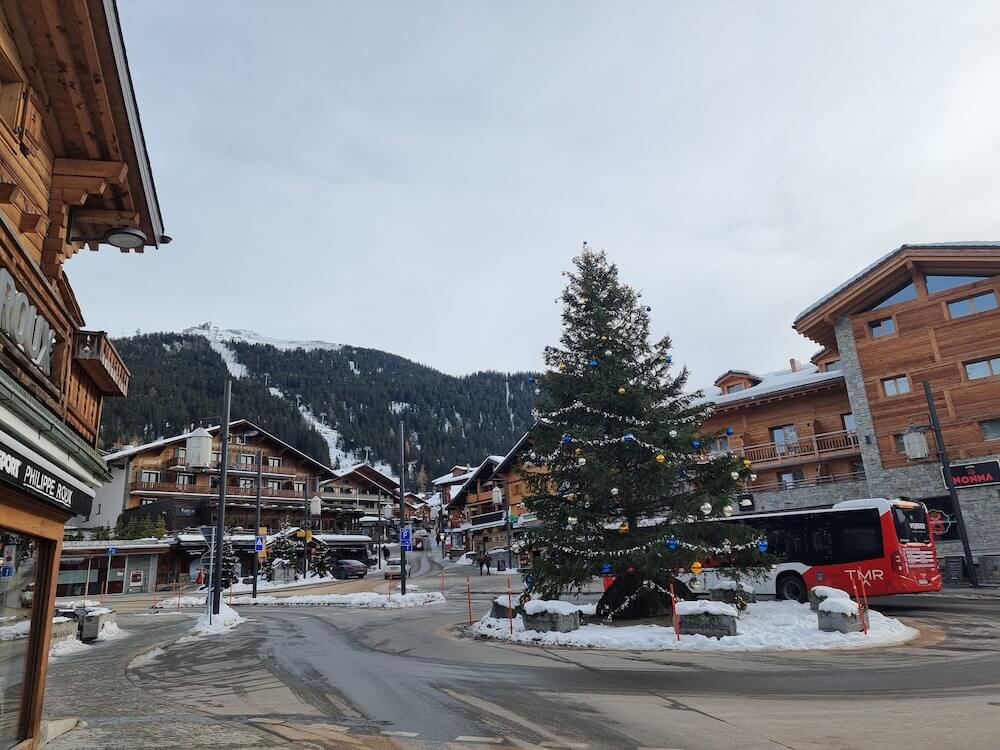 Is Verbier good for apres ski?
Actually, Verbier is known as one of the best après ski resorts in Switzerland. And yes, there are a few pubs and bars, but nothing like a Folie Douce. So while there is good après ski in Verbier, you're probably not going have the most raucous party, a la Mayrhofen or Val Thorens.
Some of the best nightlife in town includes Fer et Cheval, a popular bar with a pizzeria and live music, The Loft for drinks into the night and the Mont Fort Pub.
On the mountains, you'll find Bar 1936 and La Rouge for your drinks on the way down the mountain.
Where to stay in Verbier?
There is no shortage of places to stay in Verbier.
If you're looking for a premium stay, check out the 5 star W Hotels in Verbier. You'll get all the luxury trappings of an on site spa and pool, great views and proximity to the gondola onto the mountain, as well as ski-in.
Another option is the three star Hotel Mirabeau, which offers a lovely Alpine interior, an on site sauna and steam bath as well as breakfast included as standard.
Browse our nifty hotel widget below for more Verbier offers and accommodation.
Looking for a fun place to ski in February? Read our guide.