As one of the biggest and closest airports to Andorra, Barcelona El Prat (BCN) offers a great gatewat to the Pyreneean nation. If you're planning a trip to Andorra, you will usually fly into Barcelona or Toulouse and then take a transfer.
But how can you get to Andorra from Barcelona? How long does it take? And, importantly, how much is it going to cost you?
Where is Andorra?
Andorra is small landlocked principality in the Pyrenees mountains, sandwiched by France and Spain. The principality is around 119 miles or 191 kms from Barcelona. From Toulouse to Andorra is around 84 miles or 135 kms.
The road trip from Barcelona to the capital, Andorra la Vella, will take around 3 hours 15 mins via public transport, with a similar journey time from Toulouse. Despite Toulouse being closer, the road from Barcelona towards Andorra is a little faster so you can expect the transfer to be roughly the same to Andorra la Vella.
If you drive or take a private transfer, you could shave nearly an hour off that time.
However, due to the locations of the ski stations in Andorra, it could be slightly quicker to go from Toulouse to Pas de la Casa, as this resort sits right on the French border.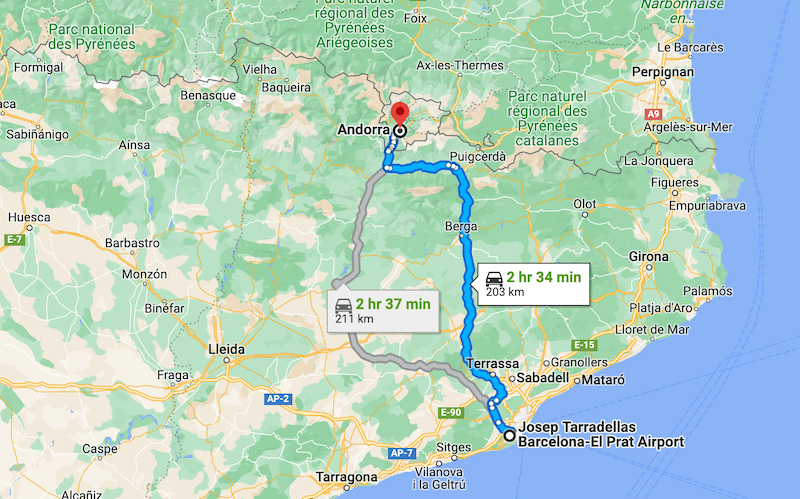 The country itself isn't that big, but the bus journey from Andorra la Vella to Pas de la Casa will likely take an hour with stops along the way.
Read our review of Grandvalira, Andorra.
Is there an Airport in Andorra?
Due to her location in the mountains there is no airport in the actual nation of Andorra. There is a small local airport in La Seu d'Urgell in Spain, which serves flights to Andorra. However, at present (2023) the only flights are from Madrid. There have previously also been flights from Mallorca and Marseille, but at the moment it's just Iberia's Madrid connection.
While it can be fun to fly to Andorra's airport, flights are limited (and expensive) so chances are you'll prefer to use the larger airports plus a transfer.
The airport itself is also around 12 kms from Andorra, so you will need to use the local bus service or taxi to head to your final destination in Andorra if you do fly in.
So for now, the only way into this little pocket of ski heaven is via road.
There are also options to transfer from Girona or Perpignan, although the route is less well served than from Barcelona or Toulouse.
How to get to Andorra from Barcelona
By Coach/Bus
If you're heading from Barcelona El Prat Airport (BCN) to Andorra, there are multiple bus services running daily from the airport to the principality. ANDBus is the Andorran bus service that connects major cities in Spain and France with the main destinations in Andorra.
From Barcelona to Andorra la Vella bus station, it'll cost you about €35 one way with AND Bus, but you'll then need to find a connection onwards if you want to go to Pas de la Casa, Arinsal or Soldeu/El Tarter. To be honest, these connections are cheap and frequent, so you won't be too troubled by this.
Another option from Barcelona coach station is FlixBus. Like ANDBus, FlixBus run multiple daily bus services into Andorra La Vella.
The best way to find your ideal coach transfer from Barcelona to Andorra is to use BusBud. This is a coach search engine that finds the best options based on your time and location, and also aggregates the various bus companies covering the route too.
Check transfers from Barcelona to Andorra at BusBud.
By Private Transfer
Another way to get from Barcelona to Andorra, and a much quicker method, is to use a private transfer. There are obviously lots of private transfer companies offering a range of prices, but you should budget around €280 to €350 one way.
This can be a great option if you're travelling with family, or in a large group, as the transfer companies can provide minibus options to cater to larger parties.
There are a number of sites where you can post your transfer request and find the best price to get from Barcelona to Andorra.
They are:
To be honest, they're all kinda the same, and many of the local transport companies list on all of them. But do check them all out as you might find a sneaky deal on that transfer from Barcelona Airport to Andorra.
By Hire Car
Hiring a car is obviously one of the more efficient ways to get to your destination, and the route from Barcelona to Andorra is actually well signposted and fast. Depending on your party size and amount of equipment you might find car rental a good option.
Another good reason to hire a car to get from Barcelona to Andorra is that car rental in Spain tends to be dirt cheap. At least cheaper than in other parts. of Europe.
A quick check on RentalCars.com for a one week car rental from Barcelona Airport brings up some seriously good rental options from around £60-90 for a good choice of cars. Yes, that is for the full 7 days.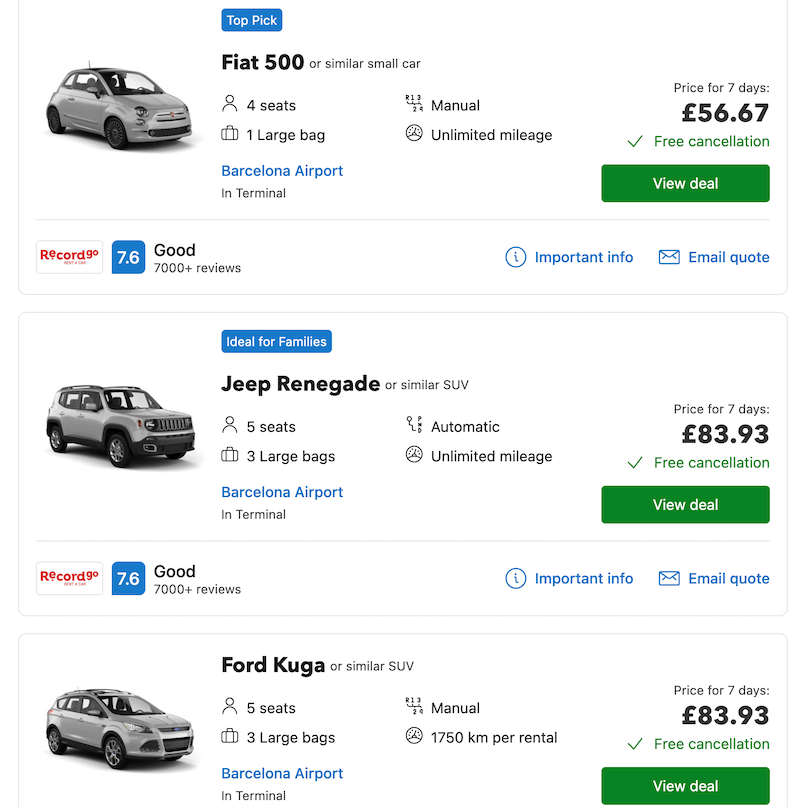 If you're already thinking that the car rental wins, then make sure you also consider fuel prices, road tolls (about €25 each way) and the costs of any parking if you need to pay. Bear in mind also that you are heading into the mountains where it can be snowy and icy, so if you don't have experience with those types of road conditions, leave it to the professionals.
But that being said… Hiring a car to get to Andorra is definitely a surprisingly value option.
Check out:
By Ski/Snowboard
Nah… Jokes.
Getting to Andorra from Girona and Lleida
There are a couple of reasons you might want to travel from Lleida or Girona.
Firstly, Girona is an alternative airport for Barcelona.
And Lleida is a transfer point for other cities in Northern or Central Spain, with coaches and trains onward.
From Girona, you could get a bus (you'll need to change) or a private car hire.
From Lleida, there is a regular daily ANDbus link to Andorra La Vella.
TL;DR?
Book a bus via BusBud. You'll pay around €35 each way and it'll take 3+ hours.
Or, find a private transfer, which is good for bigger groups. Expect to pay around €300 each way.
Or, hire a car and drive to Andorra. Rental will cost about €70-80 for a week, plus fuel, taxes, deposits, extra insurance etc.
Check out our review: Snowboarding in Andorra.