When it comes to ski and snowboarding trips in Europe, the breathtaking Alpine landscapes are not the only thing that captures the hearts of winter enthusiasts.
The Alpine region boasts a rich culinary heritage that delights visitors from all over the world. While there are a number of Alpine culinary treats that you're already imaging right now (probably a couple of famous cheese based dishes for a start), there is actually quite a smorgasbord of treats you could enjoy on your next winter sports trip.
We're gonna dig into the warming feats you could and should try the next time you're in the mountains, summing them up by the classics, lesser known treats and a few other menu options too.
I hope you're hungry!
What is Alpine Cusine?
Alpine cuisine refers to the traditional food and drinks found across the Alps in Europe, specifically in France, Austria, Switzerland, Germany, Italy and Slovenia. These dishes tend to be characterised by their reliance on dairy, especially cheese, and meat. Most of these countries have a lot of pork products such as sausages, cured meats and slow cooked pork. But you'll also find lamb, game such as venison and wild boar, and quite a bit of beef too.
Alpine cuisine also relies heavily on pasta, potatoes and bread. A baguette, or French stick, will often be served chopped with most meals across the Alps. You'll also find a lot of added butter, even in salads. And you might also find that salads come scattered with lardons (chopped cured pork) or served with a chunk of goats cheese.
If you're vegan or veggie it might be best to double check and let your waiter know your dietary preferences when ordering.
Savoury Delights: Classic Alpine Dishes
Fondue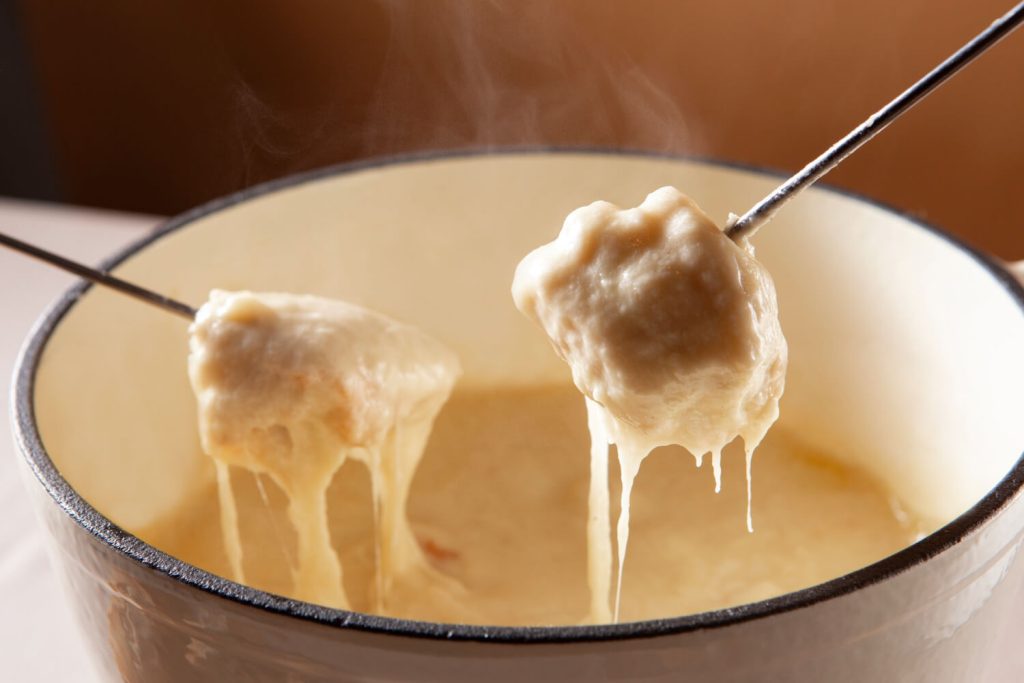 When you think of Alpine cuisine, fondue is most likely the dish that immediately comes to mind. This communal dish originated in Switzerland and has since become a beloved winter tradition in many European countries.
The classic Swiss fondue features a blend of melted cheese, typically Gruyère and Emmental, mixed with garlic and white wine. But don't miss out on the regional variations found in France and Italy, each offering a unique twist to this delectable experience.
You'll also find options for fondue including meat, mushrooms and a whole stack of variations.
If you don't already know, fondue comes in a pot that is kept warm on the table. You then dip bread, potatoes, meat or vegetables into the cheese and enjoy. Great for refuelling your body for a lunchtime treat, or a warmer after sundown.
Raclette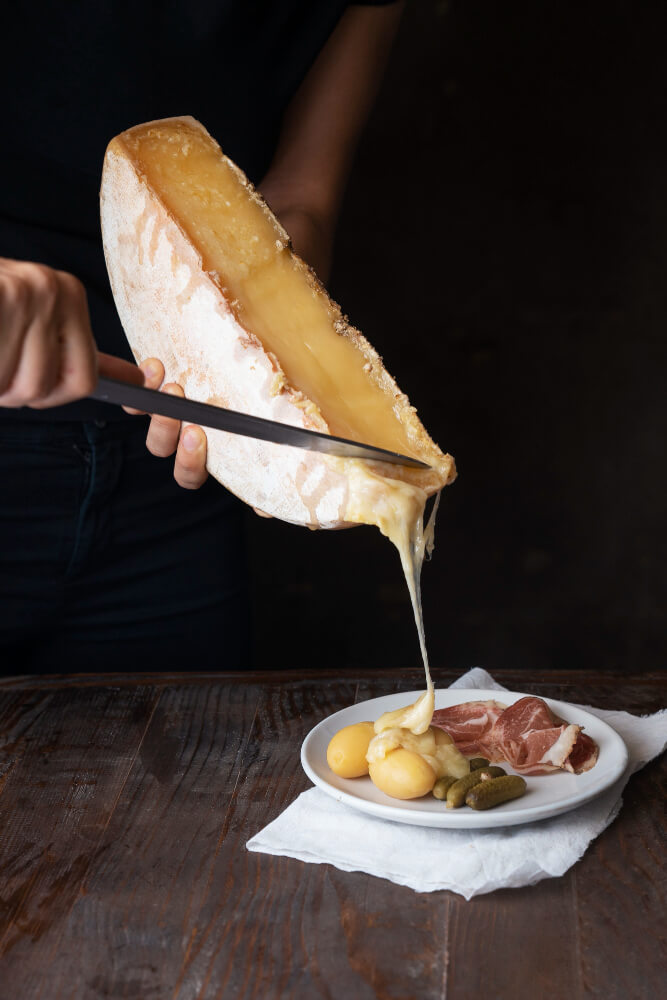 Prepare to indulge in a true Alpine delight – raclette. This dish involves heating a wheel of raclette cheese and scraping the melted goodness over boiled potatoes, pickles, and cured meats. The result is a mouthwatering combination of flavours that is a must-try during your ski adventures.
Many hotels and guest houses in the Alpine region will offer raclette grills for hire, some places even include them for free in your apartment. You'll also find racelette cheese readily available in your local Carrefour or other local corner shop in every Alpine town, village or resort.
Tartiflette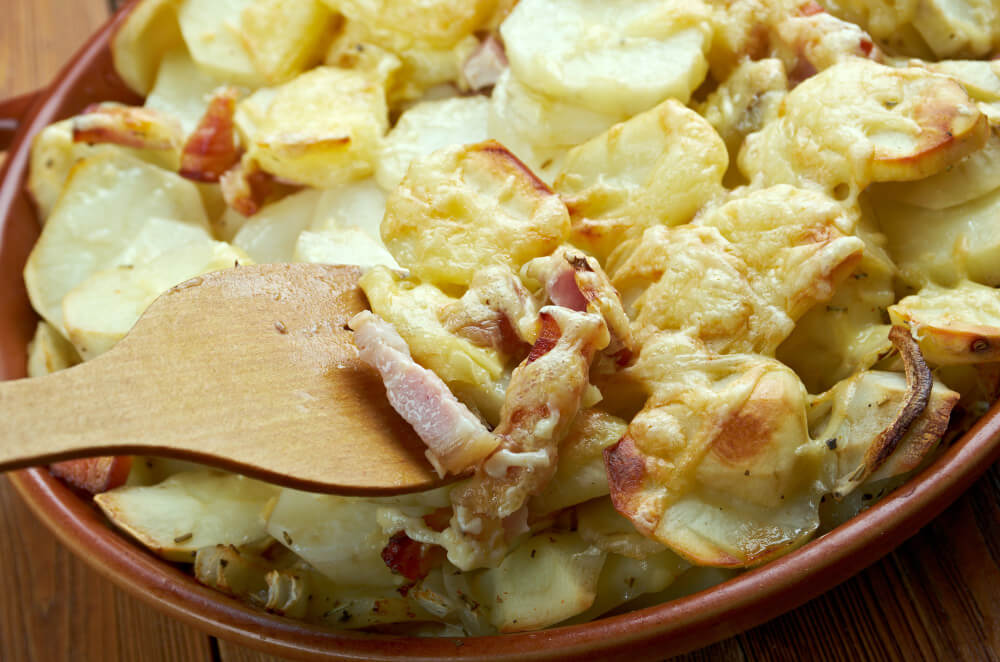 This classic French dish is made from sliced potatoes piled with garlic, cheese and often scattered with bacon or lardons. It's truly a winter warmer and a dish that will fuel you for a proper post lunch ski session deep in the Alps.
While tartfilette is usually meat based, you will see an increasingly wider selection of veggie and vegan tartiflette. I enjoyed a mushroom tartiflette in Les Deux Alpes, and a friend enjoyed a vegan tartiflette made with some kind if vegan cheese (not sure if it was nut based or one of those fake cheeses – but apparently was great).
Wiener Schnitzel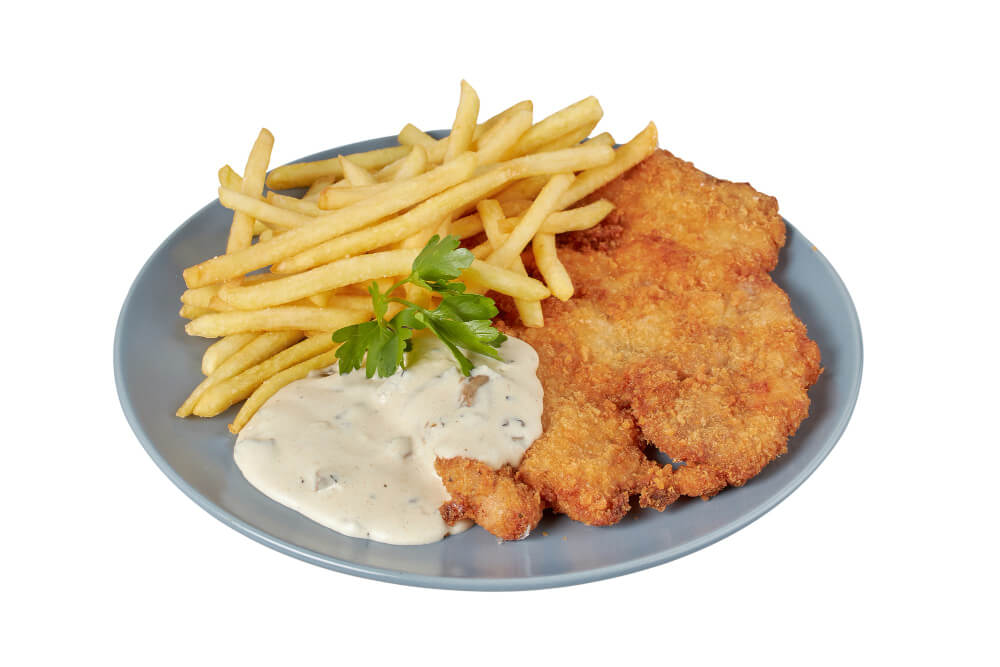 While you might not immediately associate Wiener Schnitzel with the Alps, this Austrian specialty has made its way into the hearts (and stomachs) of many ski enthusiasts. Thin veal cutlets are breaded and fried to golden perfection, creating a satisfying and comforting meal after a day on the slopes. Explore the various regional adaptations of this classic dish across the Alpine region.
While Wiener schnitzel is usually made with veal, you might also spot pork schnitzel and, increasingly, vegetarian and vegan schnitzel made from fake meat. Make sure to enjoy with heaps of whatever sauce is to hand (creamy sauce, currant sauce… All sorts).
Pizza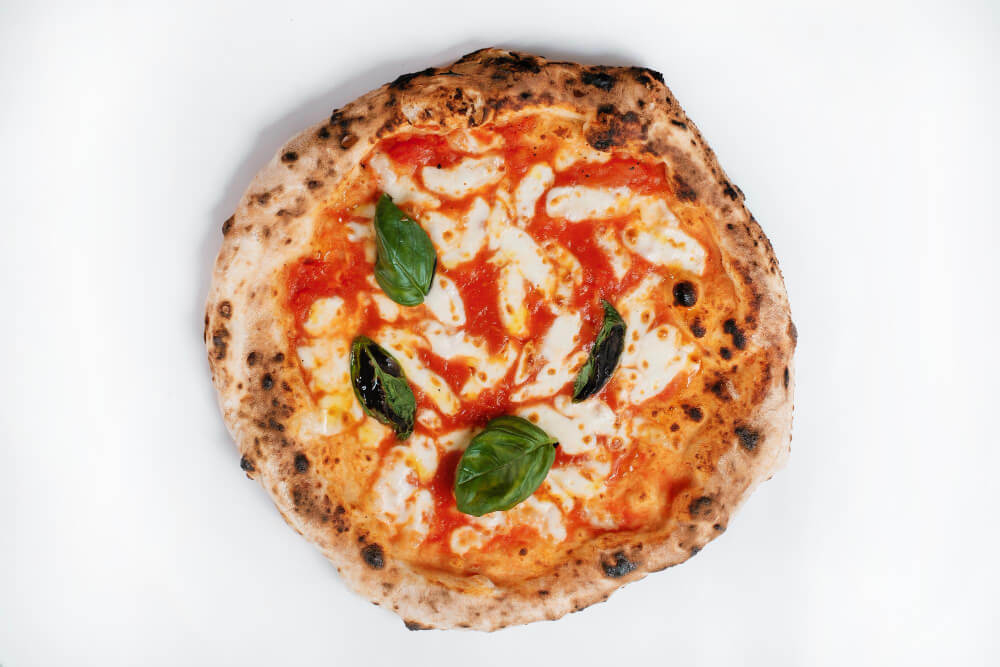 Wait… Pizza isn't an traditional Alpine feast? Well, no, but it is ubiquitous. And because France and Italy both do awesome pizza, you'll find top quality pizzerias and trattorias everywhere from Chamonix to Livorno. Obviously.
And let's be honest, what could be better after a hard day on the mountain than a top quality pizza?
Hidden Gems: Lesser-Known Alpine Treasures
Liptauer Cheese Spread
Hailing from Slovakia, Liptauer is a creamy cheese spread with a tangy twist found across the Alps, especially in Austria. Made from sheep's milk cheese, this lesser-known delight is seasoned with paprika, caraway seeds, and onions, resulting in a burst of flavours that perfectly complements a slice of rye bread or a pretzel.
Pizzoccheri Pasta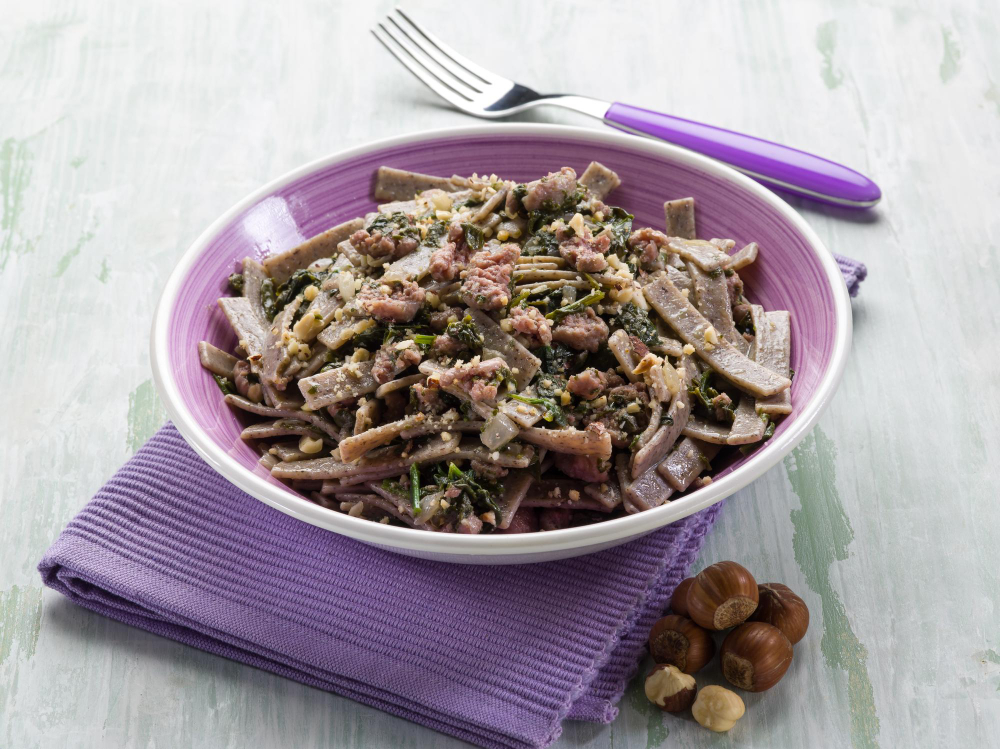 Venture into the Lombardy region of Italy and discover Pizzoccheri, a unique buckwheat pasta dish. The hearty pasta is layered with cabbage, potatoes, and a generous amount of local cheese, all topped with browned butter and sage.
Käsespätzle
Imagine German-style macaroni and cheese with an Alpine twist – that's Käsespätzle. Soft egg noodles are mixed with melted cheese and caramelized onions, creating a delightful comfort food experience that will warm your soul.
Delectable Alpine Desserts
You can't enjoy an Alpine meal without some great desserts. And luckily in France, Austria and Italy, you'll be spoiled for choice.
Apfelstrudel
No Alpine culinary journey is complete without a taste of Apfelstrudel, an iconic Austrian dessert. Thin layers of pastry encase sweet and tart apple slices, spiced with cinnamon and sugar. Enjoy it warm, served with a dollop of vanilla sauce or a scoop of ice cream.
Engadiner Nusstorte
From the Swiss Engadine region comes Engadiner Nusstorte, a nut-filled tart made with a rich caramelized filling of walnuts, honey, and cream. The result is a crunchy, nutty delight that pairs wonderfully with a cup of coffee or hot chocolate.
Tarte aux Myrtilles
Indulge in the flavours of the French Alps with Tarte aux Myrtilles, a delectable blueberry tart. The sweet and juicy berries are encased in a buttery pastry crust, offering a perfect balance of flavours in each bite.
Alpine Beverages: From Warming Spirits to Refreshing Drinks
A trip to the Alps isn't complete until you've savoured some of the famous apres ski. And a big part of this is of course the choice of liqueurs, winesm spirits and beers that you can sample. All across the Alps there are plenty of fabulous alcoholic drinks to sample. Here are just a few of them.
Jagertee
To warm up on chilly evenings, the Austrian Jagertee is the go-to drink. This spiced tea combines black tea, rum, and fruit juices, infused with cinnamon, cloves, and orange zest. It's the ideal companion to keep you cozy after a day on the slopes.
Genepi Liqueur
Sip on the herbal elixir of the Alps – Genepi liqueur. Native to the French and Italian Alps, this aromatic drink is made from the alpine herb, Artemisia genipi. Its unique flavours are a perfect way to end a delightful Alpine meal.
Alpine Craft Beers
For beer enthusiasts, the Alpine region offers a delightful selection of craft beers. From traditional lagers to innovative brews infused with local flavors, you'll find a beer to suit every palate.
Fusion Cuisine: Alpine Dishes with a Modern Twist
Alpine Tapas
Embrace the concept of tapas in the Alps, where creative chefs put a unique Alpine spin on this traditional Spanish dining style. Discover unusual combinations of flavours and textures that will surprise and delight your taste buds.
Gourmet Game Meat
Upscale alpine restaurants have mastered the art of preparing gourmet game meat dishes. From venison to wild boar, these innovative creations showcase the natural flavours of the Alps and are a treat for discerning foodies.
Dietary Preferences in the Alps: Catering to Everyone
Vegetarian and Vegan Options
While Alpine cuisine has traditionally been meat and cheese heavy, there is a growing trend of veggie and vegan friendly dishes across the region. While pasta and salads would have been the mainstay for most vegans heading to the mountains, there are increasingly options such as vegan schnitzel, risottos and even veggie cheese based dishes.
Most restaurants in the Alpine regions will now have some reasonable options for veggies and vegans. By reasonable I mean maybe two. Sometimes much more. But at least you won't starve like you used to!
Gluten-free Alpine Cuisine
Pizza and pasta are obviously not good options for those with gluten sensitivities. However there are also growing gluten free options such as potato dishes, rice and risotto based dishes, hearty stews and more.
We visited Austria with a gluten free buddy a few years back and he lived on a lot of meat and cheese, gluten free bread and even managed to get a gluten free Wiener schnitzel.
Conclusion
Embarking on a ski or snowboarding trip in the European Alps is not just about the breathtaking slopes; it's a gastronomic adventure through Alpine cuisine. From savoring classic dishes like fondue and raclette to uncovering hidden gems like Liptauer cheese spread and Pizzoccheri pasta, every meal becomes an experience to remember.
So, when you plan your next snowy escapade, be sure to treat your taste buds to the delightful flavors of Alpine cuisine – a journey that will leave you with unforgettable memories of both the mountains and the meals.