The warm days are gone, and those cold fronts are rolling in. And as the leaves start to fall from the trees, our minds turn to plans of hitting the mountains and carving up some snow for the new season. Or at least thats the case for those of us that love winter sports….
If you're eyeing up the early season ski package deals and wondering if that amazing cheap deal to Val Thorens or St Anton is worth it, we're gonna do our best to help you make sense of the facts.
And of course, European ski season doesn't just mean the Alps. We've got the wonders of the Pyrenees, Scandinavia and Eastern Europe to gaze towards too.
So, lets find out when you can start packing your snow boots and ski jacket and head off for that first ride on the white stuff this season…
When Can You Start Skiing in The Alps?
The Alps are well-renowned for their sizeable skiable terrains and extensive winter seasons. And with various resorts at different altitudes, the start of the ski season can vary hugely from place to place.
In fact, early ski season can begin as early as late October or early November, particularly in higher altitude resorts. As a general rule, most resorts are open by early December, with the season extending well into April or even May.
Some resorts in the Northern Alps offer the chance to glide through the snow in mid-October due to their glacier coverage such as Tignes and Les Deux Alpes in France, and Solden or Hintertux in Austria.
However, the lion's share of resorts officially open their doors to the ski season in early December when more consistent snowfall occurs.
Read: Where is best to ski in December?
When Can You Start Skiing in the Pyrenees?
It's not all about the Alps, of course. The Pyrenees offer lots of exceptional skiing opportunities, from the Spanish resorts of Baqueria Beret or Formigal, to Andorra's awesome Grandvalira, into the French Pyrenees resorts of Ax les Thermes and Les Angles.
Generally speaking, the Pyrenees ski resorts will start to open at the beginning of December, snow cover depending. For example, Ordino Arcalís in Andorra started their 2022/23 ski season on December 2nd 2022, and closed on April 16th 2023.
Spanish resort Baqueria Beret opened their lifts on the 26th November 2022, with the last lift stopping for the season on the 10th April 2023. Although it will depend on the snow fall in the coming season, the Pyrenees can be a surprise for those looking for a different early season ski session.
When Can You Start Skiing in Scandinavia?
Heading towards the Artic circle, of course the weather gets colder and that snow falls sooner. But while there might be better snow this far north, you might not see the earliest ski resort opening in Europe.
Most resorts will open in November, depending on snow coverage. Åre in Sweden for example will usually open the ski lifts in mid-November. Over the border, Norwegian resorts Hemsedall, Trysil and Hafjell are also likely to open in November.
Fancy a city break with your ski trip? Head to Oslo's Vinterpark, which is just 20 minutes from downtown Oslo. This small ski resort opens from mid-November and is reachable by metro from the city centre.
Which Ski Resorts Open First in Europe?
When it comes to the earliest possible opportunities for ski resorts in Europe, there are a few reliable options. In fact, some ski resorts are actually open all year round, including:
Hintertux, Austria: At the end of the Zillertal valley, a short hop from Mayrhofen, this glacier offers summer skiing. With snowfall usually occuring during October, you could be riding some powder on the glacier well before the rest of Europe has seen the leaves fall from the trees.
Zermatt, Switzerland: As an intriguing perk for ski lovers, Zermatt boasts an almost year-round ski season due to its glacier Skiing at Matterhorn Glacier Paradise. You can hit the slopes as early as September. Though limited runs might be available, the Icy early season slopes cater to eager skiers and snowboarders looking to be the first on the mountains.
Les Trois Vallees/Val Thorens, France: The highest ski resort in Europe opens in mid-November, giving ski fans the opportunity to ride fresh powder before December. This is also one of the best times of year to find great budget Three Valleys ski packages….
Cervinia, Italy: Linked to Zermatt, it gives a secondary access to the Matterhorn's year-round skiing through lifted systems from the beginning of November.
Les Deux Alpes, France: Opening each year in mid-October, Les Deux Alpes, with its vast glacier, is a key player in the early ski season scene.
Solden, Austria: This resort, famous for its hosting of the annual FIS World Cup ski races, usually opens in late September thanks to it's twin glaciers.
Stubai, Austria: Again, the glacier in Stubai is open for year round skiing. But depending on the snowfall, there can be additional terrain open from October or November onwards.
Bear in mind, snow conditions might be variable, shorter daylight hours can limit skiable moments, and not all facilities of the resort could be open early in the season. Nevertheless, the pure joy of being among the first to ski each season is a thrill many face the cold for.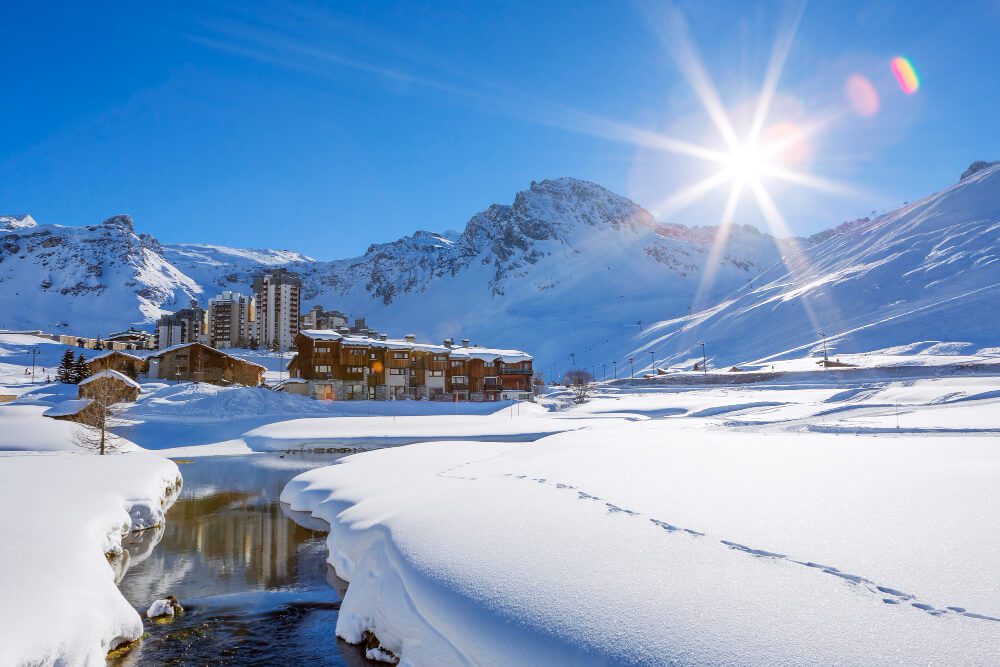 How Much Snowfall Do The Alps See in November?
Many might argue that an early ski trip, while indulging in the thrill of an early season, may not guarantee the best snow conditions. Fair point. The Alps, holding the distinction for its generous snowfall, sees a varied snowfall pattern in November.
Typically, the higher altitude resorts accumulate more snow, averaging about 40-90cm in November. Notably, Val Thorens, Tignes, and Obergurgl resorts which are located at higher altitudes and consequently receive ample snowfall to open up a substantial part of their ski areas by late November.
However, the prospective skier must consider that this is an average measure and there can be less predictable years with low snowfall during this period. Make sure to check the snow records and forecasts of your chosen resort close to your trip.
When Is The Cheapest Month To Ski in Europe?
A perfect ski holiday doesn't need to break the bank. If you're savvy about your planning, you can find affordable skiing options. The general rule of thumb is: the closer you are to peak season, the steeper the prices – for flights, accommodations, and lift tickets.
The cheapest month to ski in Europe is typically November, given that it's the early part of the season and demand is low. The first two weeks of December, before the Christmas rush, can also offer good-value ski packages.
Those prepared to wait out the season will also find some amazing deals at the back end of the season, around March and into April. Of course, you're less guaranteed snow and you're more likely to enjoy a bluebird day on some slushy snow.
So while early winter provides an enticing draw to the winter sports aficionados among us, benefiting from reduced prices and quieter runs, a little patience will almost always guarantee more extensive terrain coverage.
As resorts fully open in December, you'll find more choice in those early weeks before Christmas. Even a pre-Christmas ski break can be a bit of a bargain!