The Three Valleys are the best ski area in the world. I'd say arguably, but I don't really think it's open to discussion. You've got Val Thorens, Courchevel and Meribel, which includes the highest ski resort in Europe and the biggest skiable area.
Simply put, if you want a guaranteed epic ski holiday, you choose the Three Valleys.
However, being the premium ski area that it is, it's not always the cheapest place to head for a winter sports holiday. But that's not to say there aren't amazing deals and bargains to be had.
This guide is going to help you find the best prices on Les Trois Vallees ski packages, and link you to some of the best places to get cheap ski deals to the Three Valleys, including Courchevel, Val Thorens and co.
Note: Yes, there are affiliate links in this article. We earn a commission if you do click and buy, at no cost to you.
What resorts are in the Three Valleys?
The Three Valleys ski area, or Les Trois Vallées, is an expansive ski area in the Savoie department in the French Alps. You'll find interconnected access to over 600 kms of snow sure mountain terrain, which is the world's biggest ski area by far.
The resorts here are:
Courchevel (1,747 m): Known for its high-end ski facilities, Courchevel is often frequented by the rich and famous.
La Tania (1,350 m): La Tania is a pedestrian-friendly, family-oriented resort known mostly for budget accommodations.
Brides-les-Bains (600 m): This resort is a cost-effective gateway to the Three Valleys, offering most value-for-money lodgings.
Méribel (1,450 m): Méribel exudes a traditional Alpine charm and offers a host of skiing opportunities.
Méribel-Mottaret (1,750 m): This is a suburb of Méribel, sitting higher up the valley, providing easy access to the slopes.
St. Martin de Belleville (1,450 m): It's a traditional village with a tranquil atmosphere and access to vast skiing terrain.
Les Menuires (1,850 m): Les Menuires is well-liked for its comprehensive range of ski-in, ski-out accommodations.
Val Thorens (2,300 m): Val Thorens is the highest resort in Europe, renowned for its excellent snow conditions.
Orelle (880 m): Orelle is relatively lesser-known but provides a quick access to Val Thorens and overall 3-valleys area.
Each of these has their own benefits, with some surprisingly good deals to be found. And while you might want to look to the hotspots of Val Thorens or Meribel, going for one of the smaller resorts is going to give you access to Three Valleys for less. Basically, pretty much anywhere you pick here will give you access to the best ski resorts in France, so it's not going to be too much of a hassle to go for one of the smaller options.
Generally speaking, the lower and less well connected resorts are the cheapest. However, this isn't always the case, and sometimes spending just a little bit extra can get you a lot more in terms of your overall ski package and accommodation.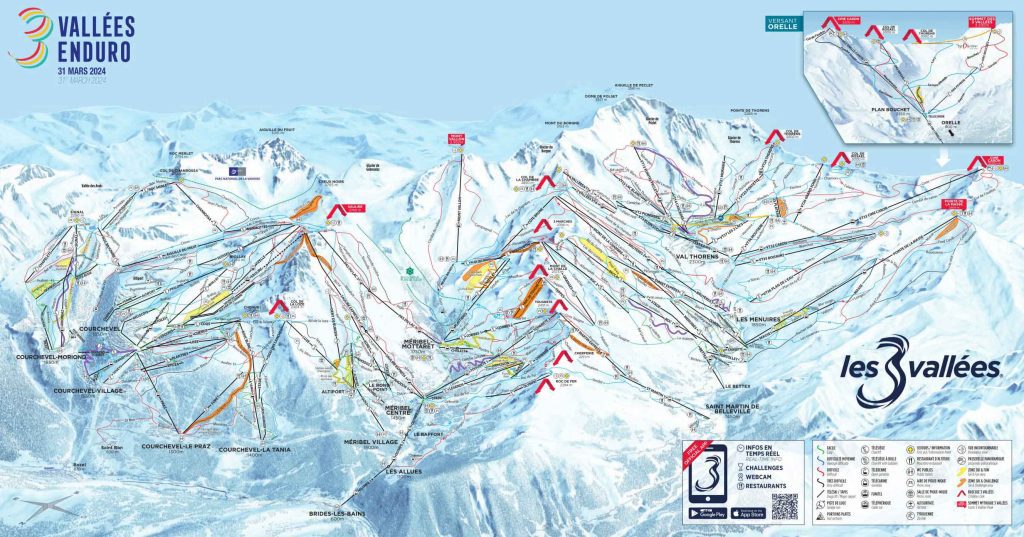 When it comes to terrain, the Three Valleys are perfectly suited for skiers and snowboarders of all abilities. Simply put, there is something for everyone here. From top quality learner areas and beginner friendly slopes, to challenging runs, off piste and freeriding; and snow parks.
In short, whatever your style, or your preferences, you'll find it right here in the Three Valleys.
Sounds good? The downside is that this can be one of the most expensive places to enjoy a winter break in the French Alps. But… There are ways of keeping costs down.
How to find the cheapest deals to Three Valleys
1. Early Season
One of the best ways to find a cheap deal to any of the Three Valleys ski resorts is to pick a date that is just out of the main winter season. For example, early December is often one of the best times to pick up some of the lowest prices. This is also when you'll have fresh snow to play with, making this the best time to book a holiday to Val Thorens or Meribel.
In addition, because of the high altitude here, you'll find that even in the early season there will be some great snow conditions.
2. Late Season
At the other end of the winter sports calendar, late season skiing can also turn up some incredible deals on trips to the Three Valleys. And, again, because of the high altitude and snow sure terrain, you'll still find good ski conditions into March and April.
Keep an eye on late season deals for some amazing bargains.
3. Last Minute Deals
If you're feeling impulsive, check out the last minute deals on the main ski booking sites. This can sometimes turn up some seriously attractive packages in the Three Valleys, or neighbouring resorts.
One of the best sites for low cost last minute ski deals is Snowtrex. Their deals include lift passes as standard, and you can also add things like equipment hire or meal options for a reasonable price too.
We also think SkiWorld has some excellent deals for last minute packages to the Three Valleys. These can also include flights and hold luggage – but make sure to check their ski all in deals too which also bundle in transfers and lift passes.
While they might look more expensive, the fact that everything is included can seriously bring the cost down.
View last minute deals with SkiWorld.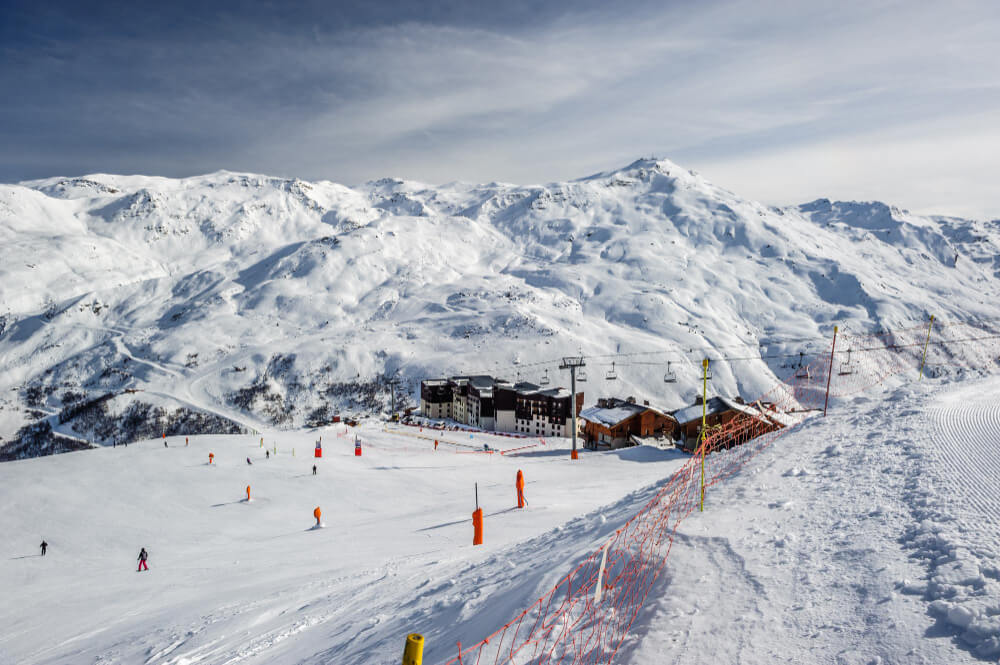 4. Book it yourself
This isn't always the cheapest way, and can be a bit fiddly. But… Sometimes booking each element yourself can be cheaper than booking a ski package. This is usually more effective outside of high season, but it would go something like this.
Search for cheap accommodation in Three Valleys – this can include hostels which are going to be one of the lowest cost accommodation options. Running a search on Trivago for the Les Trois Vallees in your specified date range can bring up some really good accommodation package deals. For example, I ran some searches for both early December and peak season in January, and there are a few options for apartments for well under €400 for the week,
Buy your own lift pass. You can shop around for cheaper options, or just go for the full package. The single resort passes are slightly cheaper (eg: 3 Valleys Pass is €375 for 6 days vs Meribel Valley pass is €222 for 6 days).
Flights can often be picked up very cheaply from most UK and European airports to Chambery (closest airport), Grenoble (next closest airport), Geveva and Lyon (the biggest airports, around 2 and a half hours transfer time from both).
The best way to find cheap flights is to use Skyscanner to check across your date range.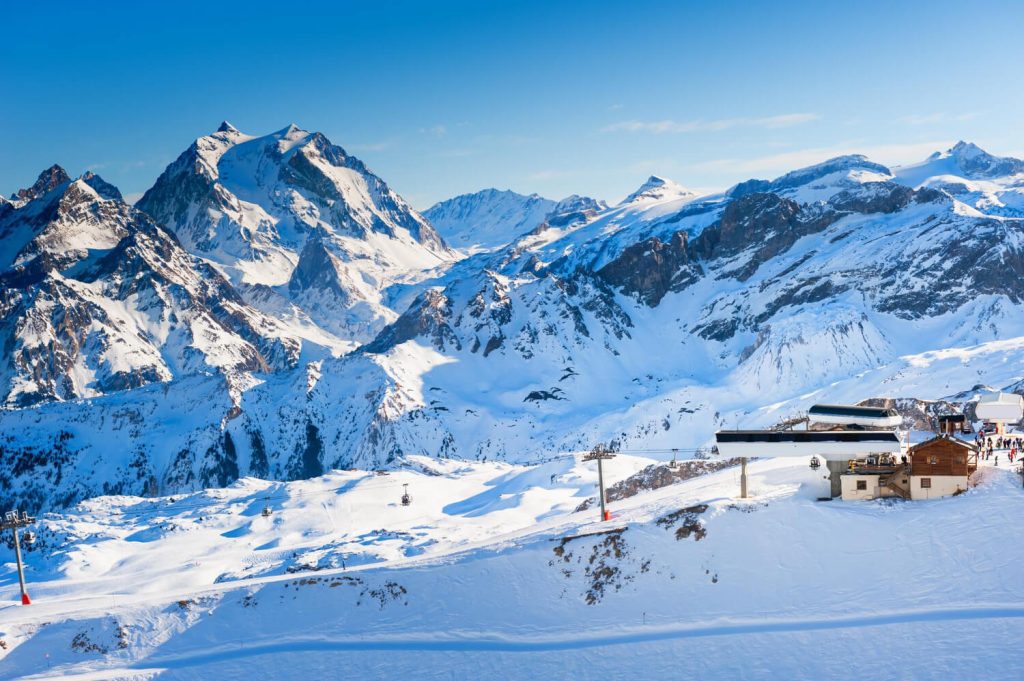 Best sites for the cheapest ski packages
There are plenty of excellent sites to find Three Valleys ski package deals. Our favourites are:
Snowtrex: One of the best ski holiday package providers with some of the best deals online. Their prices always include lift passes, which can be a great way to save money on a ski holiday in Val Thorens or Meribel.
Skiworld: The best thing about SkiWorld is that they offer the ski-all-in packages which include everything you need such as accommodation, ski passes, transfers and flights. If you want it all taken care of, check these guys out. They also offer some very good last minute packages and are well worth keeping an eye on.
Estiber: This Spanish company have some incredibly tempting deals on ski breaks in Les Trois Vallees, in fact they might offer some of the most competitive packages online. They also include lift passes as standard, often offering options between the local pass (eg. Val Thorens) and the full ski domain area pass.
Erna Low: A really good site for finding cheap accommodation in premium resorts such as Val Thorens and the Three Valleys. Worth a look if you're doing a DIY ski trip or browsing deals on apartments and chalets.
There are, of course, other options out there for ski packages. We've picked these as they consistently offer great deals. Check out our Budget Ski Deals page too.
Make sure to sign up for our newsletter too. We're always looking for the best ski holiday deals, so sign up and get them sent direct to your inbox!