Choosing a ski resort in France can be tricky. There are just so many top class resorts across the French Alps – but I ended up choosing an epic deal in Les Deux Alpes.
I'd heard all about Les Deux Alpes, so I was stoked to go and check it out. I was also doubly stoked as this was going to be my first visit to the mountains since Covid, which was obviously very exciting.
So, how did I find the snowboarding on this French Alpine playground?
Well, lets dig in and find out whether it's worth taking a trip to Les Deux Alpes!
Where is Les Deux Alpes
Les Deux Alpes is in the Isere region of the French Alps. It's about 68 kms from Grenoble, 178 kms from Lyon and 210 kms from Geneva, by car. There are also pretty quick autoroutes which take you to Grenoble, which is the nearest big town. You then whizz along the valley on a relatively fast road before you start the twisty zig-zag ascent to Les Deux Alpes.
The town of Les Deux Alpes itself sits on a kind of plateau at between 1800 and 1650 metres. Nestled between two mountains, probably hence the name.
The mountain to the south is called Valle Blanche, and is a relatively simple three lift mountain topping out at 2100 metres.
But it's the northern side, and the ride up to over 3200 metres where things get interesting.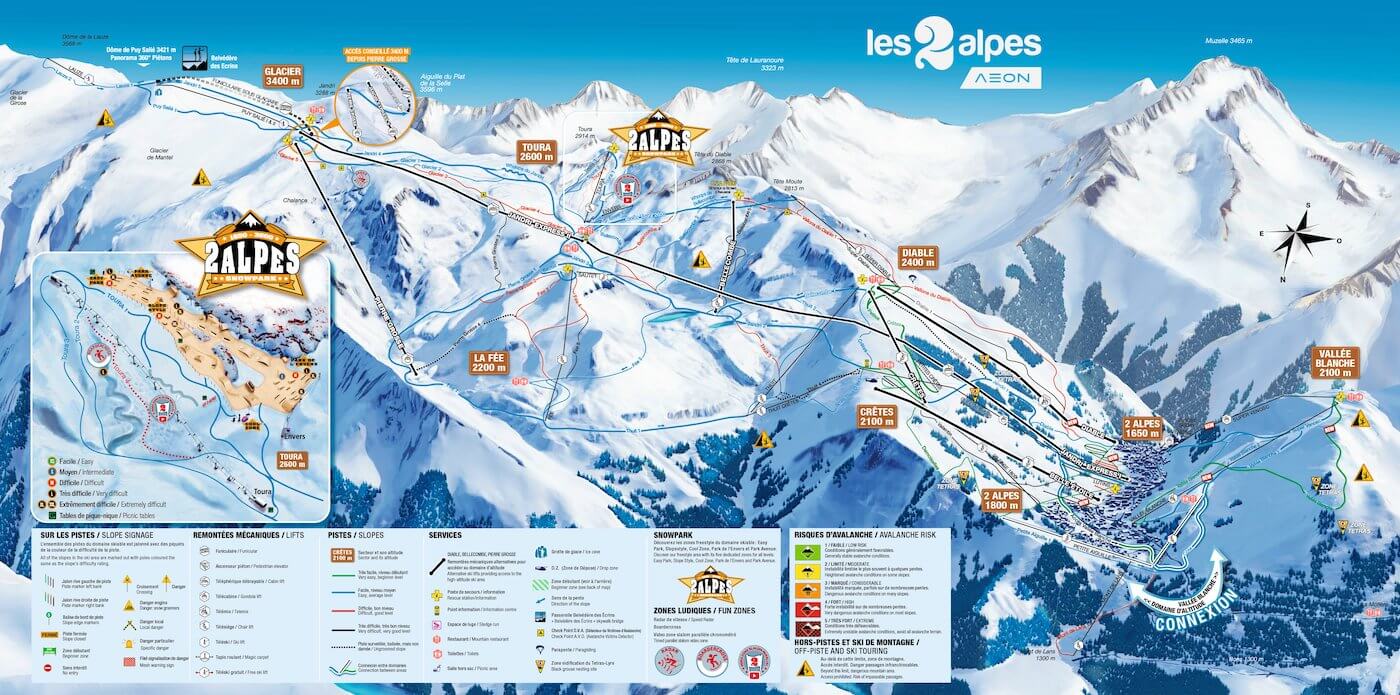 Getting onto the mountain in Les Deux Alpes
I was staying at the Hotel Jam Session, which is a budget hotel right on the edge of the mountain. For all intents and purposes it was ski-in/ski-out, with the first run starting just up a small embankment behind the hotel.
There was also a 4 person lift a minutes walk up the hill, but I wanted to get onto the retro Les Oeufs Blanc lifts to get started on my exploration of L2A.
Now… The old gondola Les Oeufs Blancs are kinda quaint retro/vintage 2 person gondolas that whizz you up onto the first main station on the mountain. And in the morning, this is the quiet option.
Most people queue for the Jandri Express and then hop onto Jandri Express II which will take you right up onto the glacier. From here, you can do the epic run back down to the bottom – which I'll come to shortly.
Anyways. Here I am, getting my snowboard legs on my first run of the trip from the first station back to town. I often like to do this to get my bearings on the first day so I don't get caught out on the return to base later in the day.
In fact the return run down the mountain is relatively wide and wasn't too busy even at the end of the day – although it does get very slushy.
Anyways, I spent some time getting my snow legs back on around the Cretes sector before venturing deeper into the mountain.
Epic runs from the glacier
Lets not mess about here. One of the best things – no – definitely the best thing is that epic run from the top of the glacier at Les Deux Alpes either back to town or down into the valley as part of the Pierre Gosse run.
Oh. My. Word!
I don't know how many times I did the run from top to bottom, but that will never get old.
For starters it's as fast as you want it to be. Want to bomb it down? Yeah, no sweat.
Coming down the glacier is fast, to be honest. There is a slight lip you need to cross to get past the drag lifts and onto the rest of the mountain, but the speed picks up again.
As a snowboarder, you will need to get some momentum going because there are a few sections where the terrain flattens out – all of it around the Jandri 4 sector.
Not a problem if you've got some speed behind you, but you do tend to spot the odd snowboarder sheepishly walking along.
But once you're flying then, whooo… Yeah, its a ton of fun.
One of the best things about this run is that there are also many ways to do it. From the glacier you can go left or right, take a different route, and follow the Jandri 4 or Glacier 1 or 3 routes to mix it up.
There are also a lot of chances to do a bunch of side hits, kickers on the way down and even some limited off-piste (of the on-piste variety).
What is the terrain like in Les Deux Alpes?
The run from the glacier to the town varies from speedy glacier descent to wide and open runs, to a more twisty route along the mountain back down to town. Most of the terrain is pretty fast, with a few sections mostly at the top of the mountain, as I mentioned, where it is a bit flat for snowboarders.
If you're a skier, you'll fly down all of it, no sweat.
As a snowboarder, make sure you have your speed legs on coming off the glacier. For the most part after this, it's plain sailing.
I mentioned the Pierre Gosse run. That was an undeniably epic run, which segues off into a fast descent down into the valley, with a lift taking you back to the glacier after.
If you could do glacier to Pierre Gosse in any other resort, it would be one of the best runs.
In Les Deux Alpes, it's just another of the epic runs you can do.
What did I think of Les Deux Alpes?
As you might have gathered, I had a shit ton of fun. I'm a kinda shonky snowboarder, so my skills are minimal. But by day two I was bombing past skiers, hitting little jumps and basically having the time of my life.
I was like an eager kid at the end of every run, back up the lift… Do it again. And again…
It helped that I was on my own so I could pretty much do what I wanted.
Honestly, if I could, I would head back to L2A every season.
What's the vibe/apres like?
There are several on-mountain bars which definitely get bumping from lunch time. One of them near base of the Jandri 2 lift was vibing pretty hard.
There is another bar down on Cretes, on the run back to town, which also seemed to get lively at the end of the day.
Back in town, there was very much a buzzing vibe. Let's go have a look…
Getting to grips with Les Deux Alpes
The town of Les Deux Alpes stretches along this valley plateau for around 2 kms, with the main street, Avenue de la Muzelle, basically being the main artery. From here, you can see the main gondolas and lifts whizzing skiers up onto the mountain.
There are clusters of hotels and apartment blocks everywhere, with most of them looking quite modern. This isn't a chocolate box resort by any means, but very much a buzzing ski-tropolis with teeming groups of youngsters on the lookout for apres ski drinks, or families resting up on the terraces with pizzas and tartiflette.
Getting around the resort is simple. You basically walk along the main road until you get where you want to. But there is also a shuttle bus/navette that whizzes people to the main areas.
I was staying kinda far up the hill in the Hotel Jam Session – an almost ski-in/ski-out hotel. The area here was kind of it's own little ecosphere, with a couple of little shops, cafes, plenty of ski rental places and even the odd bar.
I'm gonna say that I quite liked the vibe in Les Deux Alpes. It wasn't too rowdy, it wasn't too boring. It seemed to tread the right kind of middle ground between vibrant enough but chill if you want.
I didn't actually party in town as I made a couple of buddies in the hotel and just drank there. But it definitely offers apres ski opportunities aplenty.
Booking your visit
If my Les Deux Alpes review has inspired to head to this epic resort, there are several great options for holiday providers.
If you want the full package with flights, transfers and all the ski passes, make sure to check out SkiWorld. They offer great deals on fully comprehensive ski packages from the UK, with some lovely catered chalets in some of the best locations in Les Deux Alpes.
Check out SkiWorld Les Deux Alpes deals here.
---
Main image: Photo by Toa Heftiba on Unsplash
There are a few affiliate links in this article, which means I get a small commission and you get a great deal at no extra cost 😉