If you think Switzerland is out of your budget for a ski trip this year, think again. While this Alpine nation is often held up as one of the best place to ski in the world, most people assume that Switzerland is premium when it comes to pricing, as standard. But the folks at Ski Hostel, based in the Valais region of southern Switzerland, are looking to change that perception.
We were invited to check out Relais de Dranse ski hostel, one of six accommodation locations run by Stefan and Philipe in Switzerland. In this Ski Hostel review, we'll be looking specifically at the Liddes location.
But we did also get to pop into Les Louerettes, located in a great spot in the 4 Vallees near Verbier– so we'll have a quick look at this ski hostel too.
Introducing Ski Hostel
Ski Hostel is the brainchild of friends Philip Weber and Stefan Stolwijk. While the focus, as the name might suggest, is an affordable location to explore the ski terrain of Switzerland, the business has a broader aim too. As well as budget skiing, the team also offer affordable co-working, not to mention summer mountain hiking.
So although skiing is the core focus, the team are keen to offer the magic of the Swiss Alps to people all year round.
In fact, Stefan, who was our main guide, explained that they had hosted school hiking trips, digital nomads and people from around the world throughout the year. Despite opening the business just before the rise of Covid, they had managed to also host many groups and were limbering up for a busy season when we visited in December 2022.
Welcome to Relais de Dranse, Liddes
Relais de Dranse is the flagship ski hostel, with a great location in the village of Liddes. This former restaurant has been transformed into a spacious hostel, spread across three floors, with fantastic views down the valley and in a very quiet spot.
Just 30 minutes from Martigny, 40 minutes (give or take) from Verbier, and five minutes from the nearest ski slope, Relais de Dranse is the biggest of the ski hostels run by the team. In around 5-10 minutes you can walk up the road to the centre of the village, although this isn't quite a buzzing ski resort. You'll find a small restaurant, local stores and a petrol station that sells premium grade raclette cheese
For those looking for more nature walks, the hostel sits in an enviable position with multiple walks talking you along rivers, into tree lined mountain walks and eventually even to Italy!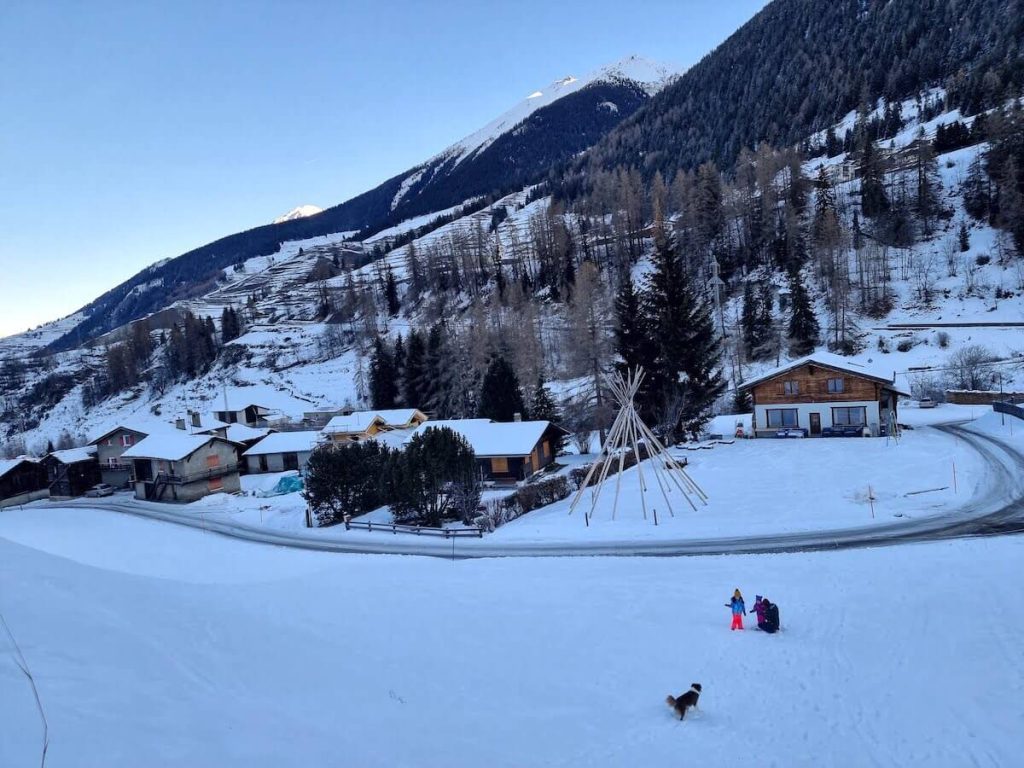 Accommodation at Relais de Dranse Ski Hostel
Relais de Dranse itself was to be our base for the week, and as a family we were housed in a dorm room of our own on the first floor. The room itself was simple, as you might expect. Wood panelled floors, pine bunk beds, some shelves for storage and a small window with a view back up the valley towards a mountain.
The rooms are pretty spacious, although very simple. Think wood panelling, pine bed frames and wooden laminate flooring. Our kids were happy to clamber up and down the bunk beds and make dens in the spare bedding.
The beds themselves were comfortable and perfect for our needs. We were provided with bed linen which was nice and clean, and comfy too. Each bunk bed also had it's own night light, which can light up the room quite a lot. Some of the beds had a little graffiti from previous stays, but nothing too suspect – generally speaking the quality and comfort levels were good.
Our room was right opposite the shared bathroom, and as we were early in the season, we didn't really have anyone to share with. However there were two showers and two toilets in the bathroom block, with another bathroom on the lower ground floor.
There was a lock on the door, as I recall, although there was also no way to secure your belongings in the room (such as lockers). However, being in a rustic location and with a quite tight knit group in the hostel, I didn't feel like security was an issue here.
Facilities at Relais de Dranse
Most of the facilities at Relais de Dranse were on the main ground floor. Here you had a wide open plan space, which would have been the restaurant. On one side there were pool tables, table tennis tables, a large L-shaped sofa, piano and projector with screen. The outside space was also nice and large with what would have been a lawn but which was obviously knee deep in snow.
This area was great for the kids to run about making snow angels and snowmen, which kept them occupied for a lot of the time.
There was also outside seating and a BBQ, but obviously in the depths of winter you're probably not going to be making the most of the external facilities.
Back indoors, while some of the pool tables were a little scruffy, and we were clearly there pre-season while they fixed a few things up so there was some fridge equipment in the way. But generally speaking, once up and running, the space would be nice and big with lots of opportunities to play.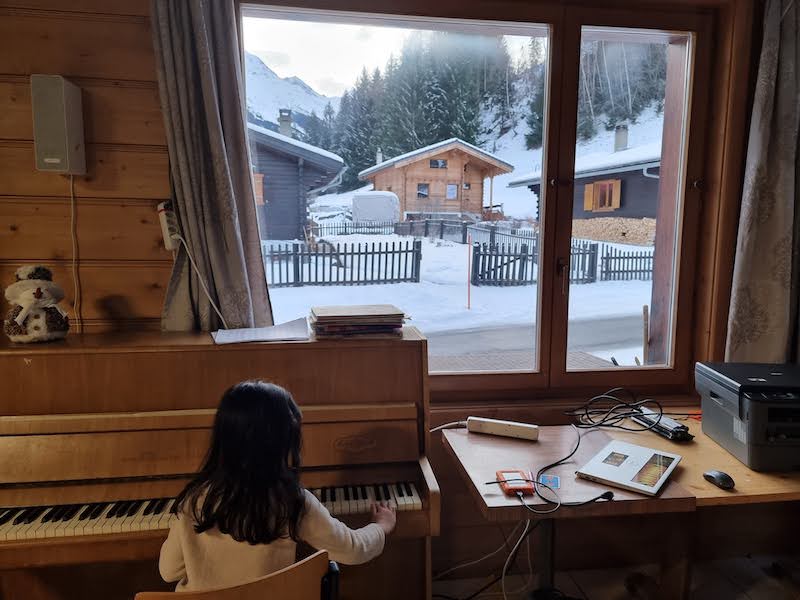 Ski facilities
The lower ground floor of the Ski Hostel was where the boot room was located, which was also where the boiler for the hostel was based. This meant your wet ski boots and gloves got to dry out nicely overnight – always a good thing.
The Ski Hostel also provides skis, snowboards, boots and bindings for your stay. I believe this was an optional extra though. It might be worth pointing out that most of the equipment was bought in bulk second hand, with some equipment from Lidl.
For beginners and those learning, this would be fine. But more advanced skiers and snowboarders might prefer to bring their own gear.
Catering/Self Catering at Ski Hostel
Ski-Hostel.com advertises itself as a half board package, with options for self catering. While we were there, they weren't quite set up to do the cooking and most of the catering was done by some of the volunteers. It would be unfair of me to judge the entire half board service based on this, as Stefan did say that the chef would be starting after Christmas.
To be fair, we did enjoy an evening of raclette, and they also put together a good spread of pizza and snacks when we arrived late on our first day.
On the far side of the ground floor, there is a good sized bar which was stocked with coffee, tea, cereals, bread and other essentials for breakfast. There was also a stocked larder in the kitchen, which I think was supposed to be out of bounds most of the time, but they made an exception as the chef wasn't there. While we were there it was very much help yourself, but I believe Stefan said they'd lay on a breakfast spread and dinnertime too.
Co-working at Relais de Dranse
One of the things that the Ski-Hostel guys are trying to do is to encourage remote working and attract the digital nomad set. And as such, there is a good setup for laptop working on the ground floor.
There are three large tables and benches, as well as two sofa areas which are suitable for remote work.
The wifi was also pretty fast, and the views from the window were nice and inspiring to give you something nice to focus on when you take a breather.
That said, there was no space for meetings, so if you needed to jump on a call, as Stefan often did, you'd have to handle any background noise. While were were there, that was our kids. But as a place to work, Ski Hostel Liddes does fit the bill and would be a great base for a few weeks.
Read our guide: Guide to Digital Snowmad resorts.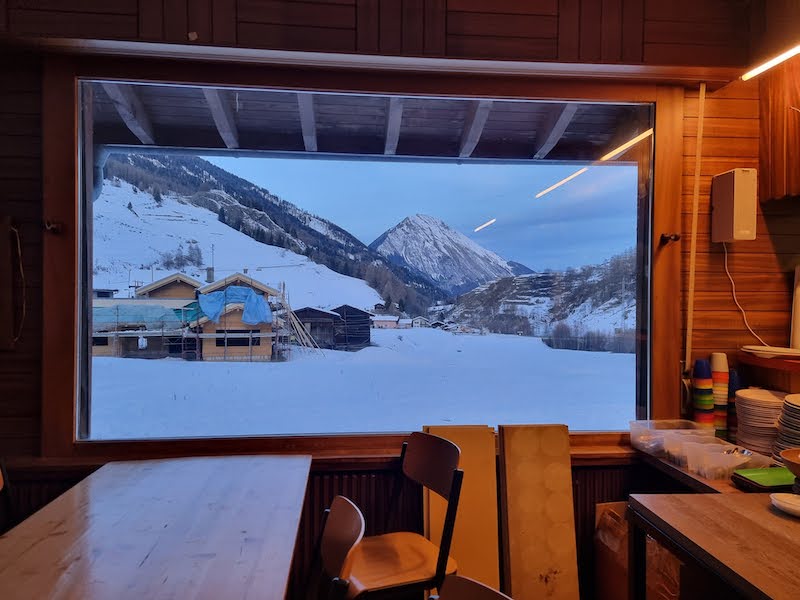 Ski Lessons
Another great feature of Ski Hostel is that they include tuition as part of the package. This could be very attractive for those wanting to get started learning to ski, and Switzerland is obviously a great spot to learn.
Most of the lessons take place in the Pays St Bernard resorts, which includes Liddes (5 minutes drive from the hostel), La Fouly (about half an hour) or Champex Lac (20-30 mins). Stefan is a fun and engaging guide and explains the process of learning to ski well. He got my partner who was a bit reluctant, to do the pizza and a few turns with relative finesse.
We also got to check out one day in Verbier for both ski lessons (an additional CHF20) and a proper day on the mountain too. Check out our Verbier guide.
Speciality ski packages
Ski Hostel also offers some speciality ski packages including yoga and ski. We were here just before Christmas and I believe they do a Christmas ski package too.
While we didn't get to explore much in the area, the gorgeous landscape definitely makes the area a great Christmas ski destination.
Ski Hostel 4 Vallees
As mentioned, there is another branch of Ski Hostel in the 4 Vallees ski region, near Les Lourettes. While this hotel had better access to the expansive and much more expensive Verbier/4 Valless, it was also less coworking and family focused. This Ski Hostel would suit school or society groups, friends and younger skiers and snowboarders looking for a budget option in the excellent 4 Vallees. And being just 5 minutes walk from the ski lift, this would definitely be an option for many.
How much does it cost to ski/snowboard in Switzerland with Ski Hostel?
In the Winter season 2023/24, a package with Ski Hostel starts from €950 This includes transfers from Geneva, half board accommodation, transfers to the Pays St Bernard ski areas, lift passes and access to the hostel sauna too. It also includes up to 4 hours ski tuition, although equipment hire is extra.
All in all, this is an excellent deal to discover and ski in Switzerland on a budget.