Chances are you've never heard of La Fouly, or Pays St Bernard. This small ski resort in the south western corner of Switzerland isn't exactly on the radar of most snow sports fans.
And while Switzerland is often seen as some of the most expensive skiing on this side of the Atlantic, we were lured to Pays St Bernard with the promise of a family friendly budget ski trip.
So, we headed to La Fouly as part of our trip with Ski Hostel Liddes – so how did we find it?
Where is Pays St Bernard?
The Pays St Bernard ski area is in the Valais canton, close the town of Martigny in southern Switzerland. It's around 1hr 30 from Geneva by car, and still under 2 hours by train and transfer.
There are actually three ski resorts which make up the Pays St Bernard ski areas (there is a fourth but it's out of service for now). These are:
La Fouly
Champex Lac
Vicheres (Liddes)
The fourth lift is at Bourg St Pierre, which is one small run mostly used by ski schools.
What is La Fouly like?
La Fouly is the largest of the Pays St Bernard ski areas, covering 20 kms of runs with a total of four lifts. Only two of these lifts bring you onto the mountain. The base of the ski station has an easily accessible learner area, with a magic carpet which is accessible without even buying a ski pass, and a button/t-bar drag lift taking you to the top of the gentle learner slopes.
The learner area is wide, with plenty of room for those who are a little shaky on their skis or snowboard. And the drag lift takes you up for a nice run down to the base of the station.
We were here just before Christmas and there was a lovely dusting of snow across the whole of the village, very Swiss Chocolate box vibey. In fact, the temptation of pre-Christmas skiing is what bought us here, and although the resort was open, it was definitely not that busy.
There is a restaurant right at the entrance to the ski station, with an outdoor terrace. This is perfectly placed to watch the action on the final descent, a fairly steep red run.
Talking of which… The main chairlift onto the mountain is a relatively old two person chairlift, but it moves pretty swiftly to drop you in the middle of the mountain. From here, there is a short run to a t-bar lift which takes you right up on top of the mountain with a great lengthy run back down to the bottom.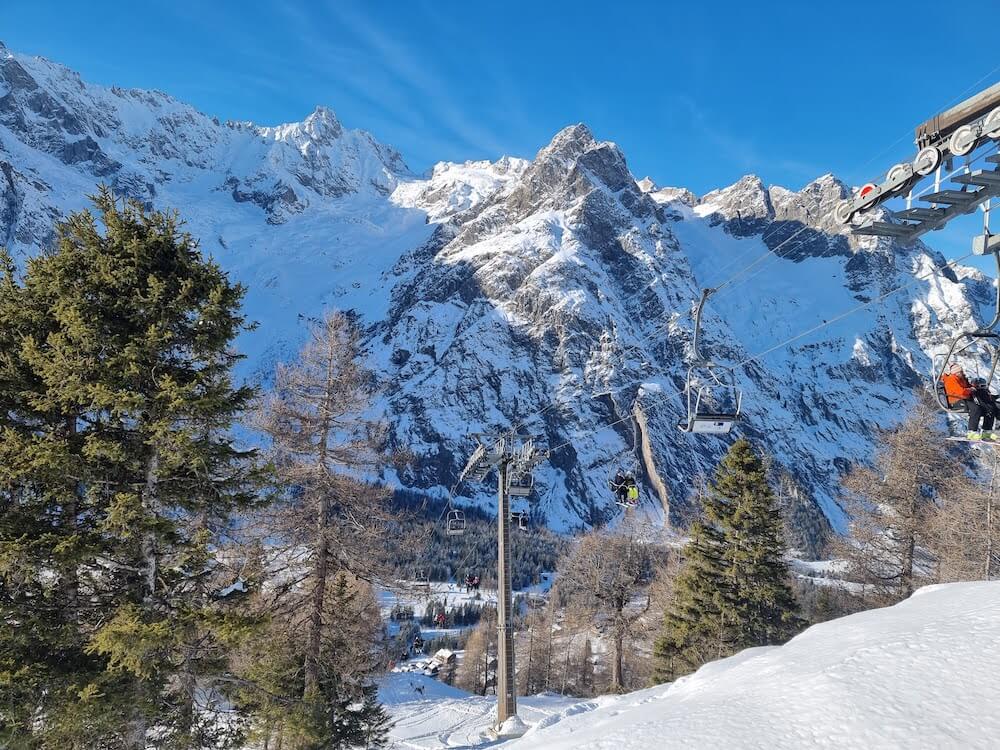 Snowboarding on La Fouly
We hit La Fouly on day one of our ski break, so I wasn't quite up to my best level of snowboarding. We took the first run from the chairlift back down to the base, which was a zig-zagging blue run along a narrow pathway. As a snowboarder I sometimes find these narrow sections slightly challenging, especially as my first run of a the trip, so I didn't quite hit these to the best of my ability.
However once we were at the top of the descent back to the station we had a nice open red run with that fairly steep drop back to the chairlift. This area is mostly in the sun, so it's not too icy for most of the day. But… It is fast and steep so you do see a few people stacking it and sliding down (I was one of them).
It's a lot of fun though!
Back up on the mountain and we took the t-bar right up onto the top to take that wide run back down to the middle. The run from the top is actually a red piste that feels a lot like a blue. Its wide and forgiving, with lots of places to hit a few jumps or side hits, and even get up some speed to find your ski or snowboard legs.
We did this one a few times as the yellow and black runs going down the side of the mountain were closed, so we had a limited selection at this point.
Here's a terrible video of me doing some pretty shaky snowboarding and even falling over at the end…
Talking of which…
My guide, Stefan from Ski-Hostel.com, mentioned that the yellow run is a fun yet challenging piste, when it's open. With a run through the trees and lots of opportunity for a bit of freeriding when the snow is fresh, it sounded like a ton of fun.
There is also a yellow run that cuts straight through the middle of the main blue run zig zagging to the bottom, plus a couple of black runs bracketing the mountain. Basically, there really is a bit of something for everyone in La Fouly.
As it stands though, La Fouly was actually a great little ski resort as an intro to our stay in the Pays St Bernard area. I think if you spent two days on this mountain you would probably have seen everything, especially as an experienced skier or snowboarder.
But for those looking for somewhere gentle to learn or improve their skills, I can highly recommend La Fouly. The learner slopes in particular are very accessible, and the price to ride the mountain is incredibly cheap compared to resorts like nearby Verbier.
Essential info
La Fouly is part of the Pays St Bernard ski region in Switzerland. You can buy a lift pass for one day for CHF 43 (£38), or pick up an annual pass for the entire Pays St Bernard region for CHF 159 (£141).
In fact… There is an amazing deal where, if you buy the CHF199 annual pass, you also get access to Verbier at the beginning and end of the season. Yup! Crazy deal. Basically, you can access Verbier up until 8th December 2023, and then from 2nd April until the end of the season (which was April 23rd in 2023).
Verbier is about 30-40 minutes from Liddes, and around 20-30 minutes from Orsieres, which are the two main towns in the Pays St Bernard region.
Your Pays St Bernard ski pass also gives you access to 15 other activities which includes:
Public transport to the ski resorts from Orsieres, the main town for the region.
Entry to the swimming pool at Bourg St Pierre.
Access to the dog museum at Col St Bernard.
And more…
Getting to and from Pays St Bernard
Getting there: Take the train from Geneva to Martigny and local bus or transfer to La Fouly.
Resort opens: Early December
We visited with Ski-Hostel.com who offer half board accommodation, transfers to the ski resorts, free tuition up to 4 hours and even airport pickup from Geneva! Find out more on their website.
Looking for more fun budget places to ski? Read more in our guide to the best cheap ski resorts.