Choosing an apres ski outfit? And by that I mean the party after you've gone back to your chalet to change and get ready for a night out. Cos, y'know, the apres ski straight off the mountain tends to be basically whatever your ski outfit is minus the jacket. How's your ski boot dance shuffle?
Anyways, you've gone back to your room, showered and generally freshened up for your big apres ski night out. What are you gonna rock to be the stylish apres ski party animal that you are?
In this guide, I'm gonna look at a few options for guys and gals to look cool AF in their local apres bar and not freeze their asses off when they're on the way home.
Lets gooo….
Before we do go, actually, just to let you know. There are a few affiliate links in this article. This simply means we earn a commission if you do click and buy, at no additional cost to you….
Whats the vibe like at apres ski parties?
When it comes to the end of a hard day on slopes, apres ski is all about relaxing with a well earned drink and some food, while hanging with your friends or ski party. But the vibe can be very much party focused, especially in some popular apres ski resorts.
Places such as Mayrhofen, Meribel or Avoriaz will be pumping from lunch time, with people getting through more than a few vin chauds or shcnapps while soaking up some bluebird rays.
On the mountain, this usually means that everyone is in ski boots and jackets, as you'd expect.
Once we come off the mountain, the vibe changes. And this will depend where you are.
If you're in a particularly vibey Alpine ski resort, you can end up in a banging ski bar right off the last run. This might mean ear splitting German pop music, or thumping techno, at half past 4. The vibe here is very much hair down, do what you want, go wild and have fun.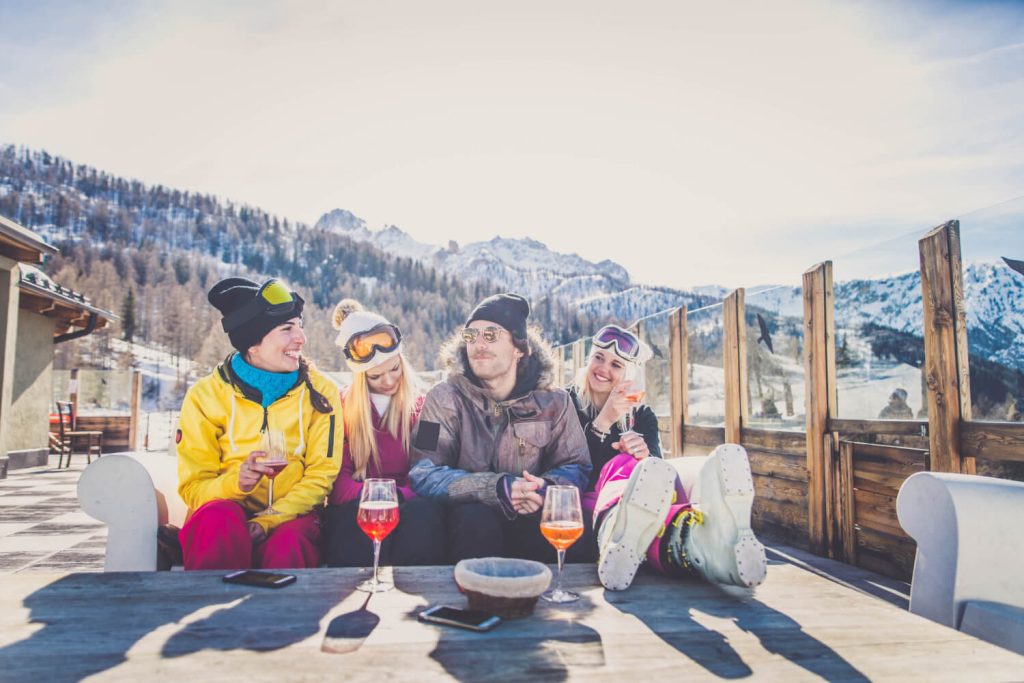 But apres ski can also include chalet parties, going ice skating with the kids, a lengthy meal at a local restaurant or simply beers on the terrace by the full moon. It's basically any form of after ski activity that involves socialising and hanging out in general.
As the evening progresses, clubs and bars in places such as Verbier, Val Thorens and St Anton become a more familiar type of nightlife. People have had times to choose their outfits and get ready for the big night out, and these après ski parties are where you might want to make an effort with your apres ski outfits.
Which brings us to the burning question…
What to wear to apres ski?
When it comes to your après ski outfits, the main focus is actually feeling comfortable and keeping warm. Most people, men and women included, will wear a pair of trousers, a woolen jumper or sweater, with layers underneath, and usually also bring gloves, a scarf and a hat.
Even if you're planning a wild party at the local watering hole, warmth is going to be key as even a booze jacket won't save you from those subzero temperatures.
Simple, right?
And while the key to an après ski outfit is simplicity, the devil can be in the detail.
Vintage ski jackets? Designer hoodies? The right brand of snow boots or walking shoes?
There is a lot you can do with your aprés ski look, so we'll break it down for men and women.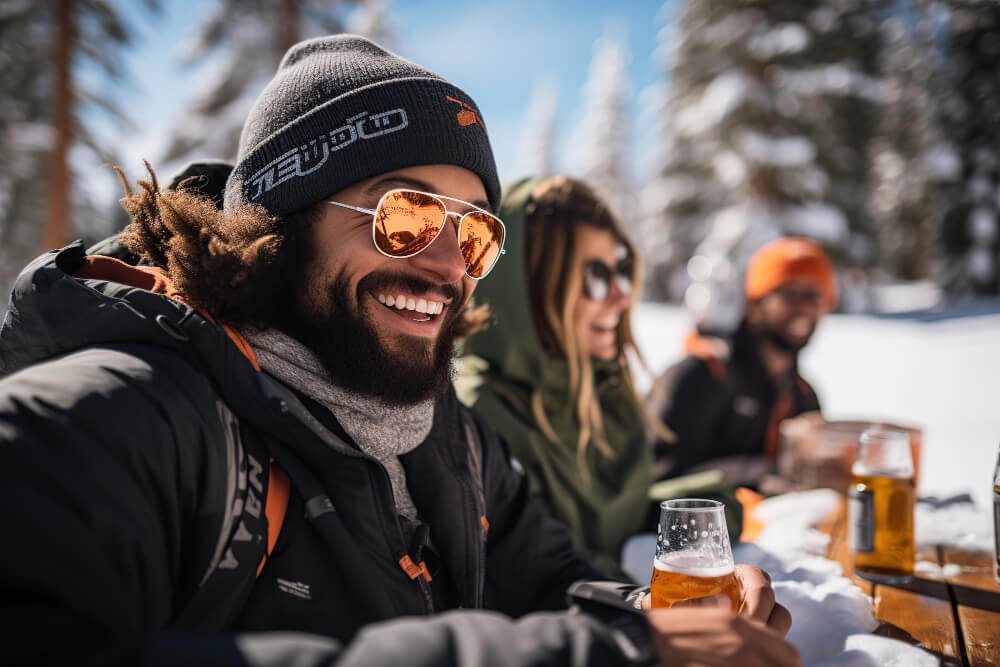 The mens après ski outfit guide
Guys, we have it easy, right? A wooly jumper, a pair of jeans and our ski jacket and good to roll.
Well, hold on. Let's check out layer by layer.
Trousers, jeans or thermal leggings?
For your apres, for most men, a simple pair of jeans or standard trousers will be fine. There isn't usually a need to invest in waterproof trousers, even if the temperature is deep into minus double digits. If you're expecting to be stood outside in the cold for a long time, for example at a festival or market. you also shouldn't need thermal leggings.
With this being said, if you are planning on a stay in the mountains for more than a few days, thermal leggings can be a useful addition to your outfit.
Base layers
Having some warm base layers can be a very good idea for your apres ski, especially if you're sitting outside or not doing anything too energetic. Go for either wool, or man man fibres. Cotton, while nice and light, can hold too much liquid if you get damp and sweaty (y'know, those apres parties can get wild), so go for moisture wicking ideally.
Pick up inexpensive and good quality base layers at Decathlon.
Big woolly jumper vs sweater vs hoody
I tend to go for a chunky knit woolly jumper whenever I get to the mountains. I find that this is both best for insulation, and stylish too.
However, there is nothing wrong with a nice hoody too. In fact, those hoods come in handy on those cold walks back to your lodgings, or if you're wandering between bars.
There is lots of room for fun wool wear here. Chunky fisherman style knitted jumpers, you could even roll out that crazy Christmas jumper you're a bit hesitant to wear to the office party.
I general, if its warm and a good fit, it's good to go. Even if you're layering up, I'd avoid going for anything too thin.
Looking for designer ski hoodies? Check out FRModa for Moncler and more…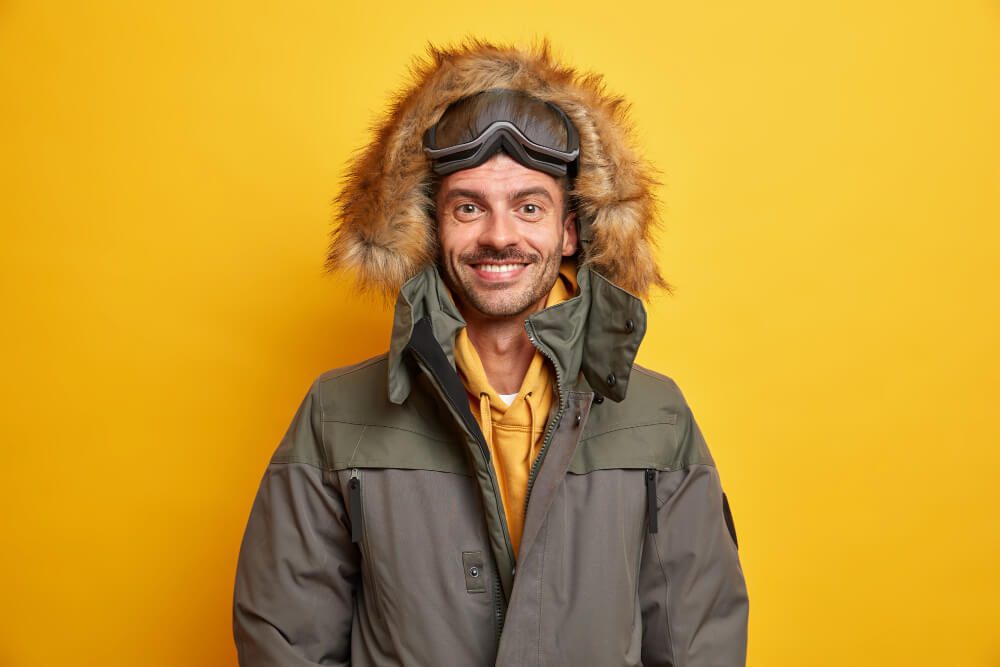 Footwear
The question of what to wear on your feet to a ski resort is a tricky one. I usually opt for a pair of chunky walking shoes, which aren't the coolest apres shoes available. But, they do grip the ice and are suitable for walking around a snowy ski resort.
I have also worn standard trainers on occasion. While this is fine, in terms of style anyway, you might find that standard trainers or casual shoes don't provide adequate grip on the ice, or waterproofing. Go for practicality here. And, to be honest, everyone else will be anyway.
A pair of mens snow boots, leather boots or hiking shoes are perfect.
Ski jacket vs casual jacket
You're in a ski resort. EVERYONE is wearing their ski jacket out for their evening wear too. If you really wanna max the style points, you might also want to pack a warm puffa jacket or wool jacket. But honestly, everyone else will be wearing their ski jackets – with the exception of locals and long stayers who will have multiple changes of outfit.
Get the coolest snowboarding jackets from Burton.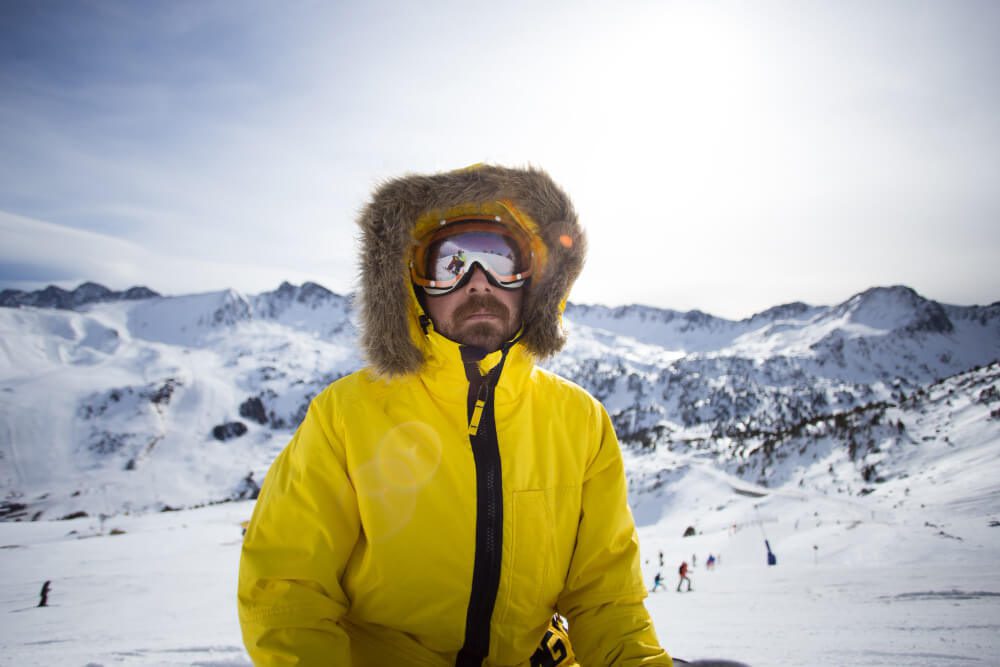 Accessories
You will definitely need a gloves (not ski gloves), a hat such as a beanie or snapback (whatever your style) plus most likely a scarf. Stay warm out there guys… Freezing your nuts off is not a good look.
The womens apres ski guide
Après ski can get very glam, especially in the more high end resorts. However, this doesn't mean little black dress or anything else that you'd see on a standard UK Friday night on the town. Oh no… Practicality and warmth remains the focus, but there is definitely lots of room to add some sass and style to your après ski outfit.
Trousers or leggings?
There is a lot of leeway in what women can wear on their legs for après ski. Often, it's a simple pair of trousers, but often you'll see women in lined leggings, or even the glam set in their shiny leather pants. This is obviously in the more high end resorts.
You can also get away with wearing your standard ski pants. Especially if they're kinda cool ones.
But for the most part, if you're simply dancing at the local watering hole before heading back to your hotel, simple and comfortable is the focus here.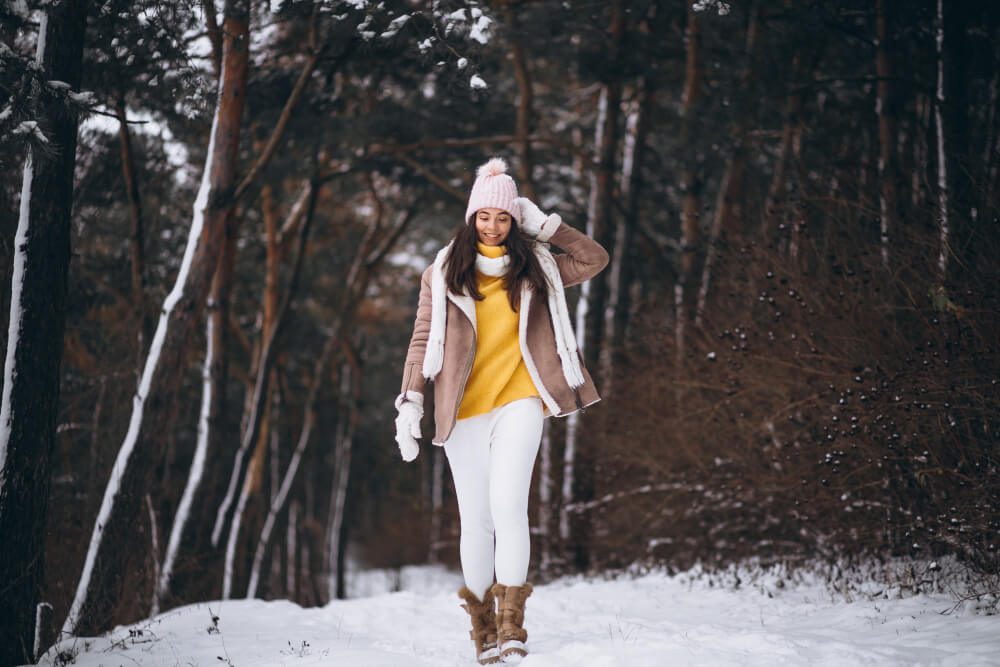 Jumpers, hoodies and tops
This is going to be where you both keep your warmth and hit your style too. A good knitted jumper works wonders, and can definitely look cool while keeping you warm. If you want a stylish look, pick a cashmere or merino wool jumper.
An oversized hoody is also a good look on any woman wanting to look the part at an apres ski party. This is especially the case if you're going somewhere popular with snowboarders, as you'll definitely have that more casual street vibe.
If you're looking for something with a bit more of a classy evening wear vibe, a jumper dress paired with leggings is an excellent option.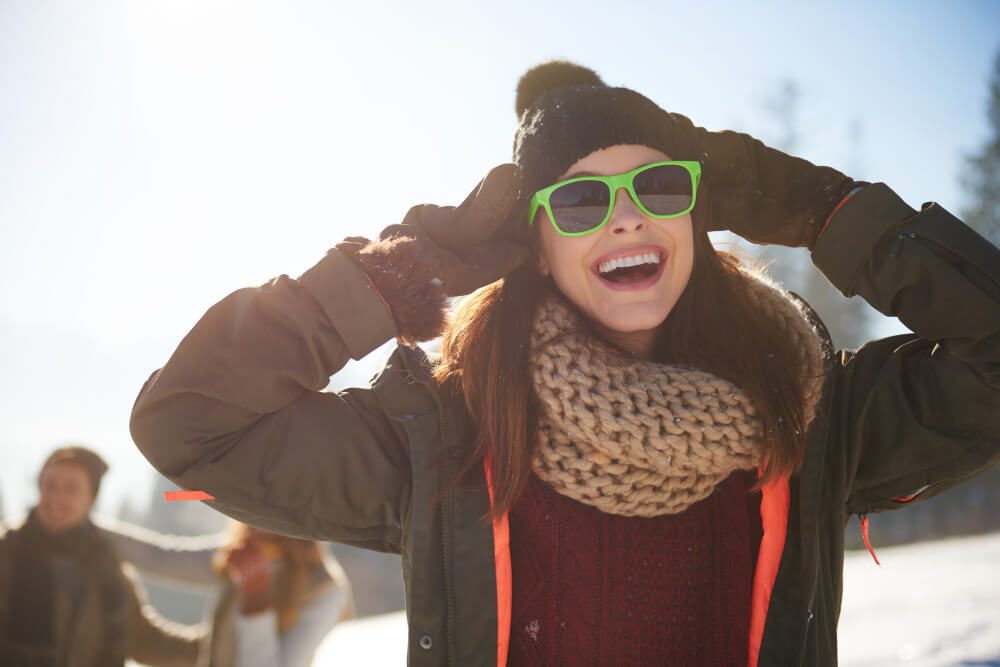 Layering is good
Generally speaking, base layers are a good way to stay warm and wear whatever you want. For most, this will mean some moisture wicking base layers, ideally wool or man man fabrics which are better than cotton in this situation.
Get good quality base layers for low prices at Decathlon.
Ski jumpsuit
Want a real cool ski look? Channel your inner Bond girl and go for a ski jumpsuit. These are kind of like regular jumpsuits, but cover your legs and arms, and are obviously insulated too.
While a ski jumpsuit is mostly on-piste wear, it also works for a funky evening outfit too. Warning though, if you get too hot theres not much you can do. Best chosen if your apres ski is going to be outside.
Check out this stylish ski jumpsuit from Dare2B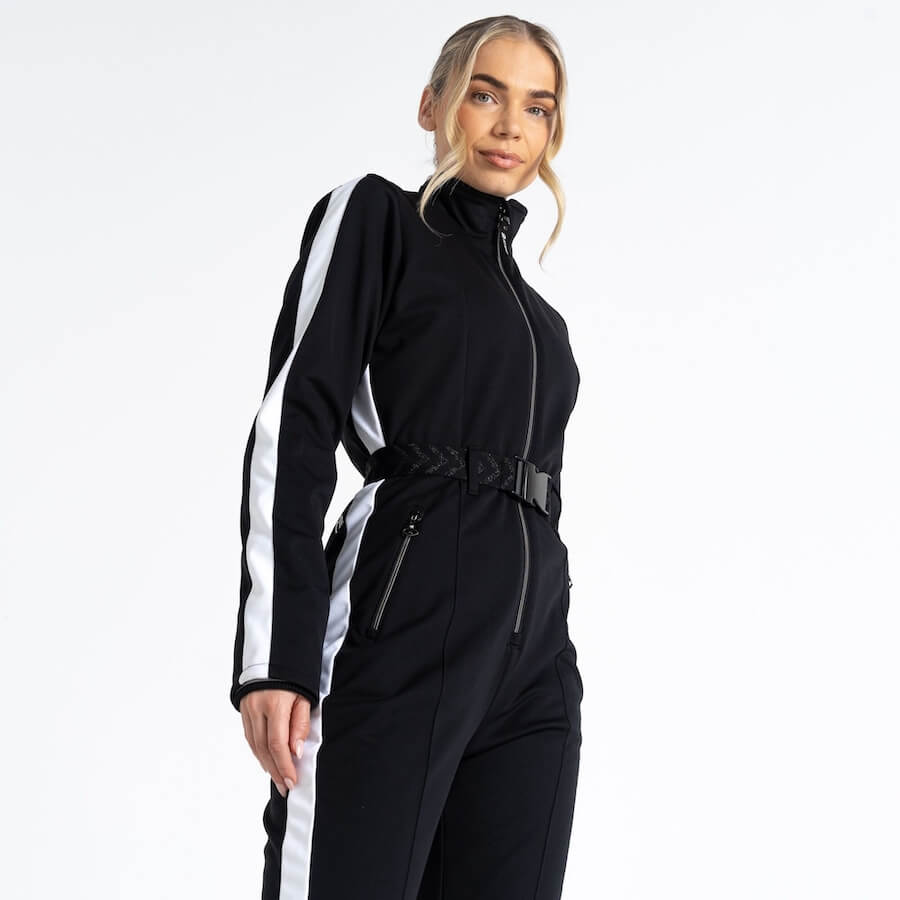 Ski jacket vs casual jacket
As you are in a ski resort, ski jackets are pretty much par for the course and most women will wear their ski jackets out in the evening too. But… There is nothing wrong with throwing in a stylish winter jacket such as a chunky fur lined winter jacket, a parka or other warm winter jacket.
If it comes down to space in your bag though, ditch the spare coat and wear your ski jacket. 'Cos everyone else will be. Hey, it's the ski look… Roll with it.
Obviously just make sure you have a super cool snowboarding jacket, right?
Sexy sassy apres ski styling
If you're looking to glam up for your apres ski, go for it. You'll often see women embracing thick tights and even, for those braver souls, baring some flesh. Just remember to be prepared for subzero temperatures.
Some cool sexy apparel for womens apres ski outfits could include:
Thick denier tights
Wet look or leather leggings
Knee high socks (ideally paired with tights)
Wool sweaters
Off the shoulder dresses
Faux fur jackets
Knee high or over knee boots (flat heeled means less chance of slipping)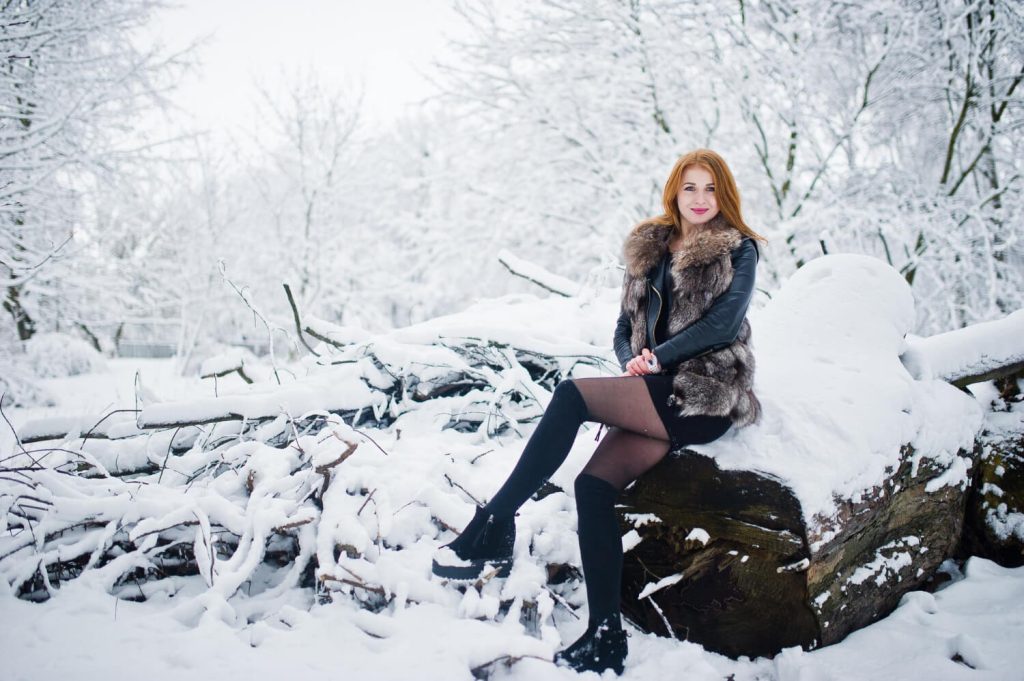 Footwear
If you're looking for cool and funky ski chic, its gonna have to be snow boots. These are obviously made for walking in the snow, and they look cool too.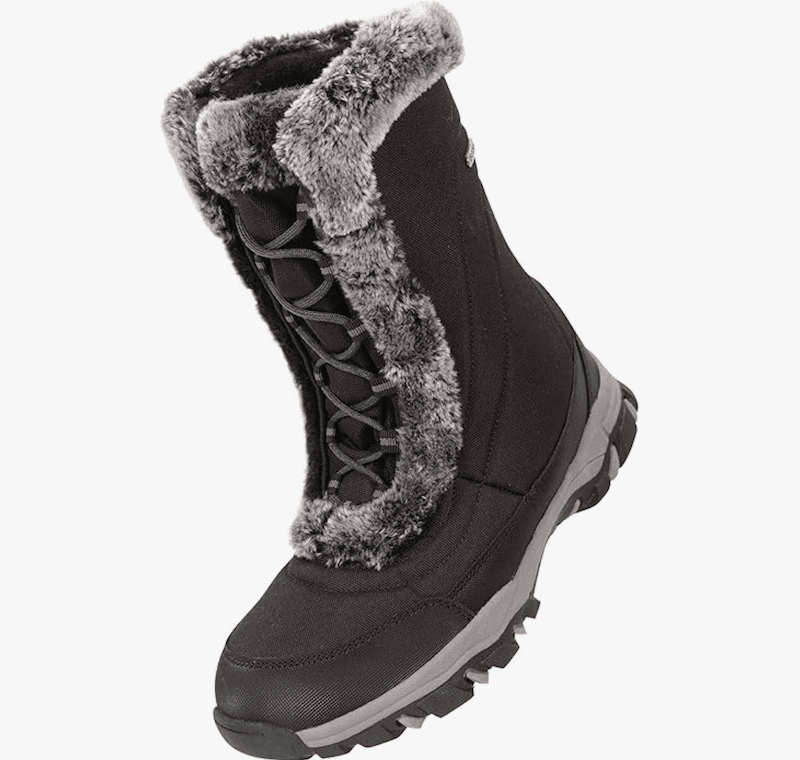 If you want a more casual and street friendly aprés ski look, a good pair of standard chunky boots such as DMs, or walking boots, will also work well.
If you're going for the sassy or sexy look, then a pair of knee high boots (flat heeled ideally, but if you're brave and experienced at walking on ice, hey – go for heels!), or chunky heeled Chelsea boots are perfect.
Accessories
Remember its all about the warmth. Bring warm gloves or mittens, something to keep your head covered such as beanie or other wool hat.
Keep it cosy and remember that this is the Alps/Pyrenees/Whatever Mountains, and not Ibiza…
Happy partying!