You might have heard about Andorra's rep as a hotspot for apres ski and duty free. And you might also have heard rumblings about skiing in Andorra not being quite as snowsure or as good as the Alps. Well…
We went to Andorra to check the ski resorts. How does it measure up?
Where is Andorra?
OK, first things first. Andorra is a small nation high in the Pyrenees sitting between France and Spain. As an independent principality, it is a sovereign nation and not part of the EU. But it does use the Euro as currency. The official language is Catalan (the only country in the world to have Catalan as it's primary language), although Spanish and French are widely spoken. Many residents also speak English too, but it will be handy to have one of the other languages under your belt.
As the country sits entirely in the mountains, it is mostly a series of valleys, with towns dotted along them. The biggest town, and the capital, is Andorra la Vella. This is where you'll find many hotels offering ski packages and access to Grandvalira and the other ski resorts in Andorra, which we will talk about in a moment.
The entire country is pretty small, measuring 30 kms east to west, and 25 kms north to south. As such, nowhere is that far away when you're in Andorra.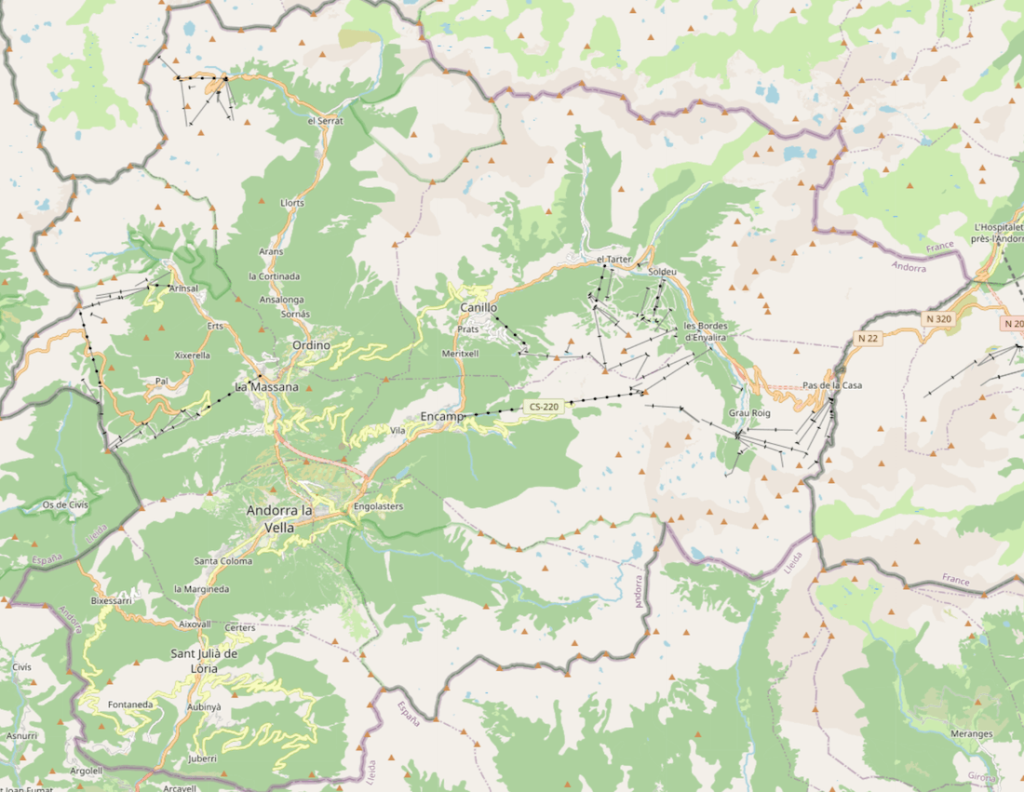 But with that being said, some places are better to stay than others when it comes to accessing the Andorra skiing. So even though when it comes to Andorra ski holidays, you won't have worry about transfers too much, you do want to make it easy on yourself.
Where to stay in Grandvalira, Andorra?
First up we have to talk about the Grandvalira Super Ski Area. Previously a patchy network of independent ski resorts, today Grandvalira offers over 200kms of skiable terrain. There are several areas where you can stay to access the Grandvalira ski lifts and pistes.
The first access point is at Encamp, just outside the capital Andorra la Vella. However access from Encamp into the ski area is via a fairly lengthy (20-30 minute) gondola ride.
Canilo is better suited, and as you go up the valley the access gets better. El Tarter, Soldeu, Envilara, Grau Roig and Pas de la Casa are all pretty much directly next to the ski area – with Pas de la Casa arguably the best location.
We stayed in El Tarter and Ransol, which we'll take a look at in just a moment.
Most hotels offer either a transfer to and from the slopes, which you can book in advance, or you can use the excellent bus network too. Most likely you will be able to access a free bus transfer.
If you're staying in Andorra la Vella, you'll have a 15-20 minute transfer to the first lifts at Encamp or Canilo plus the gondola ride up. I'd suggest staying further long the valley if you can.
However the benefits of staying in Andorra la Vella are a better choice of dining options, bars and nightlife – not to mention more premium hotels.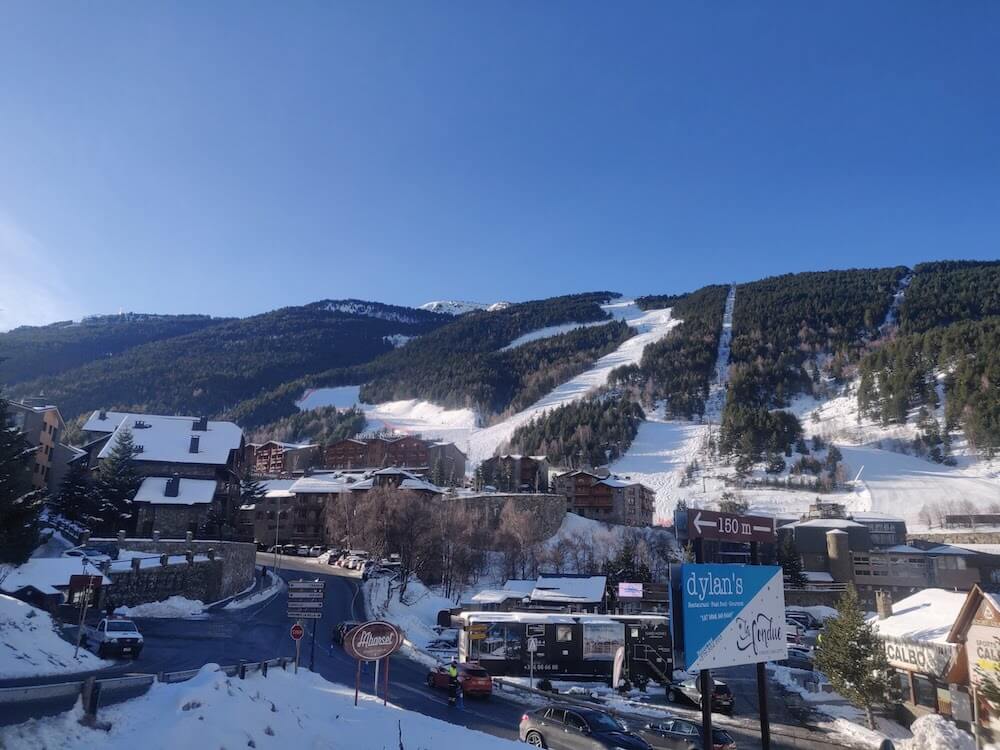 What is El Tarter like?
The small village of El Tarter is pretty much a one street affair, with the main road running along the bottom of the village. You do need to cross the road to access the lift station to get up onto the mountain – which isn't too scary. The cluster of ski rentals and cafes at the base of the mountain mean you can rent or buy whatever you need for skiing, and get some pre and apres ski refreshments too.
There is also a block of duty free shops and a large souvenir cum grocery shop at Manacor, which is a 5 minute walk along the road from El Tarter. Manacor was kinda expensive if you're looking for groceries, but has lots of great options for booze and all your delicatessan needs. But if you're self catering, nip to the Shell petrol station across the road. Less tourist trap prices, more affordable pasta, cheese, meats and booze…
Back to El Tarter, and we stayed in the Pierre et Vacances Alba Andorra apartments. Accommodation was pretty simple, but perfectly ample for our needs. We had the cooking facilities, a TV, en suite bathroom and the beds were two separate sofa beds – all of this in one room.
The view towards the mountain was nice enough, and the apartments were pretty quiet all in all. No rowdy groups at night.
The ski locker room was pretty basic. No warmed boot hangers or anything luxurious. But the apartments are perfect for friends to chill out after a hard day on the mountain, and are also a short walk from the main drag of El Tarter and the lift station.
Is Grandavlira ski in/ski out?
With the Grandvalira ski area running along a huge valley, there are lots of options for ski in/ski out. But in all honesty, not all accommodation is going to be right on the slopes – but that doesn't matter.
At the end of the day, it's a simple case of snowboarding or skiing down the mountain back into town and then a short walk to your accommodation from there. Both Soldeu and El Tarter are at the base of the mountain and you can ski almost back to the main road, and some of the apartments based there.
Pas de la Casa is the town with the most accommodation, and there isn't much ski in/ski out. BUT… All of the apartments in town are barely 5 minutes walk at most from the first lift station. Some are less than that.
For us it was a 5 minute walk from the base of the mountain back up a (admittedly kinda steep) hill back to our apartment. No problems at all.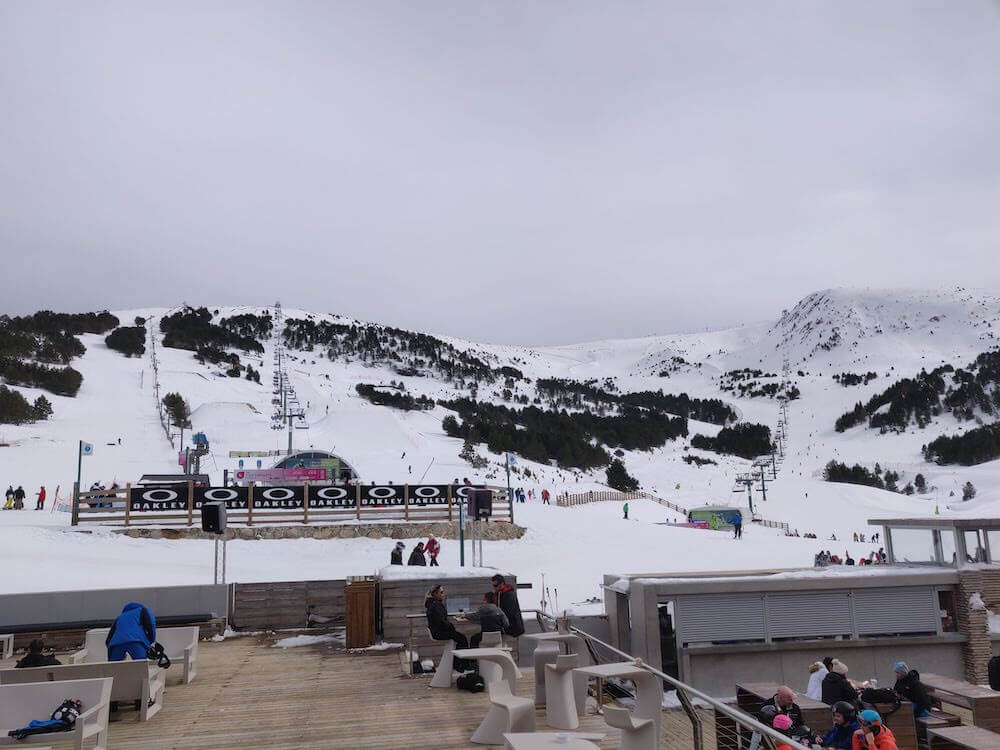 Where else can you ski or snowboarding in Andorra?
Besides Grandvalira, visitors to Andorra can also access Ordino-Arcalis and Vallnord-Pal Arinsal.
Ordino-Arcalis
Ordino-Arcalis is the smallest of the Andorran ski resorts, covering just 30 kms of pistes. It is also situated between the huge Grandvalira and the mid-sized Vallnord-Pal Arinsal. Although you can access Ordino-Arcalis with your Grandvalira lift pass, unless you're here for a long stay of more than a week, you're unlikely to check it out.
But if you're looking for less busy slopes, you might prefer Ordino-Arcalis in high season.
Vallnord-Pal Arinsal
Vallnord-Pal Arinsal is in the far west of Andorra and offers 63 kms of skiable terrain, making it a good sized resort by any measure. Close to the town of Massana, Vallnord-Pal Arinsal is actually two resorts linked by a gondola. The biggest, Pal, is accessible via gondola directly from Massana – which is where most hotels and resorts are based.
Arinsal, the smaller village and resort, is a short drive up the valley with direct access from the hamlet.
One thing to bear in mind with Vallnord-Pal Arinsal is that there is no skiable route back to town in either resort, so you'll need to get the gondola at the end of the day.
What is apres ski like in Andorra?
Andorra is known for her apres ski, and the best place to party in probably Pas de la Casa or Andorra la Vella. Both of these have a wider choice of bars and clubs where you can get into the party mode after a day carving it up.
Pas de la Casa is definitely the most lively option. Where were based, in El Tarter, was not the most buzzing but there was a bar/club and several venues packed full of late night revellers.
How to get to Andorra
The most common way to get to Andorra is to either drive, or take the coach. You can also hire a private transfer to ferry you from the nearest airports. The closest airports to Andorra are:
Barcelona (BCN) – 3 hour transfer to El Tarter
Toulouse (TLS) – 3 hour transfer to Pas de la Casa
Perpignan (PGF) – 2 hour drive or 5 hour bus
We took the AND bus from Barcelona airport to El Tarter direct, which was around €70 round trip and perfectly comfortable and efficient.
Try 12GO for the best prices on bus and public transport searches – or try this handy widget from 12GO.
Is Andorra snowsure?
You might have heard that there is less snowfall in Andorra than in the Alps. Although there is some truth to this, with less snow days than many of the biggest French or Austrian resorts, Andorra can hold it's own in the snow stakes.
On our visit, we arrived right after a fresh dump of snow which created perfect terrain both on-piste and off-piste. Although not the most avid freerider, I did love a bit of fresh pow on the sides of the main slopes across Grandvalira.
That said, Andorra sits mostly above 2000 meters making it pretty reliable for snow coverage throughout the season. And with a choice of resorts, you'll find a good pocket of snow somewhere in the tiny country for sure.
Looking for the best deals on ski or snowboard packages in Andorra? Check out Snowtrex.
They offer some of the lowest prices and best deals with LIFT PASSES INCLUDED on all deals in Andorra.