I had heard great things about Krvavec in Slovenia, the closest ski resort to an airport in Europe. That airport being, Ljubljana – the capital of Slovenia.
And with a transfer time under 30 minutes, could it make a good short ski/snowboard trip?
There's only one thing to do…. I headed to Krvavec in Slovenia to review the mountain in 2018.
Where is Krvavec Ski resort?
Krvavec is a small ski resort around 35 kms from Ljubljana, the capital of Slovenia – a drive of just under 40 minutes. It's also just 8 kms from Joze Pucnik airport – an approximate transfer time of 14 mins.
Well, that's what it says on Google Maps anyway.
Krvaec is also a short drive from the nearby city of Kranj, and also 42 kms from Slovenia's iconic Lake Bled – or a 36 minute drive.
When the plan lands at LJU (Ljubljana airport) everything is very flat and plain like. But on the approach you can see the snow dusted peaks of the Julian Alps, as the mountain range is called in the end of the world. Krvavec is pretty much the first mountain you come to as you leave the Ljubljana plain.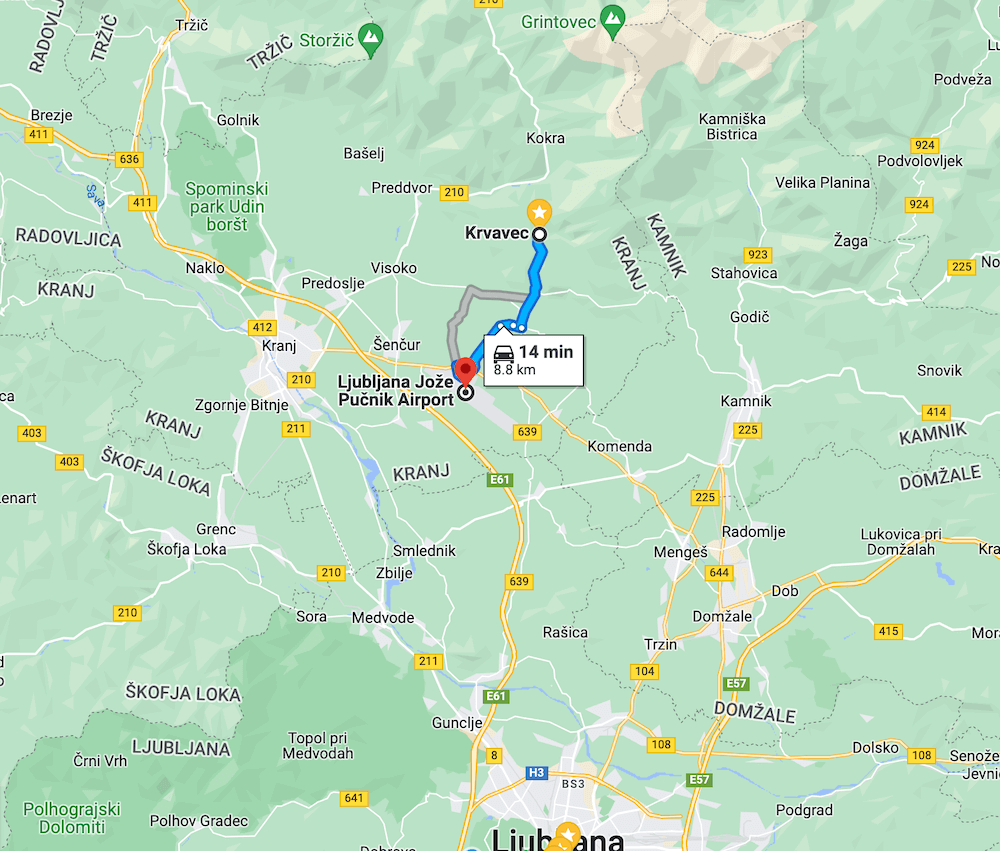 Is it easy to get to Krvavec ski resort?
Although Krvavec ski resort is close to both Ljubljana and Ljubljana Airport, information about public transport is patchy. There is, apparently, a ski bus that runs between Ljubljana and Krvavec and Kranj. However, at the time of writing (November 2022) there is no timetable or price information.
When I visited, I booked a car rental at the airport and commuted between my accommodation in Ljubljana and Krvavec myself. This was both VERY easy and VERY cheap.
My flight landed at something like 9am, the arrivals hall is tiny, so you roll out through security, cross a small walkway and pick up you car. I had my rental car around 15 minutes after leaving the plane. On to the ski resort then!
OK – I'm a bit of a klutz with information sometimes. So the GPS told me it would take 15 minutes, but I totally got lost in the foggy Slovenian countryside and arrived about 40 minutes after leaving the airport. My fault, not Krvavec's.
The road is a fairly simple two lane country road, and the route is pretty well signposted. Traffic was not too bad when I arrived.
But… Arrive I did.
Parking is kinda a free for all along the road leading to the gondola. I actually found a space in the car park right next to the gondola and ticket station and got my 3 day pass booked there are then.
How much is a day pass Krvavec?
The cost for a day pass at Krvavec is €34 – which is a total bargain. (price list) You can pick this up at the base station easily. And of course you can also grab a multi-say ski pass for Krvavec, but it doesn't really save you any money. However it does make it easier for you to arrive and get straight onto the mountain.
What about equipment rental at Krvavec?
The base station is pretty sparse, with a cafe and the ticket office. Jump into the gondola though and head up to the mountain, which takes another 10-15 minutes, and you're dropped right next to the main equipment rental office. I turned up on the day, no reservation, and got my snowboard, boots and helmet for a reasonable price (I forget how much, I wanna say €60 for two days?).
The guy was super helpful and the equipment was decent quality. I had an Elan snowboard which was perfect for my level at the time.
And then, right next to the equipment rental you come straight onto next set of lifts which carry you up onto the mountain. So, how is the skiing or snowboarding?
What is Krvavec like?
Krvavec ski resort is not a huge area, with pretty much all of the ski runs on one mountain side. That said, there are around 30 kms of pistes which are a good mixture of reds and blues. There are is only one black run at Krvavec, although the official site says 8kms of black runs.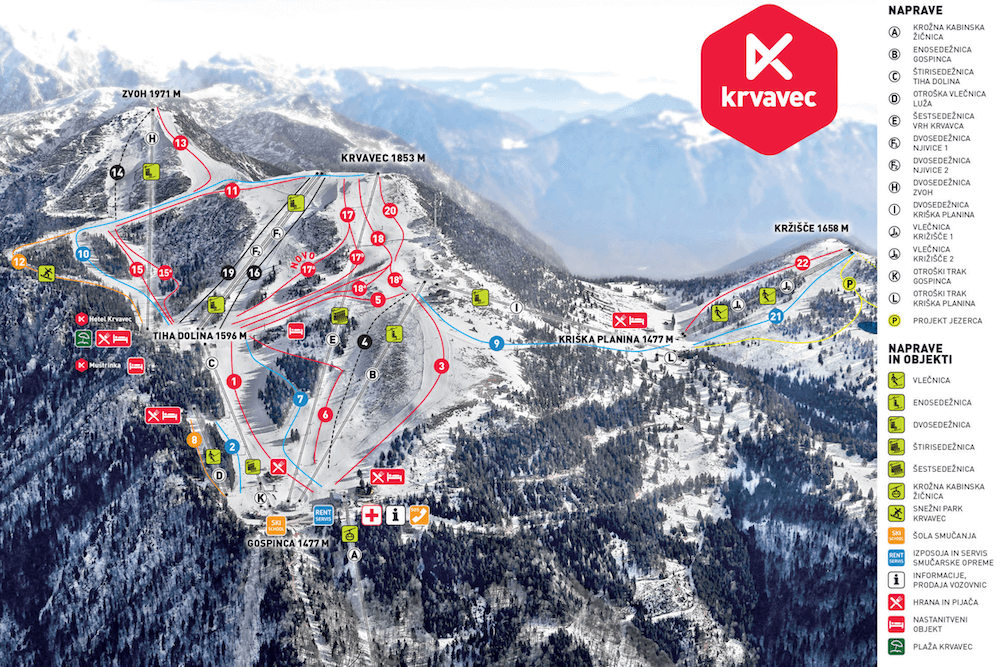 The longest run from the top of Mount Zvoh to the main station at the bottom is about 2kms, so it's not exactly a marathon run like you might have experienced in other Alpine resorts. BUT… What you do get is some incredible views across the country (you can even see the sea when the sky is clear).
The lower half of the mountain is perfect for beginners, with the baby slopes and a very nice easy run (route 1 on the map) perfect for getting your ski or snowboard legs in.
But to really get the most out of the Krvavec snowboarding or skiing experience, you do need to get up to the top of the mountain.
The runs from Krvavec mountain are definitely the more challenging options, with some fairly steep reds. However, the higher peak, Zvoh, has a really fun fast descent which takes you through a small bowl and eventually a tunnel to head down to the bottom of the resort.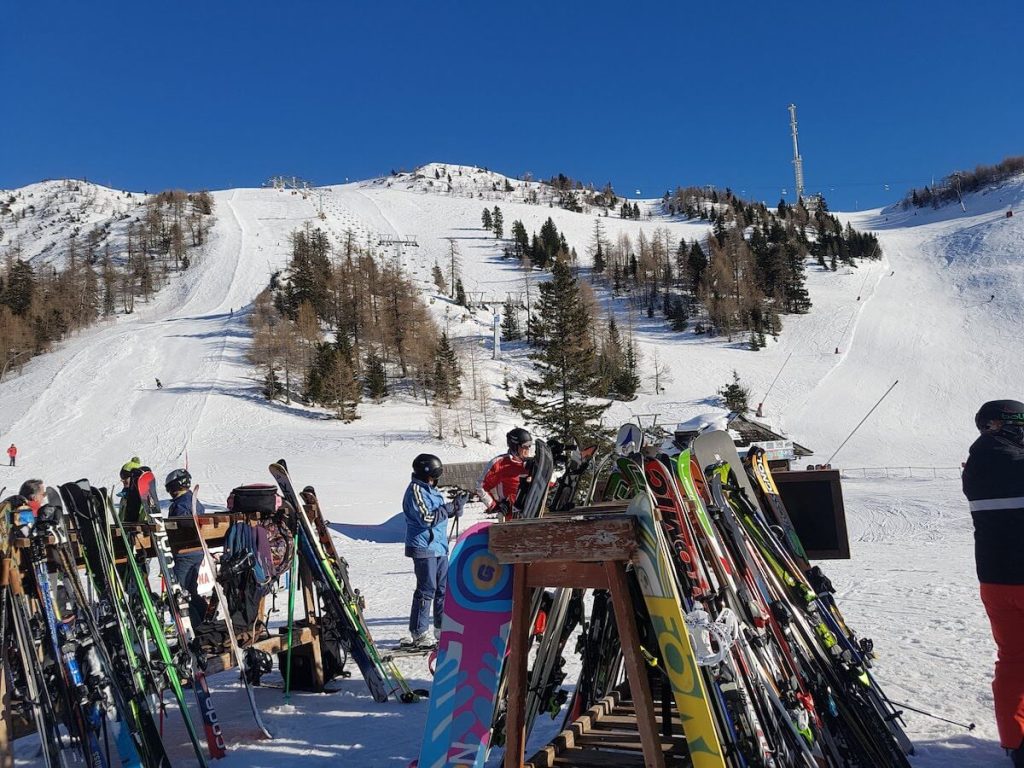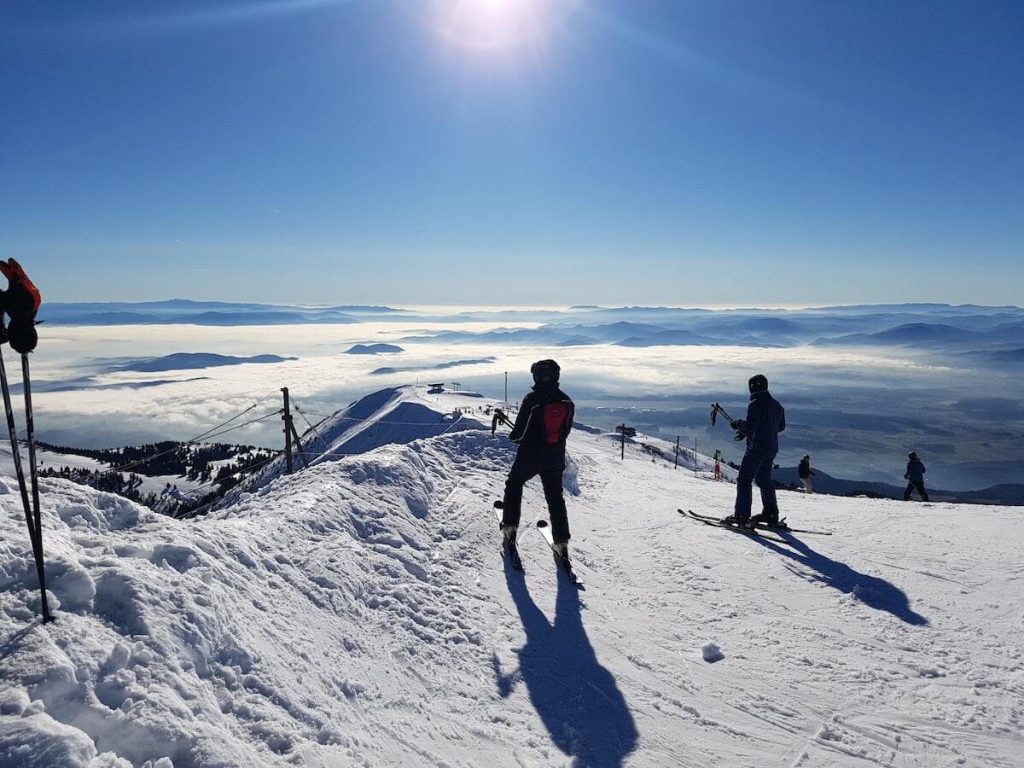 As you can see from the images here, the view is pretty spectacular and the terrain is good fun.
Beginners and intermediates will have a whale of a time at Krvavec. In fact, I'd say that the Krvavec ski resort is best suited to intermediates who want a relatively small resort to get familiar with.
For experienced skiiers or snowboarders, you will probably enjoy the novelty for a day or so, but you will have covered pretty much all of the mountain before day one is done.
Where to stay at Krvavec?
There is one hotel on the actual mountain at Krvavec, but to be honest, you're better off staying in one of the nearby towns or cities. I don't think there is much action on the mountain after the lifts close. I actually stayed in Ljubljana and commuted to the mountain which was fun. I got to enjoy a bit of a Slovenia city break too.
I chose a hostel in the south of the city, but to be honest I could have saved some time staying in the north of Ljubljana.
You could also choose to stay in Kranj or Bled instead. If you go for a hire car it doesn't really matter, as the country is pretty small anyway and you could easily go and see Lake Bled for an hour or so after skiing or snowboarding at Krvavec before heading back to Ljubljana.
The benefit of not staying at the actual ski resort is that one another day I decided to go and check out Vogel/Lake Bohinj ski resort. Which I will review soon…
The pros of skiing at Krvavec
Compact ski resort with some fun blue and red runs
Mostly chair lifts
Great for beginners and intermediates
Increedible views
Way cheaper than French or Austrian ski resorts – a great deal!
The cons of skiing at Krvavec
No real accommodation options on the mountain
You will probably need to hire a car – which isn't necessarily a bad thing
Small resort means you will have done it all in 2 days
Can get busy on the weekends (I was here in the week and it was fine)